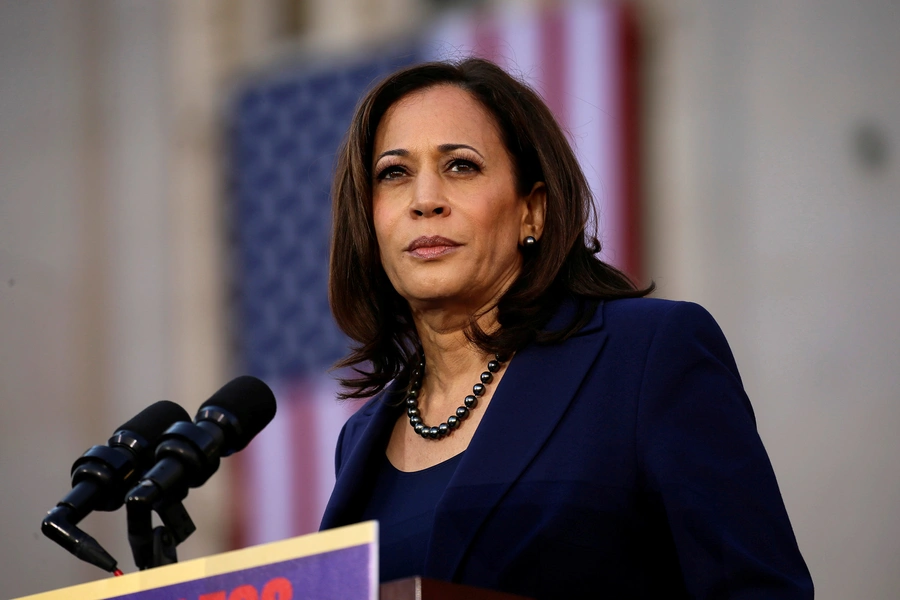 Candidates
Kamala
Harris
Senator, California
Joe Biden chose Kamala Harris, 55, as his running mate in August 2020, making her the first Black woman chosen for a presidential ticket by a major party. Harris has served as a U.S. senator from California since 2017, sitting on the Senate Judiciary, Intelligence, Homeland Security, and Budget Committees. She made a run for the Democratic Party's 2020 presidential nomination before dropping out in December 2019. As San Francisco's district attorney from 2004 to 2011 and California's attorney general from 2011 to 2017, she focused on criminal justice reform and described herself as a "progressive prosecutor." A native of Oakland, California, she graduated from Howard University and earned her law degree from the University of California, Hastings.
During her presidential campaign, Harris emphasized her opposition to President Donald J. Trump's withdrawal from international treaties and agreements and promised to "revitalize" U.S. alliances around the world. She called for increasing pressure on China over its human rights record, and she cosponsored legislation to improve election security, especially criticizing Russia's interference in U.S. politics. She rejected Trump's tariffs on China, but opposed trade deals she says didn't go far enough on labor and environmental standards, including the North American Free Trade Agreement—renegotiated and now called the U.S.-Mexico-Canada Agreement—and the Trans-Pacific Partnership, from which Trump withdrew.
In addition, Harris voted against increasing defense spending, promised to limit U.S. military engagements abroad, and called white supremacist violence the top domestic terrorism threat. On climate change, she rolled out a plan to direct $10 trillion in public and private spending toward a Green New Deal to transition to a clean economy and address environmental injustices.
Harris says the United States needs to confront China's "unfair trade practices," but she disagrees with President Donald J. Trump's trade war with Beijing. She says she would stand up to China on its human rights abuses while also seeking cooperation on global challenges.
Harris calls climate change an "existential threat" and supports the Green New Deal framework backed by many Democrats. She proposes building a "clean economy" that creates jobs and pledges to fight environmental injustice and expand climate cooperation with other nations.
Harris says that white-supremacist violence is the top domestic terrorism threat in the United States today, pointing to recent mass shootings at mosques, synagogues, and churches. She has criticized President Trump for failing to act, saying he has "inflamed" the threat.
Harris points to her extensive experience in cybersecurity. As attorney general and senator, she advocated for boosting election security, cracking down on cybercrimes by foreign actors, and enhancing cybersecurity at U.S. ports.
Harris supports reducing U.S. defense spending to focus on domestic priorities and says she wants to end wars in Afghanistan and the Middle East.
Harris says alliances are the cornerstone of U.S. foreign policy. She pledges as president to strengthen diplomatic relationships that she says have been damaged by Trump. She argues this has made the United States weaker and less safe.
Like other Democratic candidates, Harris has positioned herself as a champion for working people and economic justice. She plans to give tax credits to middle-class families, empower unions, and penalize companies that take advantage of their employees.
Harris has been an outspoken advocate for immigration reform as district attorney, attorney general, and senator. She calls Trump's border policy "disastrous" and "cruel," and her reform plans include expanding asylum programs and providing a path to citizenship for the estimated eleven million undocumented residents.
Harris believes that U.S. strategy in the Middle East must focus on counterterrorism and include an immigration policy that allows refugees from the region to come to the United States. She is also a strong supporter of Israel.
Harris has criticized the Trump administration's approach to Kim Jong-un, saying it is not in the United States' interests to "embrace this North Korean dictator." She is open to diplomacy but emphasizes that it must include Japan and South Korea.
On Russia, Harris has primarily focused on Moscow's interference in U.S. elections. She says she would "stand up" to President Vladimir Putin to defend democratic values, and emphasizes her support for Ukraine.
Harris has criticized free trade agreements, including the North American Free Trade Agreement (NAFTA), saying they do not adequately protect U.S. workers or address climate change. She has also criticized Trump's tariffs.
Harris calls Venezuela's Nicolas Maduro a "repressive and corrupt dictator" and has urged the Trump administration to provide special legal relief to Venezuelans amid the country's humanitarian crisis. She doesn't support military action to change the regime there.