A Few Thoughts on Narendra Modi's Shangri-La Dialogue Speech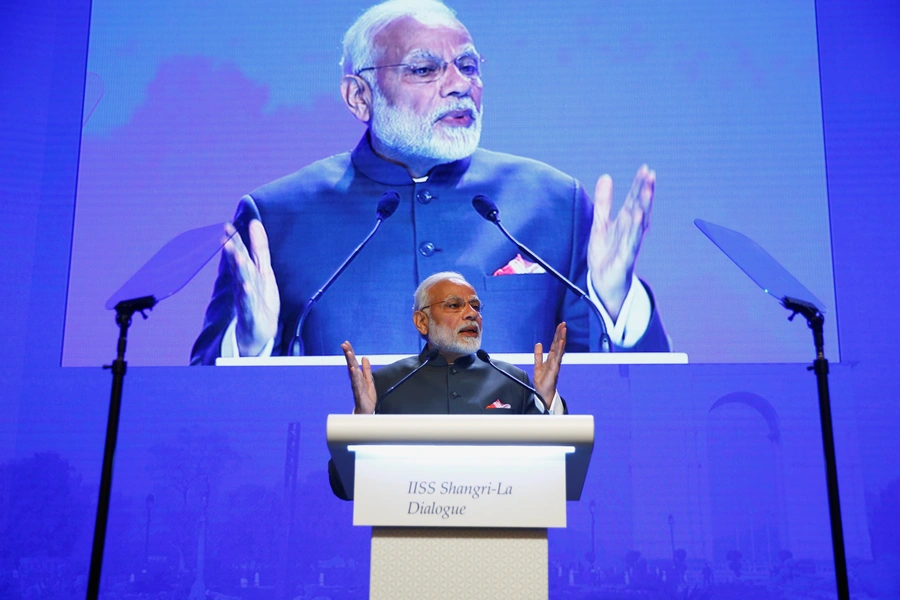 Earlier today Indian Prime Minister Narendra Modi delivered the keynote address at the International Institute for Strategic Studies' Shangri-La Dialogue. Given India's limited participation in recent years—a disappointment to many observers who had hoped for a more active Indian presence at Asia's premier security forum—Modi's speech was eagerly anticipated.
As with his address in January at the World Economic Forum, Modi presented India as a champion of the liberal international order. (Unlike his address at Davos, however, Modi delivered this one in Singapore entirely in English rather than Hindi, which he does not frequently do.) Modi included a lot of material in this speech that would not surprise Indian listeners, as many elements of his address reaffirmed earlier policies, positions, or initiatives.
To my ears, his speech amplified the central and ongoing themes of India's role on the world stage: (1) India's focus on its own long civilizational history of international engagement—and raising global awareness of that history; (2) India's sense of itself as playing a linking role for the larger Indo-Pacific space; and (3) India's commitment to principles, rule of law, and a theory of equality for nations as part of its general commitment to the liberal international order.
On the first theme—the not-to-be-forgotten importance of India's civilizational past—Modi invoked India's maritime history, highlighting the Indus Valley civilization port of Lothal (in his home state of Gujarat) as "among the world's oldest ports." He cited Buddhism as a regional link for the Indo-Pacific: "The ancient wisdom of the region is our common heritage. Lord Buddha's message of peace and compassion has connected us all."
Not surprisingly, he underscored the importance of the Indian Ocean to India, noting that 90 percent of India's trade and energy passes through it. He specifically delineated the boundaries of the Indo-Pacific as seen through Indian eyes: as a space extending "from the shores of Africa to that of the Americas." In this geography—unlike the American geography that bookends the Indo-Pacific with India's west coast and then the U.S. west coast—India sits right in the middle.
Modi emphasized India's "Act East" policy of stepped-up activity with the ASEAN region, and highlighted India's work with the Indian Ocean Naval Symposium, the Indian Ocean Rim Association, and a series of regional organizations in which India participates: the East Asia Summit, ASEAN Defense Ministers Meeting Plus (the "Plus" includes countries outside of ASEAN), and ASEAN Regional Forum. In this presentation, Modi also noted India's participation in organizations "bridging South and Southeast Asia": the Bay of Bengal Initiative for Multi-Sectoral Technical and Economic Cooperation and the Mekong-Ganga Economic Corridor. (APEC, of course, did not figure as India has been denied membership for more than twenty years.)
He highlighted strengthened bilateral ties with Japan, South Korea, Australia, New Zealand, the Pacific Islands, Russia, the United States, and China ("no other relationship…has as many layers"). Finally, in the geographic tour, he included India's "growing partnership with Africa." This tour of India's participation in regional institutions, and its ties both throughout the Indo-Pacific and with the world's major powers, points to how India sees itself as both a bridge across the region, and a point of connection—a node—for interaction in the Indo-Pacific.  
On the question of principles, Modi specifically affirmed India's vision for the Indo-Pacific as a "free, open, and inclusive" region, not "directed against any country," with "Southeast Asia at its center," and a space that requires a "common rules-based order" that respects "sovereignty and territorial integrity as well as equality of all nations." He underscored the importance of freedom of navigation and connectivity—and decried protectionism, as he had in his Davos speech. (Of course, less than a month after the Davos speech, India raised tariffs on a range of goods such as toys and phones largely imported from China.) At least Modi is speaking about the need to stop protectionism. Over in Washington, DC, the Donald J. Trump administration has decided to revive it.
For me, the big-picture takeaway from this speech lies in Modi's apparent desire to position India as a champion of the liberal international order. Observers of the region and of Indo-Pacific geopolitics will be looking for more.
My book about India's rise on the world stage, Our Time Has Come: How India Is Making Its Place in the World, was just published by Oxford University Press in January. Follow me on Twitter: @AyresAlyssa. Or like me on Facebook (fb.me/ayresalyssa) or Instagram (instagr.am/ayresalyssa).