Is a Genocide Taking Place in Myanmar?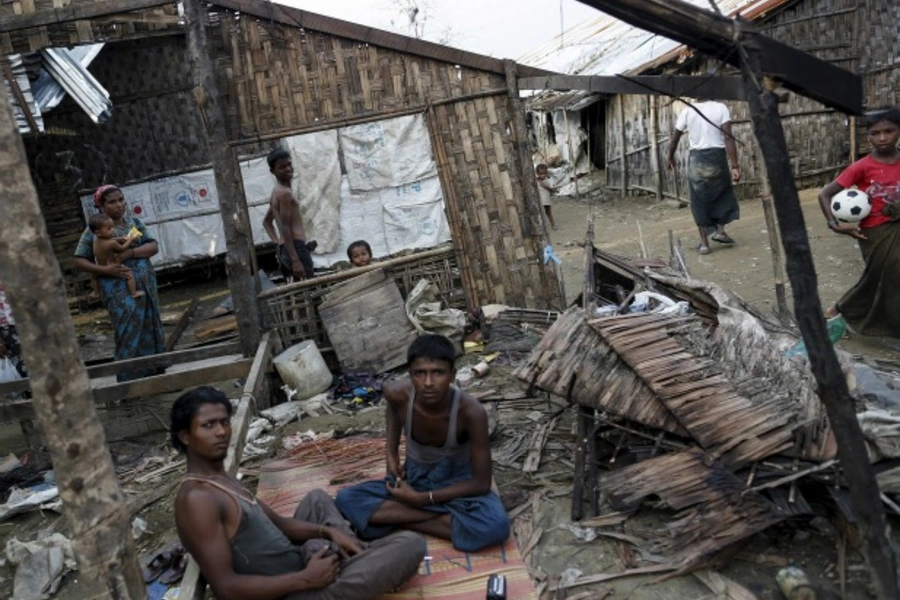 Since 2011, when Myanmar's political reforms began, launching a stuttering process of democratization, attacks on Muslim Rohingya in western Myanmar have become common. The violence often has been abetted by paramilitary groups, hard-line Buddhist monks, and Buddhist civilian groups affiliated with the hard-line monks. Since the violence worsened in 2012, neither the government nor the leaders of the National League for Democracy have taken any effective steps to stop anti-Rohingya discrimination, provide suitable accommodations for Rohingya who have left their homes, help Rohingya who were stripped of their Myanmar citizenship regain it, or halt the activities of paramilitary organizations.
The anti-Rohingya violence is a major reason why, in the past five years, Rohingya have not only become internally displaced people in Myanmar but also have left the country in large numbers. Since 2012, at least 140,000 Rohingya have fled their homes. If they stay in Myanmar, Rohingya migrants often are shunted into what research and advocacy group Fortify Rights calls "dozens of internment camps." Fortify Rights adds that these are "not typical internally displaced person camps. They are beginning to look more like permanent concentration camps, complete with barracks-style housing and barbed-wire fencing. Residents can't leave."
Many Rohingya have tried desperately to leave Myanmar on rickety boats with little food and water on board; the boats often are managed by human trafficking networks, and boat captains sometimes have abandoned the ships when they feared being caught by a foreign naval patrol. Although the stream of migrants onto boats bound for Thailand, Malaysia, and Indonesia lessened this summer, after a spike in boat people last spring, aid workers in Myanmar who closely follow migration patterns expect the outflow of refugees to increase in the coming months once again. As summer monsoons die down and it becomes (slightly) easier to put out to sea, several aid workers say, levels of outmigration from Myanmar easily could approach the number of outflows last spring.
Now, a new report by Yale Law School's International Human Rights Clinic and Fortify Rights suggests that the violence in western Myanmar goes beyond brutal ethnic and religious attacks. Although the Clinic does not say for certain that genocide has occurred in western Myanmar, it concludes that there is "strong evidence that genocide is being committed against Rohingya." The Rohingya comprise a protected group under the international Genocide Convention adopted in 1951, and acts committed against them rise to the level enumerated in the Genocide Convention, the report concludes. However, the report notes, it remains unclear whether the acts committed against the Rohingya are designed "with intent to destroy the group, in part or in whole," the third component of the definition of genocide. (As the report notes, "the crime of genocide consists of three essential elements: the existence of a protected group, the commission of one or more prohibited acts, and the requisite intent.")
Thus, to analyze whether genocide has been, or is being, committed, one must consider whether all three of these components of definition are met. The only way to tell for certain whether the attacks and killings in western Myanmar are being conducted with intent to destroy the Rohingya in part or in whole, the Yale Clinic concludes, is for an independent institution (e.g. a United Nations commission of inquiry) to complete a full and free investigation into the events that have taken place in western Myanmar since 2012.
Among the evidence that the report cites in suggesting that genocide is taking place, it notes that the Myanmar government has limited many Rohingyas' freedom of movement, attempted to pass population control policies, and set up the dire camps in western Myanmar---camps that are essentially now functioning as internment centers and that lack basic amenities. The government may be attempting to reduce the Rohingya population and, potentially, to isolate and destroy portions of the Rohingya population, the report suggests.
As Shawn Crispin notes in The Diplomat, if the violence in western Myanmar qualifies as genocide, it puts the United States, Japan, the European Union, and other democracies that have pursued rapprochement with Myanmar in a difficult position. If "the Yale Clinic and Fortify Rights' findings have legal merit, then [Myanmar President] Thein Sein would be a prime candidate for prosecution," notes Crispin. Yet Thein Sein has been hailed as one of the architects of Myanmar's reforms, celebrated in the capitals of many democracies. A conclusion that Myanmar was suffering genocide also would undermine the portrayal of Myanmar's reforms as a major success story of the Obama administration---and a success story for the current Democratic Party front-runner, former Secretary of State Hillary Clinton.