Hello, Narendra Modi: Prime Minister of India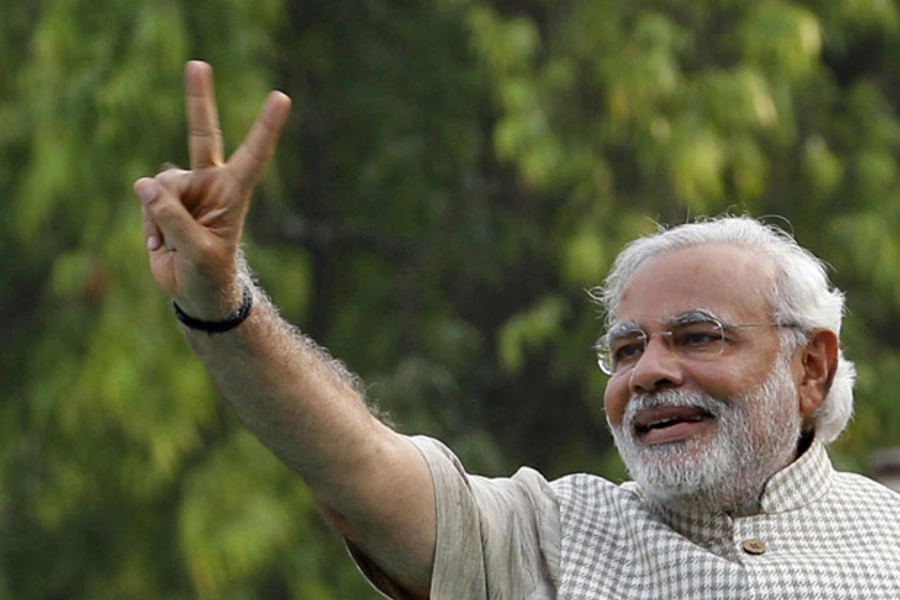 India did not produce Horatio Alger, but it certainly has produced a Horatio-Alger story: Narendra Modi. Yesterday the son of a poor tea seller took the oath of office as India's fourteenth (or fifteenth) prime minister. He comes to office on the heels of an historic electoral victory. His Bharatiya Janata Party (BJP) won 282 seats in India's parliamentary election, marking the first time in  thirty years that a single party in India won enough seats to form a government without the help of a coalition partner. Modi used his victory speech to promise to deliver a "shining India," and he used his inaugural address to urge Indians to "script a glorious future for India." Expectations are high in India that Modi will deliver on that promise. However, the obstacles in the way of his making good on his word are equally high. So if Modi succeeds, he will write an ending to his own story that Horatio Alger would have envied.
The Basics
Name: Narendra Modi
Date of Birth: September 17, 1950
Place of Birth: Vadnager, Gujarat
Religion: Hindu
Political Party: Bharatiya Janata Party (BJP)
Marital Status: Married, but living apart from his wife for more than four decades
Children: None
Alma Mater: Delhi University (undergraduate), Gujarat University (master's)
Political Offices Held: Chief Minister of Gujarat (2001-2014), BJP National General Secretary (1998-2001), BJP National Secretary (1995-1998)
Twitter: @narendramodi, @PMOIndia
Website: http://pmindia.nic.in/pmmessage.php
What Supporters Say
In retrospect, signs of Modi's stunning electoral victory were there all along. He gained an almost cult-like following in many parts of India in the run-up to the election. Journalists wrote of "Modi mania." A February 2014 Pew poll found that 78 percent of Indians viewed him favorably. Tea shops across India sold tea in cups with Modi's image on them. The BBC reports:
His supporters wear masks, caps, paper sunglasses and scarves bearing his face. There are Modi flash drives and photo books. Scores of films have been made on him and his work and more than 120 books have been written about him, many of them hagiographies with names like The Architect of a Modern State and The Man of The Moment. An animation film commissioned by a fan club in Gujarat shows Mr Modi as a Superman-like figure throwing darts at a "poverty board" and swooping in to catch terrorists.
Modi garnered a lot of praise for fostering economic growth in Gujurat during his three terms as the state's chief minister. He was the candidate of choice for many Indian business leaders for that reason. But many other Indians also saw in him the promise of an economic revival. Chirag Patel, a twenty-eight year old soldier who campaigned for Modi, touted his ability to bring Gujarat's success to the rest of India:
He will make India like Gujarat. He has given us 24 hours electricity for homes, eight hours for farms, good roads.
Surendra Salke, a software engineer, also believes that Modi will bring renewed economic growth:
He will bring the policies that will help foreign investors and foreign companies to invest in India.
Modi has won plaudits for his management style. Utkarsh Shah of the Indian Chamber of Commerce explains:
Modi brought a corporate style to government. So the business class is happy.
Modi is known as a hard worker. Arun Jaitley, a leader in the BJP, has said:
Modi is like a man possessed when it comes to work. He's in office till 11:00 p.m.
Dinesh Patel, an electronics technician, admires Modi's work ethic:
He's a self-made man who devotes a lot of time to his work. He doesn't even live with his mother.
Zaki Anwar, a bangle maker, says of Modi:
People say all sorts of things but I believe what I see for myself… Modi is a hard working person, so he will work to reduce poverty and I am putting my hope in him.
What Critics Say
Despite his popularity, Modi has plenty of critics. He has been heavily and repeatedly criticized for his handling of the 2002 religious riots that broke out in Ahmedabad, Gujarat, when a Hindu mob blamed Muslims for a train fire that killed about sixty people. The ensuing riots led to the deaths of over one thousand Muslims. Critics charge that Modi, as chief minister, didn't do enough to stop the violence; some critics claim he incited it. Modi has been cleared of charges, but that hasn't stopped opponents from playing up Modi's alleged role.
Though the riots were over ten years ago, Muslims, who make up about 14 percent of India's population, are still skeptical of Modi. Mufti Abdul Batin Nomani, the head of the Gyanvapi mosque in Varanasi, predicted that very few Muslims would vote for Modi. He explained why:
In a word: Gujarat. The community will never vote for Modi. If there is an election issue, it is to defeat Modi. We haven't decided who to vote for, but it will be against him.
Justice Hosbet Suresh, former judge of Bombay High Court has been a particularly harsh critic of Modi:
Modi was the main conspirator of Gujarat riots… What happened after Hitler came to power? World War broke out. I do not rule out the possibility of [something] similar if he becomes the PM.
Some Muslims also worry about Modi's history with Hindu nationalism. Abdul Matin, a Muslim textile business owner, worries that Modi "doesn't believe in a secular state." Syed Husain Afsar, who edits a news website, thinks that Modi downplayed his Hindu nationalism to win votes:
This is an election tactic…Everyone knows he's not secular.
Other critics say that Modi's management style will be a problem once he is prime minister. The Economist writes:
His management style and general caginess lead even some of Mr Modi's supporters to worry that he is a secretive loner who refuses to delegate.
Some of Modi's critics think that Modi's love for big business comes at the expense of India's poor population. Sartanhai Bharwad, a fifty-year-old farmer, says:
He's only for big buildings, big industry…Poor people, people like us, don't fit anywhere in his scheme of things.
Rahul Gandhi, who led the long dominant Congress Party to its worst defeat ever in the 2014 elections, accused Modi of "crony capitalism":
Mr Modi has a strong predilection for crony capitalism and we must challenge him on it. Apart from the crores lost to crony capitalism, such favoritism also signals to the rest of the world that India is not a level playing field.
Yet some of Modi's critics might have voted for him anyway. Vinod Hedge, a Bangalore stockbroker, says:
Even assuming Modi has been responsible for XYZ, we don't see an alternative… If I had to choose between a moron and a murderer, I'd probably choose the murderer.
Stories You Will Hear More About
Modi grew up in modest surroundings in the medieval city of Vadnagar. His parents were from the low Ghanchi caste; he was the third of their six children. Under India's caste system Ghanchis traditionally pressed and sold vegetable oil; Modi's father supplemented his income by selling tea at the Vadnagar railway station. Modi helped his father sell tea when he wasn't in school. He attended Bhagavatacharya Narayanacharya High School. One of his teachers remembers him as:
only an average student. But he showed keen interest in debates and theatre. I set up the debating club at the school, and I remember Narendra was among the regular students in the club.
Modi wandered through northern India for several years after high school as he debated what to do with his life. He earned his undergraduate degree in 1978 at the age of twenty-eight through a distance education program run by Delhi University. Five years later he earned master's degree in political science from Gujarat University.
Modi began volunteering for the Rashtriya Swayamsevak Sangh (RSS), a militant Hindu nationalist organization, when he was only eight years old. The RSS is controversial inside and outside of India for its commitment to transforming India into a Hindu state. The organization was briefly banned in the late 1940s after one of its former members assassinated Mahatma Gandhi.
Modi eventually became a full-time RSS volunteer, known as a pracharak. The BJP, formed in 1980, is often considered to have political ties to the RSS. Modi's history with Hindu nationalism has brought criticism from both secular and Muslim Indians, who worry that he will favor India's Hindus (who make up about 80 percent of India's population) or move India toward becoming a Hindu state.
Modi is famous for being a bachelor. He has used the fact that he is single—and single-mindedly devoted to India—to his political advantage. He cites it as evidence that he can be trusted to run the government. As he told a campaign rally in February:
I have no family ties. I am single. Who will I be corrupt for?
When Modi filed the paperwork for his run for prime minister, though, he admitted what had long been rumored and occasionally reported: he was in fact married and had been for decades. At the age of eighteen he wed Jashodaben Chimanlal Modi in a marriage that their parents had arranged. According to Ms. Chimanlal, who never remarried and who still considers Modi to be her husband, he left her after three years of marriage, though during that time they spent only three months together. Now a retired school teacher living on a monthly pension of $232 a month, she harbors no animosity for the man who for more than four decades denied she existed:
I have never gone to meet him and we have never been in touch. I don't think he will ever call me. In whatever I say, I do not want it to harm him. I just wish that he  progresses in whatever he does.
Modi is regarded as a powerful speaker. He held "Chai Pe Charcha" (discussions over tea) during his campaign, broadcasting himself to tea shops across India via videoconference to speak to his supporters and take their questions. One attendee explained the appeal:
Often politicians are unable to get their point across. And voters have no way of communicating directly with the politicians. This new approach certainly addresses that.
Modi, however, is not gregarious. He has few friends. A colleague of his explains:
People used to get hurt as they were unable to establish a personal rapport. But we realised he did not mean any ill. That is just the way he is.
Modi told his biographer: "I actually enjoy lonelineness."
However interesting Modi's life story may be, his tenure as prime minister will be judged on how well India's economy fares. India's GDP growth rate has slowed from 9 percent to 5 percent since 2010, though Modi's state of Gujarat has experienced continued economic growth and success. During Modi's time as minister of Gujarat, the state's GDP grew more than 10 percent annually. He brags about the new roads and power grids in the state and the foreign investment he has attracted. In the September/October issue of Foreign Affairs, Ruchir Sharma explained:
Modi is the most controversial of the new chief ministers, because his aggressive push to develop and industrialize Gujarat has earned the state a reputation as the upcoming China of India. The sun sets red over the newly constructed highway that leads into Gujarat's commercial capital, Ahmadabad, one of the fastest-growing cities in the world. Factories sprout from the farmland just outside town, in scenes evocative of southern China. Today, Gujarat generates about 40 percent of its income from industry, compared with 15 percent nationwide.
Whether Modi can translate Gujarat's economic success story to the national level remains to be seen.
In His Own Words
Modi acknowledges his Hindu nationalism, but at least publicly he is saying that bread-and-butter issues take precedence:
I am known to be a Hindu-nationalist leader, [but] my real thought is toilets first, temples later.
He has big plans for the country:
Electricity in every home, toilets in every home, education for children, hospitals for the elderly. Brothers and sisters, can't we do this in our country?
Throughout his campaign, Modi sidestepped accusations that he was involved in the 2002 riots. In one interview, he declared that "What happened in Gujarat could have happened anywhere" and that "the mindless violence of 2002" had left him "shaken to the core."
Congress Party officials warned Indians of the dangers of a Modi prime ministership. He had equally harsh things to say of the ruling Congress Party:
The Congress party says that a Modi wave could turn into a tsunami which will destroy. Yes, there will be a tsunami, my friends, and it will be a Modi tsunami which will destroy the Congress…Do you want an MP or a PM? If you want an MP, vote for Congress, if you want a PM vote BJP.
At the release of the BJP manifesto in early April, Modi accepted the task that his party had put before him:
The party has bestowed me with certain responsibility. I want to make three promises personally–I will never be found wanting on hard work, I will not do anything for myself and I will not do anything with bad intent.
Modi understands what he has to do as a leader:
Unless and until you inspire the people, you will not get results.
Modi says he will focus on what he calls the five T's (talent, tradition, tourism, trade, and technology) to build what he calls "Brand India," in hopes of boosting India's economy and India's position on the world stage.
Foreign Policy Views
Foreign policy is not a particularly partisan issue in India; India's foreign policy generally has not changed much when the party in power changed. Modi did criticize the outgoing Indian government for being "weak where we needed to be strong, insensitive where we needed to be sensitive." He has also urged greater participation by India's states in the formulation of foreign policy. Mohan Guruswamy, a political analyst at Delhi's Center for Policy Alternatives, says of Modi's foreign policy stance:
Internationally, he would be a little more hardline on everything—Pakistan, China, America. Indian interests would be aggressively asserted… it plays well with the electorate, the new generation coming up that's educated by the Internet—they tend to be right-wing nerds [with] a sense of victimhood, that we've been victimized by foreigners—by Muslim invaders, Christian invaders.
My colleague Alyssa Ayres says that Modi will draw on the BJP's past ideas in his foreign policy:
The foreign policy section of the manifesto, which takes up one page and comes at the end, in keeping with the BJP past again promises to be "guided by our centuries old tradition of Vasudhaiva Kutumbakam" (the world is a family) in working to achieve India's rightful place in the world. The BJP, unlike Congress's plan to strengthen relations with all, would create a "web of allies to mutually further our interests." Alliances are selective and much tighter relationships of consultation and obligation, a position very different from one of non-alignment with all.
Many experts expect Modi to be tough with Beijing when it comes to Chinese claims to territories India considers its own. In February, Modi said that the "world has changed and expansionist mindset will not be acceptable." Speaking specifically about Arunachal Pradesh, an Indian state that China refers to as "south Tibet," he said:
[It] is an integral part of India and will always remain so. No power can snatch it from us. People of Arunachal Pradesh didn't come under pressure or fear of China... I swear in the name of this soil that I will never allow the state to disappear, breakdown and to bow down.
Foreign policy experts—and most Indians—will also be watching carefully to see what course Modi charts with Pakistan. The BJP's staunch Hindu nationalism has sparked concern (or hope, as the case may be) that Modi will take a tougher line with Pakistan. But Modi could surprise. The BJP extended the so-called hand of friendship to Islamabad when it last governed India a decade ago. Modi may follow the same path, if only so he can concentrate on his economic agenda at home. He made a point of inviting Pakistani prime minister Nawaz Sharif to his swearing in, and Sharif accepted. The two leaders met earlier today on Modi's first full day in office, and both said all the right things in their remarks to reporters. But Pakistan's ability to return any peace gesture from New Delhi, if one should come, will likely be limited. Sharif's political status is fragile, and Islamabad's commitment to curbing homegrown terrorists—a critical Indian demand—is questionable. Adding to the challenge is the continued drawdown of U.S. troops from Afghanistan. It could trigger a destabilizing competition between India and Pakistan in Kabul.
Modi has little foreign policy experience. But a former Indian foreign minister says of him:
He understands globalization, will not be blindsided, and he will be influenced by the overseas Gujarati diaspora, who are very active and networked.
The BJP platform proposes to make India "globally competitive." That suggests that trade will likely be a priority in Modi's foreign policy.
Outlook for Relations with Washington
Modi became persona non grata with official Washington after the 2002 riots. In 2005, the George W. Bush administration not only rejected his application for a diplomatic visa to visit the United States, it revoked his existing tourist/business visa. Things didn't change as Modi's prominence grew back home in India and talk picked up about his potential to be a candidate for prime minister. Instead, U.S. lawmakers and human rights activists lobbied first the Bush administration and then the Obama administration to keep the visa ban in place.
It is one thing to deny a visa to a state governor in a foreign country. It is quite another to deny a visa to the head of a foreign government, especially one whose cooperation you want to secure. So the Obama administration will almost certainly grant Modi a visa, assuming he wants to visit. The White House has already begun to reach out to Modi. This past February, the U.S. ambassador to India, Nancy Powell, met with Modi to discuss "the U.S.-India relationship, regional security issues, human rights, and American trade and investment in India."
Washington and Delhi certainly have a lot to talk about. China's rise has immense consequences for both India and the United States. But that doesn't mean that U.S.-Indian cooperation is automatic. Far from it. A lot divides the two countries. India was a founding member of the Non-Aligned Movement in 1955, and throughout much of the Cold War U.S.-Indian relations were strained if not downright antagonistic. For all the talk of being non-aligned, New Delhi was closer to Moscow than to Washington, and it frequently bridled at U.S. support for its main adversary, Pakistan. During the Cold War, India bought its weapons primarily from the Soviet Union, not from the United States. (Today India is the number one foreign customer for U.S. weapons.) Those long-standing ties with Moscow likely played a role in New Delhi's tepid reaction to Russia's annexation of Crimea. Despite championing non-intervention and state sovereignty for decades, the Indian government didn't denounce Vladimir Putin's land grab; it instead spoke of Russia's "legitimate interests."
India is also one of the BRICS, the group of (seemingly) up-and-coming powers christened by an economist at an investment bank and now looking to reshape global politics: Brazil, Russia, India, China, and (more recently) South Africa. Whether the BRICS become a coherent counterweight to Western economic and political power, or have already passed their "sell-by" date, remains to be seen. But the idea of an India standing with other emerging powers against the reigning forces of world order resonates with many Indians.
That political reality complicates U.S. overtures to India, and it explains why the 2005 U.S-India civil nuclear deal did not generate the outsized improvement in U.S.-Indian relations that many of its American supporters anticipated. India was, for example, reluctant to follow Washington's lead in putting pressure on Iran to curb its nuclear ambitions.
Security isn't the only issue of note in U.S.-Indian relations. So is trade. The good news is that bilateral trade between India and the United States is way up, increasing from $6 billion in 1990 to $93 billion in 2012, the last year for which data are available. Modi wants to see those numbers grow. He calls trade a cornerstone of India's relations with the United States:
It is in India's interest to promote trade, commerce and technology. We will do whatever is necessary to that effect.
But trade is also a source of tension between Washington and New Delhi. The two capitals have butted heads over issues such as Indian barriers to U.S. poultry and dairy exports, intellectual property rights (especially dealing with pharmaceuticals), and India's limits on foreign investment. Progress toward settling these issues will be hard to come by.
The tension and distrust that characterizes U.S.-Indian relations mean that even relatively minor irritations can derail progress on major issues. One such example came in December 2013 when U.S. officials arrested Devyani Khobragade, the deputy consul general at India's consulate in New York, for allegedly committing visa fraud. Indian officials insisted that the arrest had been improper and that Khobragade had been strip-searched, among other indignities. New Delhi retaliated by curbing the privileges of U.S. diplomats in India. Faced with a dispute that looked to be escalating, the Obama administration in January 2014 permitted New Delhi to transfer Khobragade to its UN mission in New York, a move that gave her diplomatic immunity. She left the United States the next day. While the Khobragade Affair failed to attract much attention in the United States, it dominated the news in India, underscoring the difficulties the Obama administration will face in building closer ties with New Delhi.