This blog post updated an earlier post, and was again coauthored with my research associate, Amelia M. Wolf.
Doctors Without Borders/Médecins Sans Frontières (MSF) reported that its hospital in Kunduz, Afghanistan was attacked yesterday by air forces several times over the course of a thirty-minute period. The latest MSF communication stated, "At least 16 people died—nine MSF staff, 7 patients from Intensive care unit, among them three children." Col. Brian Tribus, spokesperson for U.S. forces in Afghanistan, acknowledged airstrikes on Kunduz at 2:15 a.m., noting it was the twelfth in that vicinity since Tuesday, against "individuals threatening" Coalition forces, which "may have resulted in collateral damage to a nearby medical facility." Secretary of Defense Ashton Carter declared, "A full investigation into the tragic incident is underway in coordination with the Afghan government."
According to an anonymous U.S. official, the attack was by an AC-130 gunship at the request of U.S. ground troops coming under fire. This means it was not a pre-planned airstrike, which, under U.S. military policy for Afghanistan, requires a collateral damage estimation to characterize the extent of collateral damage risk, but rather it was a close air support airstrike done at the request of a support ground commander who perceived an imminent threat to Coalition forces. For the last month for which there is data available (August), there were 143 Coalition airstrikes in Afghanistan, the most in ten months.
In an effort to document the overall civilian deaths, assign responsibility, and identify the means of lethality, the United Nations Assistance Mission in Afghanistan (UNAMA) has produced 15 reports on the protection of civilians since 2007. The reports are prepared by UNAMA's Human Rights Unit that is directed by the country representative for the UN High Commissioner for Human Rights, Georgette Gagnon. As the best independent and impartial source of information, we have summarized UNAMA's grim data for the nearly 22,849 documented civilian deaths in the tables below.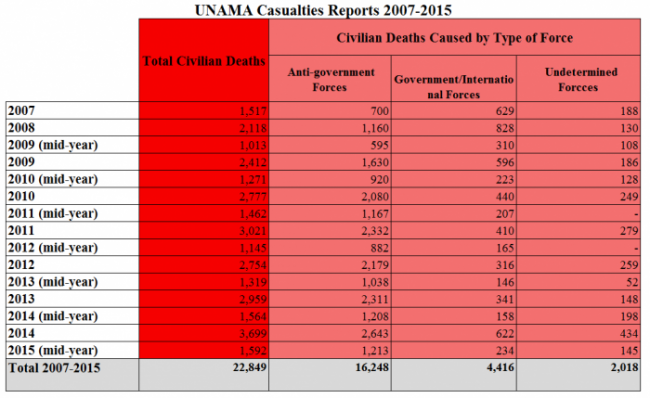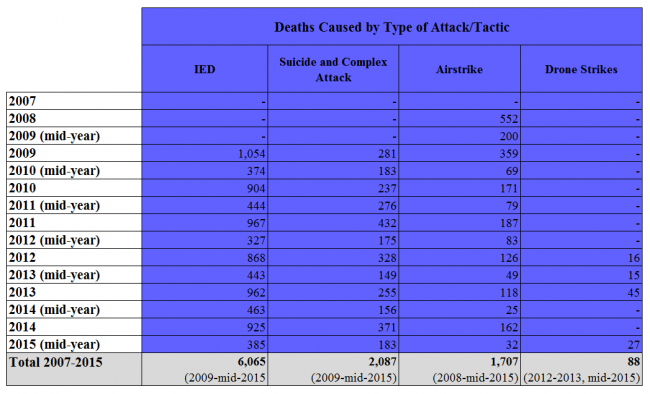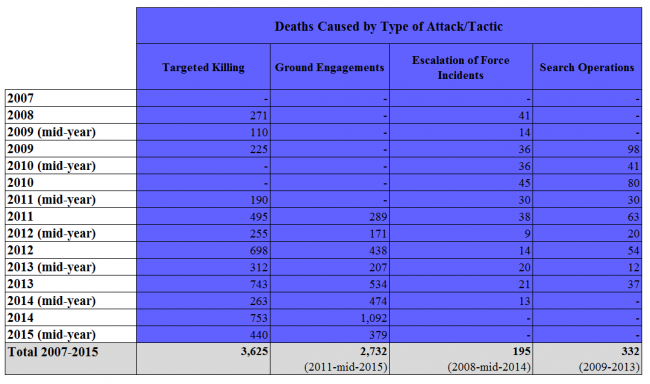 Terminology
Aerial attack or air strike: Firing ordnance from aircraft, including close air support (CAS) from fixed-wing aircraft, and close combat attack (CCA) from rotary-wing aircraft, and attacks using remotely piloted aircraft (RPA).
Anti-Government Elements: 'Anti-Government Elements' encompass all individuals and armed groups involved in armed conflict with or armed opposition against the Government of Afghanistan and/or international military forces. They include those who identify as "Taliban" as well as individuals and non-State organized armed groups taking a direct part in hostilities and assuming a variety of labels including the Haqqani Network, Hezb-e-Islami, Islamic Movement of Uzbekistan, Islamic Jihad Union, Lashkari Tayyiba, Jaysh Muhammed, and other militia and armed groups pursuing political, ideological or economic objectives including armed criminal groups directly engaged in hostile acts on behalf a party to the conflict.
Civilian: For the purposes of the conduct of hostilities "civilians" are understood, under international humanitarian law, to mean all persons who are not members of military/paramilitary forces or members of organized armed groups who have a continuous combat function, of a party to a conflict. Civilians may lose their protection against attacks for such time as they take direct part in hostilities. A person who is a member of a military/paramilitary force or of an organized armed group and who is hors de combat (wounded, sick, shipwrecked, detained or surrendering) or who belongs to the medical or religious personnel of the armed forces must be protected from attack.
'Complex attack': a deliberate and coordinated attack which includes a suicide device (i.e body-borne improvised explosive device, vehicle-borne improvised explosive device), more than one attacker and more than one type of device (i.e. body-borne improvised explosive device and mortars). All three elements must be present for an attack to be considered complex.
EOF Incidents: Escalation of Force incidents also referred to as "force protection" incidents: situations where civilians do not pay attention to warnings from military personnel when in the proximity of, approaching or overtaking military convoys or do not follow instructions at check points. ISAF defines EoFs as: "a defensive process which seeks to determine the presence of a threat, its eventual extent and when applicable to match the threat with an appropriate defensive response for Force protection."
IED: Improvised Explosive Device. A bomb constructed and deployed in ways other than in conventional military action. IEDs can take the form of suicide bombs, such as Personal-Borne IEDs (PB-IED), Radio-Controlled IEDs (RC-IEDs), Vehicle-Borne IEDs (VB-IEDs), Suicide Vehicle Borne IEDs (SV-IED), Command-Wire IEDs (CW-IEDs), Victim-Operated IEDs (VO-IEDs), and Pressure-Plate IEDs (PP-IEDs).
IM Forces: "International Military Forces" includes all foreign soldiers forming part of ISAF and US Forces Afghanistan (including Operation Enduring Freedom) who are under the command of the Commander of ISAF (COMISAF), who is also Commander of US Forces in Afghanistan. The term also encompasses Special Operations Forces and other foreign intelligence and security forces.
Pro-Government Forces: Afghan Government National Security Forces and other forces and groups that act in military or paramilitary counter-insurgency operations and are directly or indirectly under the control of the Government of Afghanistan. These forces include, but are not limited to, the ANA, ANP, ABP, NDS, ALP and other Pro-Government local defense forces.
Afghanistan National Security Forces include: ANA, which reports to the Ministry of Defense and is formally incorporated into the armed forces of Afghanistan; Afghan Local Police, which are considered a de facto part of the armed forces because of their function and do not have the legal protection afforded to civilians; and ANP, AUP, and ANBP, which are law enforcement agencies not formally incorporated into the armed forces of Afghanistan that report to the Ministry of Interior. Members of law enforcement agencies lose their protection as civilians when they function as part of the armed forces or directly participate in hostilities. For members of police units which never have combat functions, use of force in self-defense does not result in loss of protection as a civilian. This term also includes international military forces and other foreign intelligence and security forces (see IM Forces).
Targeted Killing: Intentional, premeditated and deliberate use of lethal force by States or their agents acting under color of law (or by an organized armed group in armed conflict) against a specific individual who is not in the perpetrator's physical custody. Although in most circumstances targeted killings violate the right to life, in the exceptional circumstance of armed conflict, they may be legal.
UAVs: also defined as Remotely Piloted Aircraft (RPA). There is no distinction between the terms RPA, UAV and drones. UNAMA may be under reporting the number of civilian casualties from UAVs because UNAMA is not always able to confirm which type of aerial platform was used during an operation (i.e. fixed-wing, rotary-wing or UAV) that resulted in civilian casualties. International military forces do not routinely make information about air operations available due to its classification.