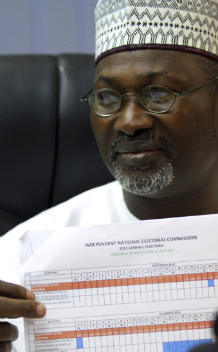 In an address to the nation, President Goodluck Jonathan states that the first tranche of Nigeria's 2011 elections will go forward on Saturday, April 9, having been postponed from April 2. He did acknowledge that in some, few places, the voting might be postponed a third time pending receipt of the necessary voting materials. Subsequently, Chairman of the Independent National Electoral Commission (INEC) Attahiru Jega announced that the now-scheduled April 9 voting would be postponed in 15 of the 109 senate races and 48 of 360 for the house of representatives.
Those who had already cast their ballots before the elections were postponed on April 2 must repeat the registration and ballot process again on April 9. INEC faces the logistical crisis of reprinting and applying serial numbers to the some 20 million new ballots now required. At least some ballots will be printed locally, but distribution around the country will be a logistical challenge.
Public reaction to this series of postponements continues to be muted. While rumors that Jega may resign continue to circulate, I have seen no evidence that he plans to do so. At this stage, a Jega resignation would significantly harm the remaining credibility of the elections, already compromised by the earlier two postponements.