Peace Talk at Panmunjom: A New Opening Or Déjà vu?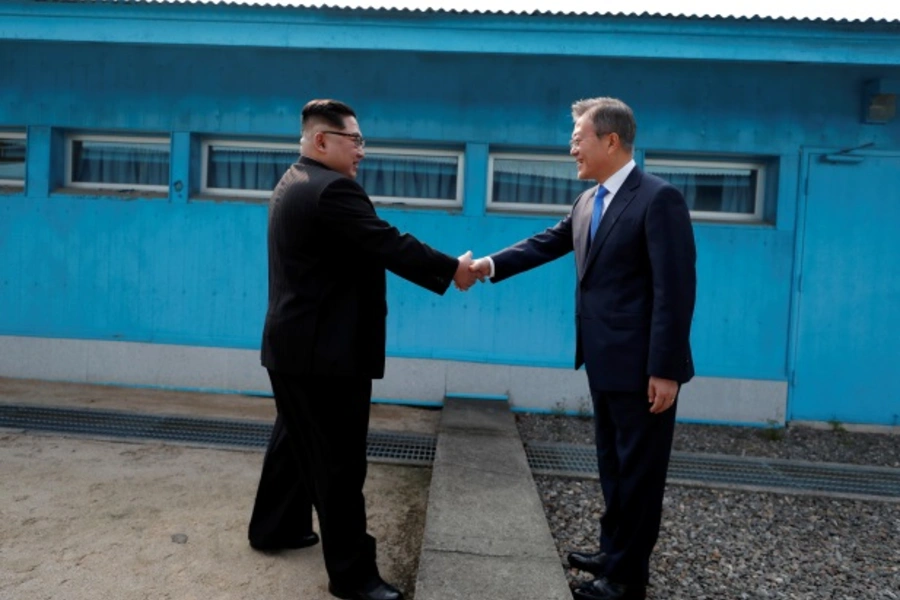 Kim Jong-un walked across the line dividing the two Koreas at Panmunjom on cue into the international media spotlight and the warm welcome of South Korean President Moon Jae-in. They chit-chatted like good neighbors at a location that has been for decades the symbolic epicenter of inter-Korean confrontation. They planted a tree together and took a tea break when they were not declaring inter-Korean peace and unity in the Panmunjom declaration.
The mood was evocative of the June 13-15, 2000, first-ever inter-Korean summit between Kim Dae-jung and Kim Jong-il in Pyongyang, which opened an era of inter-Korean cooperation but did not ultimately address military tensions between the two sides or halt the North's nuclear weapons program. How will this opening be different, and why? The answer lies in the motives of the two Koreas and the circumstances they face.
Kim Jong-un's Coming Out Party
As was the case with his father Kim Jong-il, Kim Jong-un has effectively utilized an opening with South Korea to present a human face to the world in contrast to the usual narrative of Kim defined by growing threats and ruthless demand for political loyalty from his population. Kim emphasized in his oral remarks with Moon national unity rather than unification and was surprisingly forthcoming on his country's economic shortcomings in line with his priority on national economic development. Kim Jong-un presented a more flexible and pragmatic face than his father despite many shared motives.
Motivations for Kim to dramatically ease tensions with South Korea are manifold:
To evade the massive U.S.led pressure campaign
To reopen economic flows that can assist North Korea's economic development
To use South Korea as a shield against possible escalation of a military conflict with the United States
Moon Jae-in's Bid for Peace
Moon Jae-in has used the summit to hit restart on peace and reconciliation with North Korea. He has tried to draw out Kim Jong-un and to bind him to an institutional process for making progress on security. The Panmunjom declaration reaffirms the contents of all major prior inter-Korean declarations, including ambitious economic pledges contained in the October 4, 2007 inter-Korean declaration between Moon's former boss, Roh Moo-hyun, and Kim Jong-un's father, Kim Jong-il. The Panmunjom meeting builds on prior declarations in seeking to bind North Korea by institutionalizing processes for improving inter-Korean relations.
Through the Panmunjom declaration, South Korea has sought to regularize inter-Korean exchanges through resumption of family reunions and the establishment of an inter-Korean liaison office at Kaesong and to jumpstart implementation of an ambitious timetable toward establishment of a permanent peace. Although North Korea has traditionally reserved denuclearization as an issue for the United States, the Panmunjom declaration mentions denuclearization as a way of teeing up preparations for the Trump-Kim summit, which Moon desperately needs if his efforts to establish peace on the Korean peninsula are to succeed.
Perhaps the most serious litmus test of whether Moon's initiative will have immediate and lasting impact involves pledges of the two Koreas to reduce military tensions. Efforts to establish confidence-building measures through a maritime peace zone in the West Sea will turn on progress in inter-Korean military talks set for the coming weeks, which in turn will require support from the U.S. forces in Korea (USFK) to implement effectively. In addition, negotiations to replace the Korean armistice with a permanent peace regime will require close coordination with the United States and possibly also with China.
Setting Up for Trump and Kim
The Moon administration stressed in its pre-summit briefings the importance of simultaneous progress in inter-Korean relations and U.S.-DPRK relations. By setting the ambitious goal of declaring an early end to the war, Seoul has increased the pressure on North Korea and the United States to set an ambitious schedule for denuclearization. But the comprehensive inspections and verification process needed to assure North Korea's denuclearization will likely take much longer than the Panmunjom declaration's aspiration to conclude peace negotiations by the end of the year. There is a need to calibrate these two processes to ensure that they do not become a source of tension between Washington and Seoul.
As attention shifts to preparations for the Trump-Kim meeting, there is considerably less experience and good will between the United States and North Korea that can be used to build atmospherics for such a meeting than exists between the two Koreas. Just as Kim Dae-jung found himself exposed by a dramatic shift in U.S. policy during the transition from the Clinton to Bush administrations in early 2001, no one can say for sure where Donald Trump may go. Although Trump and Kim will both be tempted to go along with sweeping statements that mark an historic moment in relations, the two sides will have little to work with in the absence of further dramatic commitments by Kim Jong-un to embrace a process that expeditiously leads to denuclearization.
For North Korea, any such steps are tied to improvement of relations with the United States, which will involve far more than just a meet and greet with President Trump. U.S. skepticism about Kim and distrust of North Korea runs deep, and will only be reversed in the context of tangible and concrete steps toward denuclearization. Moreover, the human rights issue would also likely emerge as an obstacle in Congress to full normalization of U.S.-North Korea relations that might provide North Korea with a pretext to renege on denuclearization and create fissures within the U.S.-ROK alliance.