Sambo Dasuki at the Intersection of Nigerian Politics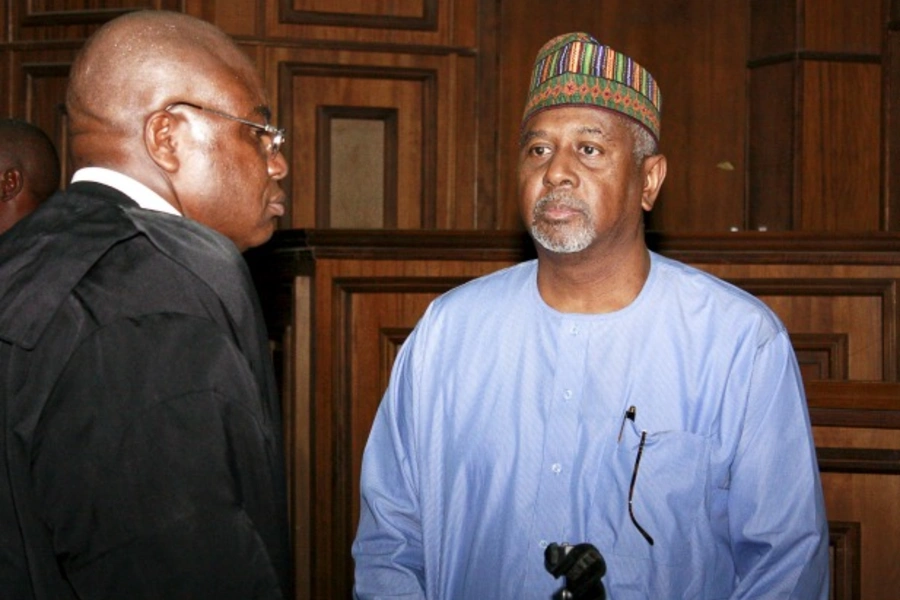 Col. Sambo Dasuki, ret., National Security Advisor to Nigeria's President Goodluck Jonathan from 2012 to 2015, stands accused of stealing huge sums of money intended for the military's struggle against Boko Haram. He has denied the accusations and said that he is prepared "to open the can of worms," but only at his trial. Dasuki's career runs like a thread through Nigeria's post-civil war (1967-70) history and crosses between traditional, military, and civilian politics.
Born in 1954, he is the first son of Alhaji Ibrahim Dasuki, the Sultan of Sokoto, the most senior traditional ruler in Nigeria and generally regarded as the spiritual leader of the country's Muslims. Dasuki entered the military and participated in U.S. military training: he attended the U.S. Army School of Artillery and the U.S. Army Command and General Staff College. His biography also says that he has degrees from American University and George Washington University, both in Washington, D.C. Some Nigerians will cite Dasuki as an example of how U.S. military training makes better coup plotters than democrats.
He was an active coup-maker. He participated in Gen. Muhammadu Buhari's 1983 military coup against civilian president Shehu Shegari. Subsequently, he also participated in the 1985 coup led by Gen. Ibrahim Babangida against Gen. Buhari (he was one of four officers who arrested Buhari). Subsequently, he served as General Babangida's aide de camp while the latter was military chief of state (1985-92). Babangida's successor as military chief of state was Gen. Sani Abacha (1993-98), who viewed Dasuki (and many others) with suspicion and was notorious for human rights violations. Abacha removed Alhaji Ibrahim Dasuki from the Sultinate of Sokoto and imprisoned Gen. Olusegun Obasanjo, a former military chief of state (1976-1979), who later would serve as civilian chief of state from 1999 to 2007. During the Abacha period, Sambo Dasuki left government and lived outside of the country for various periods.
Sambo Dasuki returned to Nigeria following the restoration of civilian government in 1999. He remained close to Gen. Babangida. Goodluck Jonathan made him his national security advisor in 2012. It was in that position that he was the "face" of the Jonathan administration's delay of the 2015 elections by almost two months, ostensibly because of a military campaign against Boko Haram.
The western media is linking Dasuki's arrest to the increasing Boko Haram carnage. Given the utter lack of transparency on military expenditure, it is premature to assume automatically Dasuki's guilt. Indeed, given Dasuki's threat to "open the can of worms," presumably implicating many others in the Jonathan administration, there must be a question as to whether the trial will ever take place. In any event, there are many reasons for bad blood between Dasuki and President Buhari.