A Turn Toward Authoritarianism in the Philippines?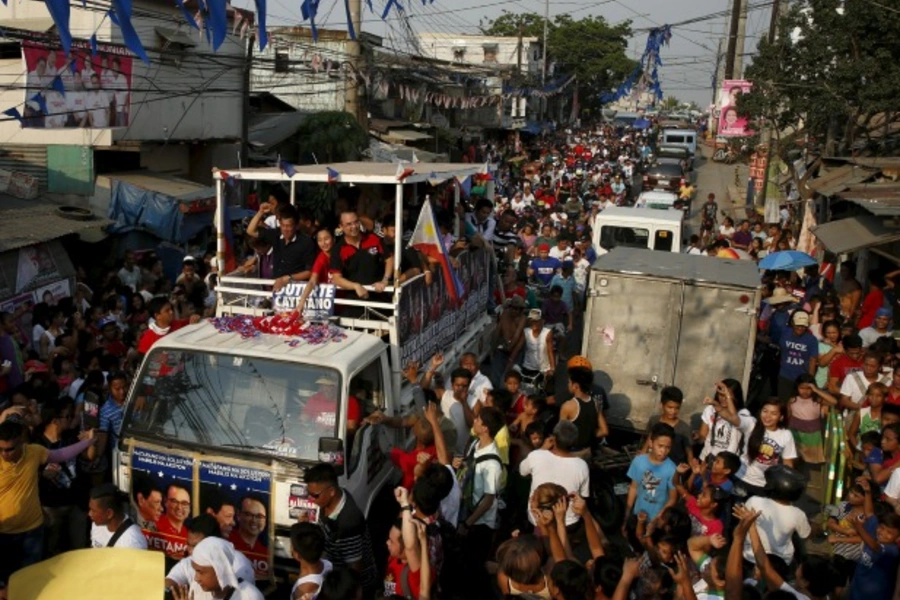 As I wrote last week, the Philippines' presidential race is still extremely close, going into the final days before Election Day. But as numerous Philippine polling organizations have reported, Davao Mayor Rodrigo Duterte maintains a slim lead over his closest challenger, Senator Grace Poe, and over the other three major candidates. Since there is no runoff system like that of the French presidential election, which has more than one round, Duterte could win the presidency with a plurality 30 to 35 percent of the total votes. The Davao mayor is certainly thrilling his base. His rallies have drawn large, fevered crowds. As The Economist noted in a piece on the Philippines election last week, Poe's recent rallies have attracted crowds that seem more "dutiful" than passionate, and that sometimes seem to be appearing to haul off free T-shirts and other gear. By contrast, Duterte's rallies, where he often speaks off the cuff and makes macho promises to crush crime and corruption, feel like raucous parties, his supporters screaming and applauding.
Duterte made his name as mayor of Davao, the largest city in Mindanao, where he supposedly oversaw significant reductions in the crime rate and inroads into corruption, although both of these achievements have been questioned by independent analysts. He is, however, originally Visayan and, as the Economist notes, can draw votes from both Visayan areas and from Mindanao, the biggest island in the south. He boasts of his long relationships with Muslim leaders in the south, but also seems to be running strongly, in polls, with some groups of Catholics and evangelicals.
More generally, however, Duterte's image rests on a popular perception, stoked by him throughout his tenure in Davao, that he is a blunt-talking strongman who will be able to resolve longstanding political challenges---corruption, high inequality, business cartels in many sectors, violent crime, the continuing banditry and insurgency in the south---more effectively than politicians who follow democratic norms and institutions. As Davao mayor, Duterte became famous for allegedly sanctioning death squads against criminal syndicates. As the Economist notes, Duterte has already promised that his presidency is "going to be bloody. People will die"---in other words, he will use harsh, possibly extrajudicial means to combat crime. He also has promised to kill all the criminals in the Philippines if they resist his crime control methods. (One prominent Duterte campaign symbol is, perhaps unsurprisingly, an iron fist.) In addition, he has repeatedly mocked many of the Philippines' democratic institutions and customs.
Duterte's strongman promise seems to have hit a chord, in particular, among middle and upper middle class Philippine citizens who believe that democracy is controlled by a handful of elites, mostly based in Manila, and who think that a more authoritative leader also could help boost the growth rate and spread wealth more equally. (It is unclear whether Duterte, even if he took on more powers than previous elected presidents, would be able to boost the growth rate, already one of the highest in Asia.) These middle class voters in some respects resemble middle classes in neighboring Thailand and Indonesia, where growing skepticism about democracy led to middle class support for the May 2014 Thai military coup, and for the 2014 presidential campaign of Indonesia's Prabowo Subianto, who himself seemingly expressed grave doubts about the need for democratic rule.
The mood in the Philippines today, writes prominent political commentator Richard Jayad Heydarian is:
"One of grievance politics and yearning for change---for better, or for worse. The Philippines is steadily giving into 'strongman syndrome', the misguided belief that tough-talking and political will alone can address complex 21st century governance challenges."
Duterte's apparent popularity coincides with the growing popularity of vice presidential candidate Ferdinand Marcos Jr, son of the late dictator. The younger Marcos, in his own way, also taps into popular dissatisfaction with Philippine democracy, and into an increasingly rosy, ill-informed popular view of the authoritarian era. Although the vice president in the Philippines wields few substantial powers, the office is often a stepping stone to running for the presidency. A Marcos victory in the vice presidential race (vice president and president are elected separately in the Philippines) would put the younger Marcos, who has downplayed the abuses of his father's regime, in line to win the presidency six years from now.