TWE Remembers: The Battle of Yorktown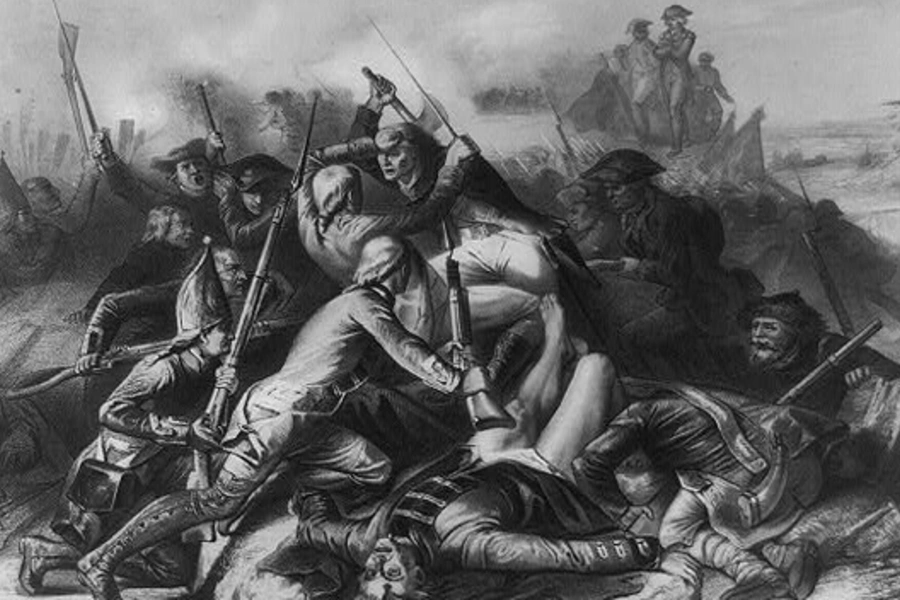 As anyone who has ever watched "The Simpsons" knows, Americans like to make fun of French military prowess—or the supposed lack thereof. But today is a day to remember that the United States is in France's debt for more than the Statue of Liberty, croissants, and champagne. Today marks the anniversary of one of the most significant military victories in American history, a victory won in 1781 in good part because of French military prowess: the Battle of Yorktown.
The battle was made possible when British General Sir Henry Clinton ordered his subordinate Lieutenant General Lord Charles Cornwallis to head to Yorktown, Virginia. Clinton was angry that Cornwallis had moved his army from North Carolina into Virginia without permission. The fact that Cornwallis had forced Marquis de Lafayette and his troops out of Richmond did nothing to mollify Clinton. Cornwallis dutifully followed the order, even though setting up camp at Yorktown meant that he and his army would be on a narrow peninsula with their back to the Chesapeake Bay. The risk of having their escape route cut off, however, seemed small. Clinton assumed that British ships would repel any naval threat to Cornwallis's men. He was more worried that the American army, which had recently been strengthened by the arrival of several thousand French troops, was intent on attacking New York City.
Both assumptions proved wrong. Lafayette and a few men had tracked the movements of Cornwallis's army. They sent news of its location back to George Washington, who was then encamped at West Point, New York. When Washington then learned that Admiral Francois Joseph Paul Comte de Grasse and twenty-nine French warships were headed to the  Chesapeake Bay, he and his French ally, Lieutenant General Jean-Baptiste Ponton de Rochambeau, saw an opportunity to deliver a devastating blow to the British. In late August, 7,000 American and French soldiers began marching southward to Virginia. Another two thousand soldiers stayed behind so that Clinton would continue to think that a joint Franco-American attack on New York City was imminent.
In early September, de Grasse's fleet defeated a British naval force led by Admiral Thomas Graves in the Battle of the Chesapeake. Cornwallis was suddenly cut off from re-supply by sea. By late September, the American and French armies had arrived at Yorktown, and the fate of Cornwallis and his more than 7,000 men was sealed. After a twenty-two day siege, they surrendered.
As the British soldiers marched out of their fort, their band reportedly played "The World Turned Upside Down." Cornwallis declined to hand over the formal surrender documents, saying he was ill. In a further snub to the Americans, his second-in-command tried to surrender to Rochambeau. He, however, directed the British officer to surrender to Washington. Because his counterpart Cornwallis was not there, Washington directed his second-in-command to accept the British surrender.
It would be two years before the Americans and British would agree to a formal peace treaty. But unofficially, the Battle of Yorktown guaranteed the success of the American Revolution. Americans would show their gratitude to their French allies. More than one hundred American towns and cities are named after Lafayette. And directly across Pennsylvania Avenue from the White House sits Lafayette Park, which features statues of both Lafayette and Rochambeau.