TWE Remembers: Memorial Day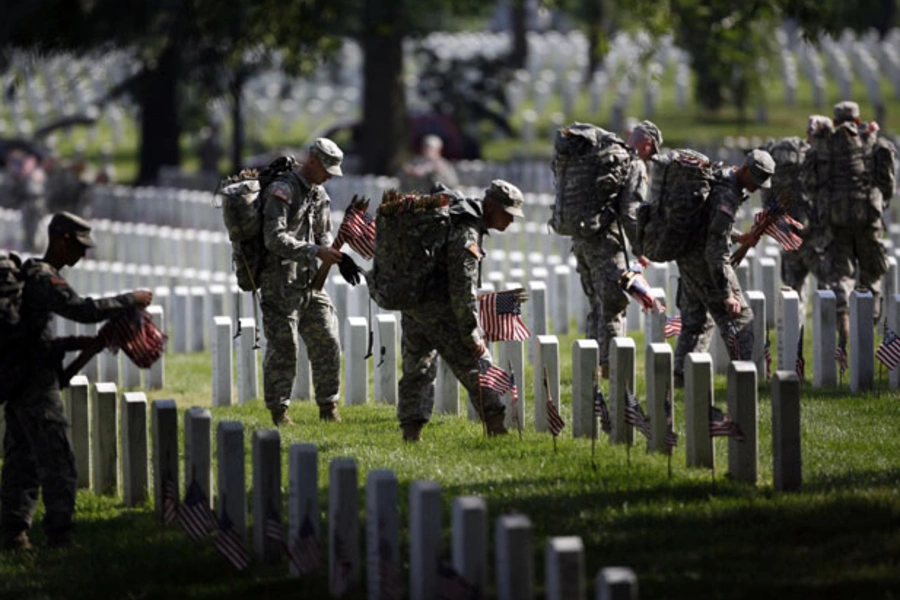 The United States has fought twelve major wars and numerous smaller skirmishes in its history. Memorial Day is our way of honoring the soldiers, sailors, airmen, airwomen, and marines who did not return home. The holiday dates back to the months immediately following the Civil War when a few towns and cities began honoring their dead. In 1868, General John A. Logan designated May 30 as "Decoration Day," the purpose of which would be "strewing with flowers or otherwise decorating the graves of comrades who died in defense of their country during the late rebellion." The holiday was renamed Memorial Day after World War I, and its purpose became to honor all Americans who have died fighting the nation's wars.
More than 600,000 Americans have died in service of their country. Here are the stories of four of them:
Private First Class Eugene Arnold Obregon of the U.S. Marine Corps was just two months shy of his twentieth birthday when he found himself under fire near Seoul, Korea on September 26, 1950. The Los Angeles native was carrying ammunition for a machine gun squad that was under attack. When one of his fellow marines was shot, he braved enemy fire to drag the wounded man to safety. As he bandaged the bleeding marine, North Korean soldiers charged. Private Obregon grabbed a carbine and fired at the attackers while using his body to shield the wounded marine. He held off the North Koreans long enough for his fellow marines to rescue the wounded man, but he himself was mortally wounded in the exchange of gunfire.
Chief Master Sergeant Richard L. Etchberger of Hamburg, Pennsylvania was a radio and radar technician with seventeen years of service in the U.S. Air Force when he was asked to participate in a joint CIA-Air Force mission in Laos in 1968. Because Laos at the time was a neutral country in which the United States supposedly had no troops, the top-secret assignment required him to go through a process the military called "sheep dipping": he resigned from the Air Force and was hired by the military contractor Lockheed, on the understanding that he would return to the Air Force when the mission ended. Chief Etchberger was sent to Lima Site 85, just twelve miles from the North Vietnamese border, where he directed airstrikes into North Vietnam and Laos as part of Operation Rolling Thunder. The site came under attack in early March, so Chief Etchberger and his crew took refuge in the side of a cliff.  In the early morning hours of March 11, less than a week after Chief Etchberger celebrated his thirty-fifth birthday, North Vietnamese soldiers discovered their hiding place. Although Chief Etchberger had little combat training, he grabbed an M-16, defending his crew while calling for air strikes and a rescue helicopter. When the helicopter arrived, he lifted three wounded men into rescue slings. He climbed into a sling only after all his comrades had been pulled to safety. He was hit by enemy fire as the sling was being pulled up to the helicopter and bled to death. Chief Etchberger's bravery was known only to a select few people until his mission in Laos was declassified in the 1980s.
Petty Officer Michael A. Monsoor dreamed of becoming a U.S. Navy SEAL. The California native joined the Navy in March 2001. He didn't make it through SEAL school the first time out; he broke his heel during training and despite his best efforts to ignore the agonizing pain that resulted, he finally "rang the bell," the traditional signal by which a trainee quits the program. Monsoor recovered from his injury, punished himself with intense workouts, and in September 2004 graduated from SEAL school on his second try. Two years later, the twenty-five year-old found himself stationed in Ramadi, Iraq, a hotbed of Sunni resistance some seventy miles west of Baghdad, as part of Operation Iraqi Freedom. He and the other members of his SEAL team were tasked with suppressing insurgent Sunni forces. In the early hours of September 29, 2006, Petty Officer Monsoor and his fellow SEALs killed one insurgent and wounded another in a firefight. With a local mosque broadcasting a message demanding that townspeople kill American soldiers, Petty Officer Monsoor and two other SEALs prepared for another insurgent attack by stationing themselves on a rooftop where they could scan for approaching fighters. As the SEALS were conducting their lookout, Petty Officer Monsoor was hit in the chest with a grenade thrown from below by an insurgent. He immediately fell on the grenade to shield his fellow SEALs from the blast. He saved their lives, but at the cost of his life. He had been scheduled to return to the United States on leave just one week later. At his funeral in San Diego, more than three dozen fellow SEALs formed a lane for the pallbearers to walk down. As the coffin passed by, each SEAL pinned his treasured SEAL Trident to the wooden coffin in a show of respect for their fallen comrade.
Lieutenant Michael P. Murphy joined the Navy in 2000. The Penn State grad and Long Island native did so even though he had been accepted into several law schools. By mid-2002, Lieutenant Murphy had earned his SEAL Trident. In 2005, he was assigned to lead a four-man SEAL Team as part of Operation Enduring Freedom. While on a mission on June 28 near  Asadabad in Konar Province, Afghanistan to track a local insurgent allied with the Taliban, Lieutenant Murphy and his men came under attack from as many as fifty Taliban fighters. He tried calling for assistance, but he soon realized that the mountainous terrain was preventing his radio signal from reaching his operating base. He moved out into the open to transmit a call. While fully exposed to enemy fire, he was shot in the back. He still managed to provide his location and request support for his team. He then returned to cover to await reinforcements. Sadly, the Chinook helicopter sent to relieve Murphy and his men was hit by a rocket-propelled grenade, killing all sixteen men on board. Murphy and his team fought on, killing three dozen Taliban fighters before their position was overrun. One of Murphy's men survived, though badly wounded, by walking nearly seven miles and evading Taliban fighters along the way before being rescued by friendly villagers. At the time, the June 28 firefight had the single largest death toll for U.S. Forces in Afghanistan, and it was the single largest loss of life for Naval Special Warfare since World War II.
Eugene Arnold Obregon, Richard L. Etchberger, Michael A. Monsoor, and Michael P. Murphy were all posthumously awarded the Medal of Honor. On Memorial Day—indeed, every day—it is worth remembering the supreme sacrifice that they and more than 600,000 other Americans made. In the words of the inscription on the Peace Monument that sits on the grounds of the U.S. Capitol, "They died that their country might live."
You can find the stories of other Americans who gave their life for their country here.