TWE Remembers: Memorial Day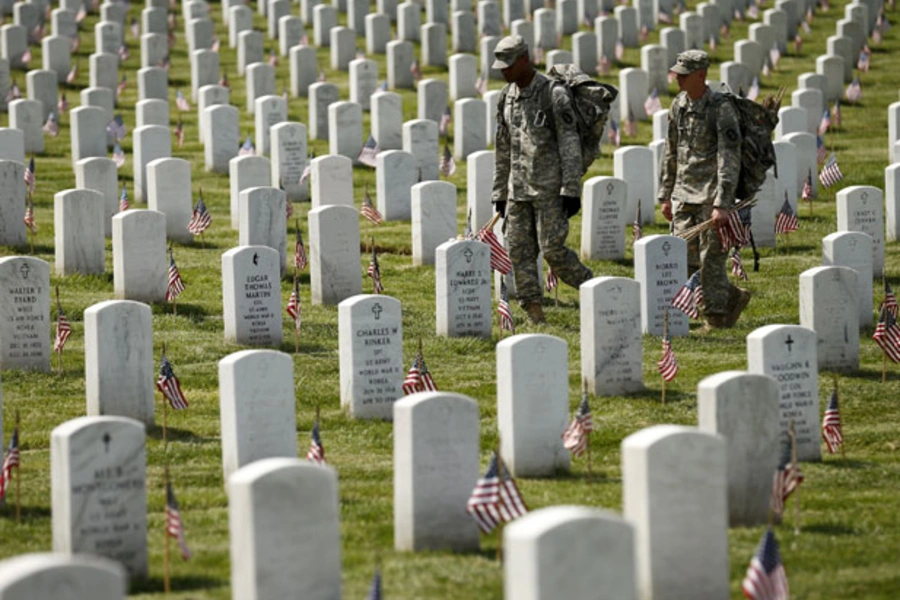 The United States has fought twelve major wars and numerous smaller skirmishes in its history. Memorial Day is our way of honoring the soldiers, sailors, airmen, airwomen, and marines who did not return home. The holiday dates back to the months immediately after the Civil War when a few towns and cities began honoring their dead. In 1868, General John A. Logan designated May 30 as "Decoration Day," the purpose of which would be "strewing with flowers or otherwise decorating the graves of comrades who died in defense of their country during the late rebellion." The holiday was renamed Memorial Day after World War I, and its purpose became to honor all Americans who have died fighting the nation's wars.
More than 600,000 Americans have died in service of their country. Here are the stories of five of them:
Lieutenant Milton Ernest Ricketts was born in Baltimore, Maryland and graduated from the U.S. Naval Academy in 1935. On May 8, 1942, Lt. Ricketts was the Officer-in-Charge of the Engineering Repair Party aboard the USS Yorktown as it fought in the Battle of the Coral Sea. He was mortally wounded when a Japanese bomb exploded below his battle station. Despite his injuries, Lt. Ricketts managed to find a fire hose to put out the fire. In doing so, he helped save the Yorktown, enabling it to play a critical role in the pivotal Battle of Midway. In 1943, the USS Ricketts was named in Lt. Ricketts's honor.
Twenty-year-old Clifton T. Speicher enlisted in the U.S. Army in 1951 in his hometown of Gray, Pennsylvania, a rural community about fifty-five miles southwest of Pittsburgh. Like many other soldiers of his generation, he was soon sent to Korea. On June 14, 1952, then-Corporal Spieicher was ordered to lead his squad to reclaim territory near Minarigol, a small town in what is now south-central South Korea. The mission went badly. The men soon found themselves trapped by enemy machine gun fire. Despite being wounded, Speicher left his protected position and charged uphill at the North Korean bunker. He was shot several more times, but nonetheless succeeded in entering the bunker, killing three North Korean soldiers, and silencing the machine gun. His team completed their mission. Speicher walked out of the bunker, only to collapse and die from his wounds.
Captain Steven L. Bennett was a twenty-six-year-old U.S. Air Force pilot during the Vietnam War. He began his Air Force career as a B-52 pilot, and for a year he flew bombing missions out of Thailand. He then trained to become a forward air controller, flying a much smaller plane on a very different mission: making sure that close air-support aircraft hit enemy targets and not friendly ones. On June 29, 1974, Bennett was flying out of Da Nang, Vietnam when he responded to a radio call from South Vietnamese marines being overrun by a larger North Vietnamese force. With no close air-support aircraft available to attack, Bennett used his OV-10's machine guns to strafe the North Vietnamese soldiers and force them into retreat. On his fourth pass, the plane was hit by a surface-to-air missile. With the left engine dead and the landing gear disabled, Bennett and his backseat observer, Marine Captain Michael C. Brown, prepared to eject. But Brown discovered that his parachute had been badly damaged by shrapnel. Although Bennett had a good parachute for himself, he refused to leave his partner behind. He knew that the OV-10 was designed in such a way that while a pilot would likely die in a crash landing at sea, the person in the back seat just might live. Despite knowing that the odds were against him, Bennett ditched his plane in the Gulf of Tonkin. Brown survived the crash. Bennett did not.
Corporal Jason L. Dunham was born on November 10, 1981, so he shared his birthday with the military serviced he later joined, the U.S. Marine Corps. Dunham grew up in Scio, New York, a small town (population 1,900) eighty miles southeast of Buffalo. He was a high school athlete, playing basketball, soccer, and baseball (with a .414 batting average). On April 14, 2004, Dunham was on a reconnaissance mission in Karabilah, Iraq. He heard shots fired nearby, and he led his team to provide support to a convoy that had come under attack. His squad encountered seven Iraqi vehicles, which they stopped to search for weapons. One of the insurgents attacked Dunham, trying to choke him. Dunham warned his fellow marines to "watch his hand." The insurgent released a grenade, which Dunham dived on to protect his comrades. He died of his wounds eight days later.
Staff Sergeant Jared C. Monti was raised in Raynham, Massachusetts, a town of 13,000 located thirty miles south of Boston. He was known for his determination; in high school, he was cut from his school basketball team three times before finally making the team and becoming a star player. He was similarly determined to join the U.S. Army, which he did even before graduating from high school.  On June 21, 2006, Monti was leading a team of sixteen men on an intelligence gathering mission in Nuristan Province, Afghanistan when they were attacked by as many as fifty Taliban soldiers. Monti directed his team to take up defensive positions, but noticed that one of his men lay wounded on open ground. Twice he tried to reach his fallen comrade, but he was forced back by heavy enemy fire. On his third attempt, Monti was fatally shot.
Milton Ernest Ricketts, Clifton T. Speicher, Steven L. Bennett, Jason L. Dunham, and Jared C. Monti were all posthumously awarded the Medal of Honor. On Memorial Day—indeed, every day—it is worth remembering the supreme sacrifice that they and more than 600,000 other Americans made. In the words of the inscription on the Peace Monument that sits on the grounds of the U.S. Capitol, "They died that their country might live."
You can find the stories of other Americans who gave their life for their country here and here.