TWE Remembers: Secretary of State Dean Acheson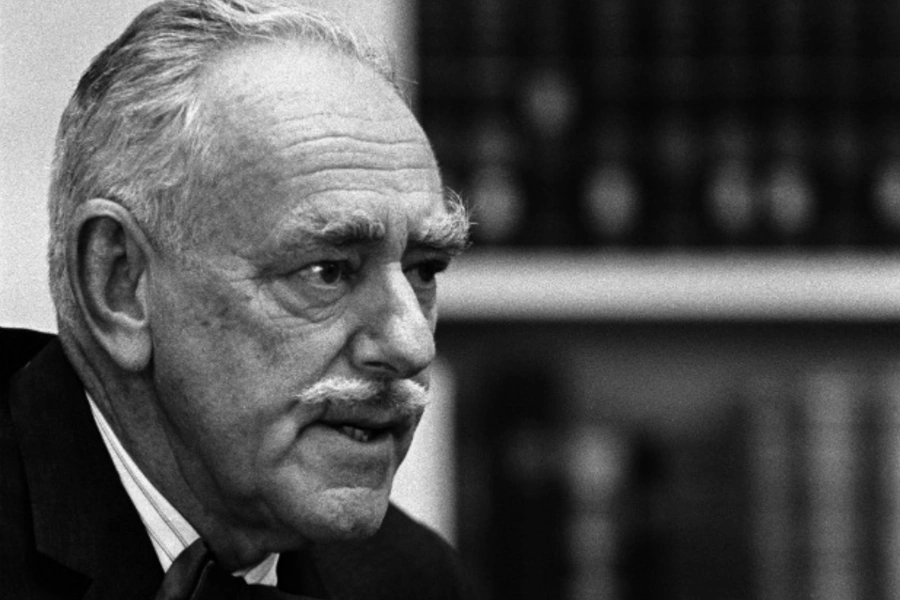 Many secretaries of state have written memoirs. George Shultz penned Turmoil and Triumph: My Years as Secretary of State. James Baker wrote The Politics of Diplomacy: Revolution, War and Peace, 1989–1992. Madeleine Albright has Madam Secretary: A Memoir. Condoleezza Rice is the latest entrant in the memoir sweepstakes, having released No Higher Honor: A Memoir of My Years in Washington just last year. Not to be outdone, Colin Powell plans to release his second memoir next month, and political junkies are no doubt eager to read what Hillary Clinton has to say about her service in the Obama administration. But my favorite memoir by a secretary of state is Present at the Creation: My Years in the State Department, by Dean Acheson, who served under President Harry Truman. Born in Middletown, Connecticut on April 11, 1893, Acheson could truly say that he had a hand in crafting an entirely new American foreign policy.
In some ways, Acheson had an unfair advantage over other secretaries of state when it comes to writing a memoir. In terms of sheer material, his ten or so years at the State Department are hard to top. As assistant secretary of state for economic affairs (1941-1944), undersecretary of state (1945-1947), and finally as secretary of state (1949-1953), Acheson served during some of the most critical years in American history. He bolstered his own Eurocentric view by working to establish unprecedented links with Europe. He backed the ideas behind the Truman Doctrine in 1947. He pushed for the Marshall Plan in 1947. And he helped shape the North Atlantic Treaty in 1949.
And that's just for starters. Even Acheson's lesser accomplishments are impressive. He had a hand in the formation of a government in West Germany, the signing of a peace treaty with Japan, the non-recognition of Mao's China, and the development of the hydrogen bomb. Acheson was arguably the most influential foreign policy voice in an administration that established the baseline for U.S. policy in the Cold War. A memoir of his experiences is practically guaranteed to be a great read.
But to his credit, Acheson's prose (and ideas) often outshone even his accomplishments. A quintessential product of the Eastern establishment— undergrad at Yale, followed by Harvard Law, a clerkship with Supreme Court Justice Louis Brandeis, and then eventually partner at the law firm Covington and Burling—Acheson had intelligence and wit in abundance. He had a demeanor and confidence to match. The famed New York Times columnist James Reston once called Acheson's mustache a "triumph of policy planning."
Acheson understood his job. He was a policymaker and not a professor. His job wasn't just to generate ideas but to translate them into practice. In Present at the Creation, he discusses the drafting of NSC-68, one of the formative Cold War policy documents. It is often criticized for being hyperbolic and alarmist about the Soviet threat. Acheson dismissed such claims:
The task of a public officer seeking to explain and gain support for a major policy is not that of the writer of a doctoral thesis. Qualification must give way to simplicity of statement, nicety and nuance to bluntness, almost brutality, in carrying home a point. It is better to carry the hearer or reader into the quadrant of one's thought than merely to make a noise or to mislead him utterly. In the State Department we used to discuss how much time that mythical "average American citizen" put in each day listening, reading, and arguing about the world outside his own country. Assuming a man or woman with a fair education, a family, and a job in or out of the house, it seemed to us that ten minutes a day would be a high average. If this were anywhere near right, points to be understandable had to be clear. If we made our points clearer than truth, we did not differ from most other educators and could hardly do otherwise.
Acheson was happy to use politics to push his ideas. Many years after he stepped down as secretary of state, an interviewer asked him about bipartisanship. His answer was blunt and in keeping with TWE's fundamental premise, namely, that politics doesn't stop at the water's edge and never has. To quote Acheson:
Bipartisan foreign policy is ideal for the Executive because you cannot run this damn country under the Constitution any other way. Now, the way to do that is to say, politics stops at the seaboard, and anybody who denies that postulate is "a son of a bitch and a crook and not a true patriot." Now, if people will swallow that, then you're off to the races.
So all in all, Acheson concluded:
No, I wouldn't be too serious about bipartisanship. It's a great myth that ought to be fostered. And don't bring too damn much scholarship to bear on it. You'll prove it out of existence if you're not careful.
Now that is candor.