Why China's Internet Censorship Model Will Prevail Over Russia's
Russia and China are in a race to export their respective censorship models to authoritarian regimes.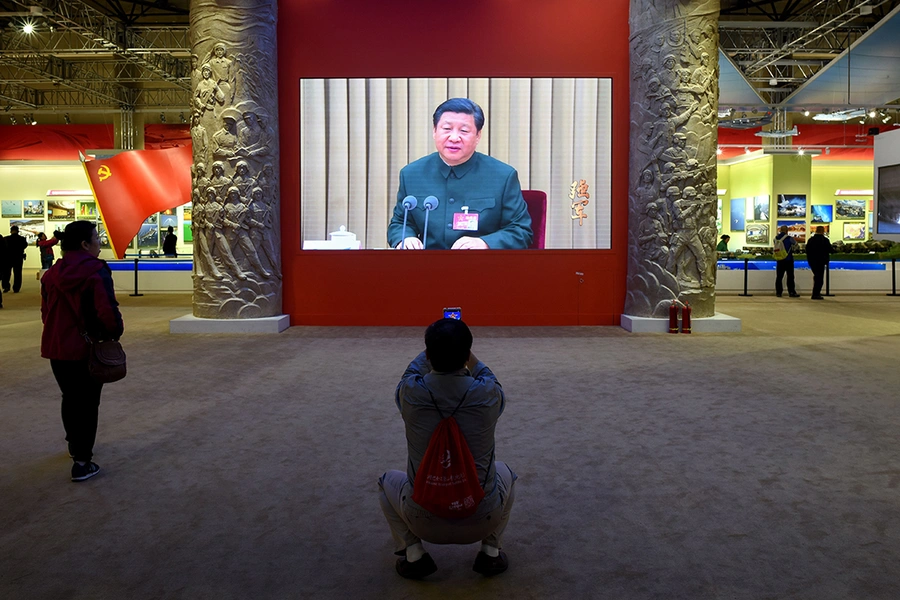 Valentin Weber is a DPhil candidate in cybersecurity and a research affiliate with the Centre for Technology and Global Affairs at the University of Oxford. You can follow him @weberv_
Over the last few years, China and Russia have been quietly exporting their models of online information controls through the supply of surveillance and censorship equipment, as well as providing training in the latest information control techniques. However, Beijing and Moscow differ considerably in the way they control information online, and these differences will determine which is more popular with authoritarian regimes in the former Soviet Union, the Middle East, Southeast Asia, and Africa.
Despots, dictators, and autocrats will pick the model they prefer using two criteria: the ambition of the censorship system (e.g. how much information can a system filter) and the technology and services required to maintain the system. China's model outcompetes Russia's model in both categories.
First, ambition. China's model is more ambitious in the sense that it prioritizes real-time censorship as armies of censors—both in government and Chinese tech giants—scrub offending posts from online discussion. Beijing is also perfectly comfortable banning entire platforms and websites—Facebook, Google and Twitter have been inaccessible from the mainland for years. By contrast, rather than blocking these platforms, Russia relies on inducing chilling effects with the aim of ensuring a culture of continued future self-repression of information. For example, an administrator of a popular anti-government page on VK (a Russian analog to Facebook) or website might get a visit from the FSB in the middle of the night or charged with embezzlement. When chilling effects fail Moscow relies on sowing disinformation. In St. Petersburg for instance, hundreds of trolls are blogging in a full-time professional capacity and are being paid around $800 a month to write pro-Kremlin posts.
In essence, China filters the information as it is posted whereas Russia tries to scare people from posting offending material in the first place, as well as overwhelming any information that evades the chilling effect.  
Second, technology and services. If you're a despot looking to import information controls, you need to buy them from a country that has a good tech sector that can supply the hardware and related support services. While Russian companies, such as Protei, Oniks-Line and Signatek, provide information controls capabilities to some in the former Soviet Union, countries beyond Russia's near abroad remain reluctant buying Russian equipment. This may be because they perceive Russian kit as less advanced or simply more expensive.  
Chinese gear and techniques, in contrast, are in greater demand. China's technological approach to censoring social media and its Great Firewall, also known as the Golden Shield Project, have diffused to Vietnam and Thailand. In Sri Lanka, Chinese representatives have provided counsel and support to local authorities on how to censor the internet. Chinese experts are reported to have installed surveillance and censorship equipment in Zambian networks. In Zimbabwe, Chinese gear was applied to jam independent broadcasts. In Ethiopia, ZTE and Huawei signed a contract worth $1.6 billion to develop that country's telecommunications system and both companies are suspected of providing technical assistance to monitor citizens. Huawei and ZTE have also helped build Russia's information controls, given that the country lacks some of the requisite technology to do so itself.
In sum, the future of an ever more balkanised internet, marked by national firewalls, censorship, and surveillance may be more Chinese than Russian. China's information controls model may serve as an attractive example given that, contrary to exhortations from Western and donor governments, rapid economic growth does not suffer from pervasive information controls. Beijing seems to have found a recipe for a successful censorship model based on technology that is being readily adopted. This does not only pose a challenge to the Russian information controls model, but to an open and interoperable internet more broadly.
With a lack of new initiatives from Western countries leading the internet freedom agenda,  and an unwillingness to reign in their own companies in the provision of information controls equipment to authoritarian countries (e.g. BAE, Hacking Team, NSO Group, Blue Coat Systems), freedom of information will continue to decline, IP address by IP address, 32 bits at a time.