Year in Review 2019: The U.S.-China Tech Cold War Deepens and Expands
2019 saw the escalation of the technology cold war between Beijing and Washington. In 2020, restrictions on the flow of technology between the United States and China will continue as the two countries compete for influence in the rest of the world.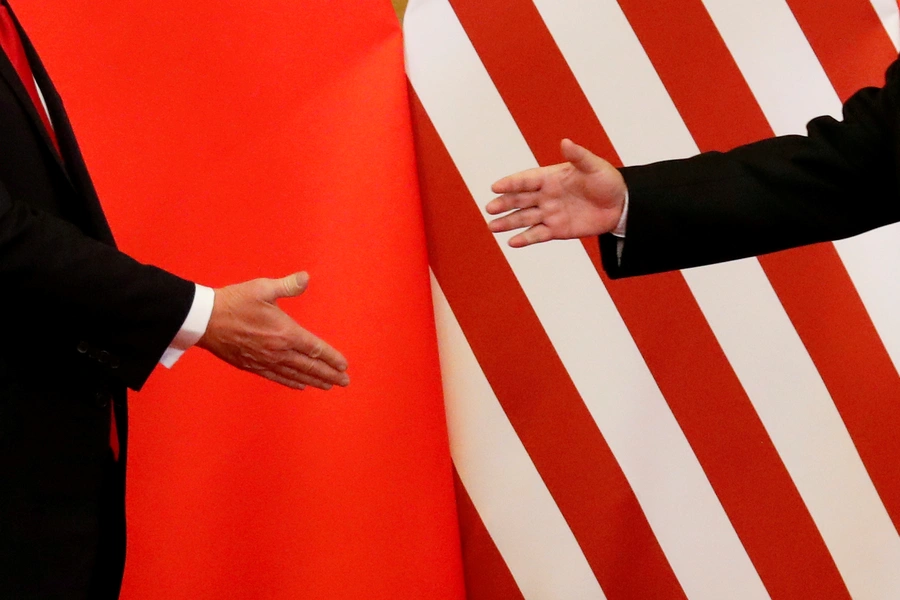 If 2018 was the beginning of the technology cold war between Beijing and Washington, 2019 saw its acceleration and expansion. Huawei and 5G remained a central focus of contention, but efforts by both sides to reduce technological dependence on the other have radiated out to other sectors and areas of scientific collaboration. Phase 1 of the trade deal, if it is eventually signed, will not affect this dynamic, and 2020 will see continued restrictions on the flow of technology between the United States and China as well as competition for influence in the rest of the world.
The Trump administration continued its press against Huawei. In May, the Commerce Department placed Huawei and sixty-eight of its affiliates on a list of firms to which U.S. companies may not sell without government approval. While it has suspended the ban twice, major U.S. companies, such as Google and Micron, have suspended doing business with Huawei. In an interview with the Washington Post, Ren Zhengfei, the company's CEO, was confident Huawei would survive, even though the ban had forced Huawei to redesign products so as not to include U.S. products. In November, the FCC voted to end subsidies to telecoms that did not remove Huawei and ZTE equipment. The administration also proposed giving the commerce secretary broad new authorities to block any transaction involving sensitive hardware, software, or data services between an American company and anyone linked to a "foreign adversary".
U.S. efforts to convince allies and friends not to use Huawei could be making some slow progress. In November, European Union (EU) members agreed that security decisions should consider non-technical factors such as the legal and policy framework to which suppliers could be subject to in their home countries. While Chancellor Angela Merkel has kept the door open to Huawei, members of her party recently introduced a bill that would designate suppliers at risk of state influence without constitutional control as "untrustworthy". Telenor, Norway's largest telecom, announced that it would use Ericsson for its 5G networks and gradually remove Huawei. The company's connections to Europe are, however, extensive, with almost every EU state having one network operator deploying Huawei equipment, and the company engaged in research collaborations with over 150 universities. The eventual outcome could be the company deepening ties to those Eastern and Central European countries without strong security ties to the United States (such as Poland), while slowly being squeezed out of Western Europe.
The containment of Beijing's rise as a technology power and controls on the flow of technology to China have extended beyond Huawei. In October 2019, the Commerce Department added twenty-eight companies and government organs to the entity list, including leaders in China's AI sector such as SenseTime, Megvii, Yitu, and iFlytek, for aiding the "repression, mass arbitrary detention and high-technology surveillance" in Xinjiang. U.S. officials have expressed concerns not only about the deployment of facial and voice recognition technologies within Xinjiang, but also the export of these technologies to developing countries. TikTok, the short video app popular with American teenagers (and downloaded more than 750 million times globally last year), has increasingly been described by U.S. officials as a threat to national security and free expression, especially in regards to possible censorship of videos related to the Hong Kong protests and human rights atrocities in Xinjiang. The Committee on Foreign Investment in the United States is reportedly conducting a national security review of TikTok owner ByteDance.
There is also a growing possibility that Washington will soon act to limit the access of Chinese scientists to U.S. research, at least on some critical technologies. In November, a report from the Senate Permanent Subcommittee on Investigations argued that the FBI and federal research agencies had failed to respond adequately to Chinese talent recruitment programs. In addition to calling for greater information sharing by the intelligence agencies with the research community, the report argued that the government should consider revising NSDD-189, a Reagan-era directive that enshrined the idea that unrestricted access to fundamental research, even in the face of espionage, was a national security priority.
In response to U.S. moves, Beijing has adopted a strategy that consists of doubling down on indigenous innovation and developing "core technologies"; diversifying supply chains and further blocking foreign technology in the U.S. market. Xi Jinping reportedly set up a small leading group on "decoupling" and the next Five-Year Plan is said to focus on it. China has continued to push for advances in chip manufacturing and design to reduce its dependence on the United States. In May, the Chinese Finance Ministry announced five-year tax breaks to semiconductor makers and software developers, and in October Beijing created a new $29 billion fund to support the semiconductor industry. Mirroring Trump Administration efforts to keep Chinese manufactured equipment out of government networks, in December Beijing ordered all government offices and public institutions to remove foreign computer equipment and software within three years. The directive has become known as "3-5-2" because it seeks to remove foreign hardware at a rate of 30 percent in 2020, 50 percent in 2021, and the remaining 20 percent in 2022.
The battle over technology will continue into 2020 and beyond, even if it could slow down the global pace of innovation. Xi Jinping will not abandon attempts to reduce dependence on foreign technology. On the U.S. side, there is bipartisan support for efforts to check and contain China across an expanding number of technologies. Hopefully there will be growing support for policies to re-invigorate innovation in the American economy and work more closely with allies and friends.