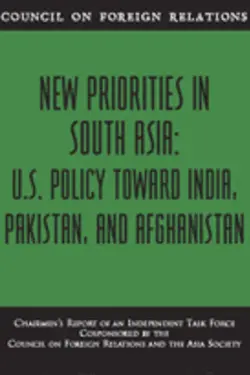 New Priorities in South Asia
U.S. Policy Toward India, Pakistan, and Afghanistan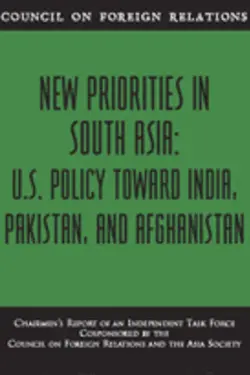 Task Force Report

Analysis and policy prescriptions of major foreign policy issues facing the United States, developed through private deliberations among a diverse and distinguished group of experts.
South Asia may be halfway around the globe from the United States, but what happens there—as the September 11, 2001, terrorist attacks by al-Qaeda tragically underscored—can affect all Americans. After the terrorist attacks and the massing of one million troops on the borders of nuclear-armed India and Pakistan in 2001, the critical importance of South Asia to global and U.S. national security is clear. Securing a moderate Muslim state in Pakistan, consolidating and deepening increasingly important U.S.-India ties, actively encouraging peaceful relations between India and Pakistan, and ensuring an Afghanistan in which terrorists can never again find shelter must be foreign policy priorities for the United States.
This chairmen's report of the independent Task Force on new priorities in South Asia assesses the strengths and weaknesses of India, Pakistan, and Afghanistan and recommends how U.S. policy can best take advantage of the opportunities while addressing the dangers that are present. The challenge to U.S. policy over the medium term is to design and implement a stable and sustained approach that will solidify bilateral ties with key countries in the region and give the United States an opportunity to influence major regional developments.
The report urges new initiatives to solidify the partnership with an economically and militarily stronger India; carefully calibrated support for Pakistan's efforts to become a moderate Muslim state; a more active, facilitative U.S. role in the volatile Kashmir conflict; a new framework for—and a close watch on—proliferation issues in the region; and redoubled support for the Hamid Karzai government's security initiatives in Afghanistan.