Abe Cabinet #3: An LDP Team Effort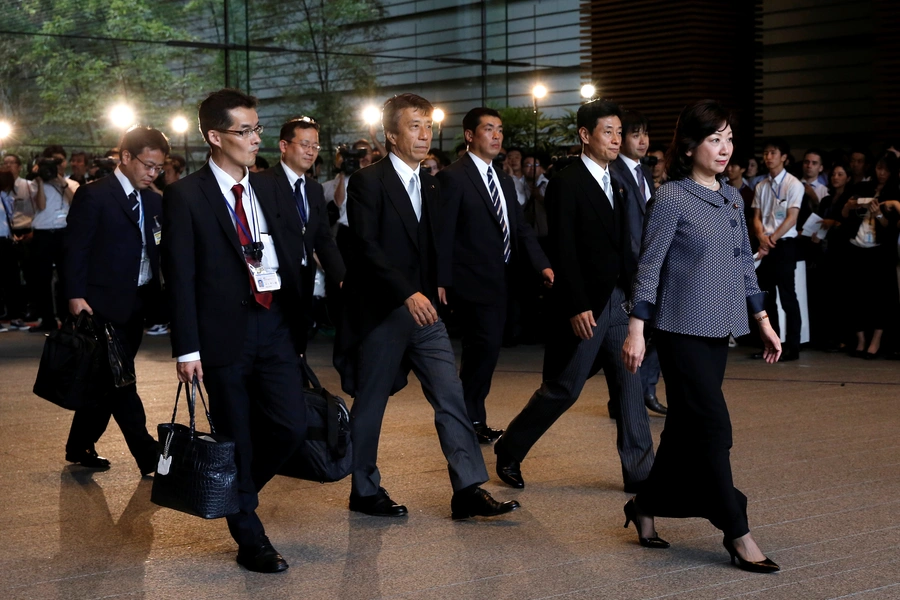 For the third time since he returned to power in 2012, Shinzo Abe has reshuffled his cabinet. This time, however, far more depends on his personnel choices. Support for Abe in media polls dropped precipitously over the past several months, the result of alleged misconduct and a painful loss in Tokyo metropolitan elections. For the first time, even Abe supporters began to seem disillusioned with their prime minister. The new cabinet has been composed of a broad array of Liberal Democratic Party (LDP) talent in an effort to refresh the Abe government's image and restore confidence in Abe's leadership.
Three aspects of this new cabinet are noteworthy. First, this is an "all-LDP" line-up, representing the varied strengths of the party – even Abe's critics. Abe retained his close allies, Deputy Prime Minister Taro Aso and Chief Cabinet Secretary Yoshihide Suga, ensuring stability where it matters. Aso recently expanded his faction with the LDP, making it second only to Abe's in clout. If Aso anchors the political foundation of the cabinet, Suga has been the lynchpin of its governing success. As chief cabinet secretary, he has been the political figure behind the scenes ensuring the loyalty of the bureaucracy, setting priorities for critical government legislation, and taking care of any political problems on the horizon. Stability of governance continues to define the Abe cabinet even as it seeks to restore its balance.
Second, there is a notable dose of policy talent in the new entrants to the cabinet. This cabinet brings in a number of up-and-coming LDP leaders who are not necessarily aligned with the prime minister's agenda but who are experienced in government and respected for their public service. Seiko Noda is one of only two women appointed to the cabinet. She will hold two portfolios: Minister for Internal Affairs and Communications as well as Minister for Women's Empowerment. Noda has been elected to the Diet eight times, as has the prime minister, and as such is one of the cabinet's senior LDP members. She has experience in governing, having served in three previous cabinets, most notably as Japan's first minister for consumer affairs. Perhaps more important, Noda has also been a contender for LDP presidency and will likely stand against him in next year's party leadership race. Like Kono, she has been a more compassionate advocate of resolving tensions in the Japan-Korea relationship in a party that has largely been seen hardening its stance on defense and foreign policy issues. Noda has also been a conspicuous advocate for women in Japan on issues ranging from social welfare support for children to recognition of and support for working mothers.
Another addition to the Abe cabinet is Taro Kono, who emerged as a surprise pick for Japan's foreign minister, replacing Fumio Kishida, who had served in that post since Abe returned to power in 2012. Kono is a past contender for party leadership, described widely as a maverick within the LDP who called on his party after its 2009 ouster from office to shape its identity around a set of conservative principles rather than simply rest on its laurels as a ruling party. He is also someone with an outstanding reputation at home and abroad for his policy interests in nuclear and security issues. Like Abe, Kono is the son of a former foreign minister and party leader of the 1990s. He is fluent in English, educated at Georgetown University, and is well known in the United States and elsewhere as one of the party's leading globalists.
Noteworthy also in this reshuffle is the effort to recover from the mistakes of previous ministers. The Ministry of Education, Culture, Sports, Science, and Technology has suffered from its decision-making on the schools that are at the heart of recent scandals and accusations of preferential treatment by the Abe cabinet. Yoshimasa Hayashi, who has served as defense and agriculture minister, is being brought in to refresh the image of this beleaguered ministry previously led by Hirokazu Matsuno.
A second ministry in trouble is the Ministry of Defense (MOD). Just last week, after a four month long investigation [PDF] of an alleged cover up involving the Self-Defense Forces (SDF) mission to South Sudan, three leaders of the ministry abruptly resigned. The minister, Tomomi Inada, had long been seen as a troubled leader, running into difficulty explaining the ministry's policy in Diet deliberations and seeming to be unaware of the details of her brief. But she was not the only policymaker under investigation. The Ground Self-Defense Force Chief of Staff Toshiya Okabe and MOD's senior civilian bureaucrat, Vice Minister of Defense Tetsuro Kuroe also stepped down under criticism for their lack of transparency in managing the logs from the South Sudan mission.
Stepping in to restore the Defense Ministry's credibility is Itsunori Onodera, who previously served as defense minister from 2012-2014. Onodera is well respected as one of the LDP's defense experts and has headed up the party's Research Commission on Security since leaving the cabinet in 2015. As head of the committee's policy study on Japan's missile defenses [PDF], he also brings back to the ministry critical political backing for its upcoming five-year defense plan, which will include an upgrade to missile defenses and, potentially, consideration of a proposal to add a retaliatory strike capability to Japan's arsenal. North Korea's accelerated missile capabilities and its multiple missile tests off Japan's coast have raised the stakes for Japan's defense forces. Onodera will push for greater strategic planning with the United States and will be a political ally within the cabinet to those who want to take a serious look at the country's changing military needs.
Finally, this cabinet brings back into balance the liberal and conservative voices within the LDP. Japan's conservatives have always had their internal differences, especially when it comes to foreign policy priorities. First and foremost has been the constitution, and particularly Article Nine. The party has had revision at the center of its platform since the Liberal Party and Democratic Party merged to form the LDP in 1955, a promise to the Japanese people that someday the Japanese themselves would rewrite the document written under U.S. occupation. Under Abe, the LDP has come close to making revision a reality, with pro-revision politicians gaining the requisite two-thirds majority in both houses of parliament needed to draft a proposal that could be put to national referendum.
This new cabinet will most likely focus on the economy, as Chief Cabinet Secretary Suga repeated yet again today, rather than on the prime minister's hope for constitutional revision. Earlier this year, the prime minister called on his party's constitutional revision committee to prepare its proposal for amending the "no war" clause, but there has been some dissension within the party as many see other concerns such as economic growth and social welfare as being far more important to the party's fate.
Next year is a big year for the LDP. Politically, the party will have to decide whether to endorse an extension of Abe's leadership or opt for a fresh face. A lower house election must be held before the end of 2018, and while many in Japan have expected that Abe will remain in power until the Tokyo Olympics of 2020, this is no longer taken as given. The new cabinet line-up is designed to shore up support for Abe, but the murkiness of the government response to the school scandal and the severity of popular blowback in the Tokyo elections have damaged the prime minister's reputation.  
A year is a long time in politics, however. Hitting the refresh button with a new cabinet is the first step in restoring public confidence. Ahead are some important policy bumps, decisions on the economy and social welfare (including next year's consumption tax hike), and on Japan's defense preparedness, which could affect public approval of the prime minister. Kishida's selection as head of the LDP Policy Research Council offers him a prime opportunity to define and set future policy priorities and to build a political base from which to lead.
This new refreshed cabinet has less of an "Abe color" and more of a traditional LDP feel. The next generation of potential party leadership is on display, with all of its competing ideas and problem-solving talent brought to the table.