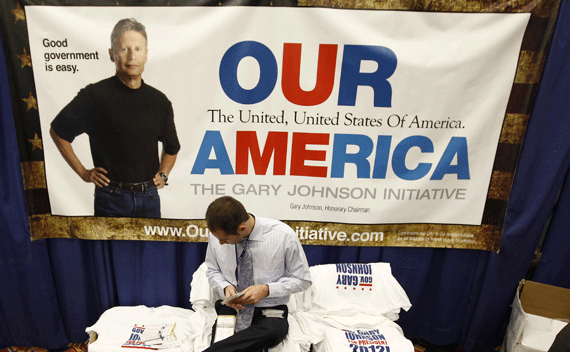 Gary who? Unless you are from New Mexico or spend hours each day trolling political websites, you probably don't know much about Gary Johnson. The former New Mexico governor intends to change that. He announced this morning on the steps of the State House in Concord, New Hampshire that he is running for president. Yes, you heard that right. He's not forming a presidential exploratory committee to assess the possibility. He's all in. If elected, Johnson would be the first president born in North Dakota and the first to have lived much of his life in New Mexico. He would also be the first president to enter the White House as a single man since Grover Cleveland back in 1885. And he would be the third person named "Johnson" to be president.
The Basics
Full Name: Gary Earl Johnson

Date of Birth: January 1, 1953

Place of Birth: Minot, North Dakota

Religion: Lutheran

Marital Status: Divorced (Denise "Dee" Simms)

Children: Seah, Erik

Alma Mater: BA University of New Mexico

Political Offices Held: Governor of New Mexico from 1995 until 2003
What Supporters Say. New Mexico pollster Brian Sanderoff is realistic about Johnson's chances, but nonetheless thinks that the former governor brings unique advantages to the table:
He's got to be viewed as a long shot. On the other hand, he makes good arguments, he's an energetic guy, he's not your typical politician and he's got his rap down pretty well. If ever there was a time for someone like Gary Johnson, it's now.
Joe Wierzbicki, a national coordinator for the Tea Party Express group, supports Johnson's efforts to limit the size of government:
He championed personal liberty and a smaller, less intrusive government, and we applaud both his record and his efforts to continue his fight at the national level.
What Critics Say. Maybe it's Johnson's obscurity. Or maybe he is just a great guy. But nobody seems to have anything bad to say about him. Dollars to doughnuts that will change if his candidacy gains traction
Stories You Will Hear More About. He met his former wife Dee while skiing in New Mexico when the two were teenagers. Inspired by Gary's success as a door-to-door handyman in college, the two started a contracting company, Big J Enterprises, in 1976 with Gary as the only employee. They grew the company into a multimillion-dollar business with more than 1,000 employees by the time they sold it in 1999. Gary and Dee were married for 28 years and had two grown children before divorcing in 2005.
Johnson entered politics for the first time in 1994 when he set his eyes on New Mexico's governorship. The state Republican Party told him that an unknown businessman couldn't win. Johnson then spent $500,000 of his own money to publicize his "common-sense business approach to politics." He thumped the incumbent Democratic governor.
As governor, Johnson vetoed about 750 bills, earning him the nickname "Governor No."
Johnson is a fitness buff. He competes in triathlons and has done a back flip off a ski jump at an Olympic training facility. He climbed Mt. Everest a year after he left the governor's mansion. This Saturday, Johnson will celebrate his entry into the presidential sweepstakes by skiing Tuckerman's Ravine on Mount Washington. If you have media credentials you can join the governor in his dash down the ravine. Just be warned that this is extreme skiing. Translation: you could die.
Unlike many of his fellow Republicans, Johnson avoids harsh partisan rhetoric. Although he finds Barack Obama's job performance disappointing, he says of the president:
You can't help but like him.
Johnson is a libertarian, so his views on social issues make him an unconventional Republican candidate. When he was governor, Johnson tried to make marijuana legal in New Mexico. He couldn't convince the state legislature to go along, but he still believes smoking a joint shouldn't be a crime:
I have always seen this as a gigantic issue, when you consider what we spend on law enforcement and the prisons. The fact that we are arresting 1.8 million people a year—and to what end? We have had virtually no effect on this in decades of pursuing current policy. I don't know why we can't accept marijuana use similar to alcohol.
Johnson also won't appeal to social conservatives who measure candidates in terms of their religious passion. Johnson does not attend church regularly or look to the heavens for inspiration:
I don't think you'll ever hear me invoking God in anything I do.
Johnson is frequently compared to another libertarian Republican, 2008 presidential contender Ron Paul. Johnson was among Paul's most high-profile supporters four years ago, but he is quick to point out that he is his own man:
I supported Ron Paul, I support Ron Paul and I agree with the things he says. But I am not Ron Paul. I am not Ron Paul. We have different personalities.
He adds that while Paul is known as "Dr. No" to his "Gov. No," what sets him apart is that he has actually cut government budgets. He recently told Politico:
There was a big difference between Ron Paul and me when it came to the "no." His "no" was philosophical. It was reasoned. It was right. My "no" actually put a stop to legislation. It cut spending. Mine carried further than just "no." I had to follow through with the debate, discussion and dialogue on why my "no" wouldn't result in people starving, schools being shut down and the delivery of services to the poor wasn't going to be curtailed.
Johnson now heads up the OUR America Initiative. The group's mission statement says:
OUR America Initiative seeks to broaden the parameters of the public policy debate of current topics in the national arena. We look to enlighten the population about civil liberties, free enterprise, limited government, and traditional American values. It is our aim to increase the amount of discussion and involvement regarding all-important issues.
The group's web page prominently features the question: "You say you want a revolution?" As anyone over the age of fifty, as Johnson is, can tell you, that is the opening lyric to the Beatles' song "Revolution," which shows up on most lists of the 500 greatest classic rock songs. It was a track on the White Album, and it was released as a single on the "B-side" of "Hey Jude."
Johnson in His Own Words. Johnson's outlook on life combines a drive for success with New Mexico-style spiritualism. He told an interviewer:
I have this whole notion that I talk about all the time, that life really is a journey. It's not about the destination, and you darn well better like the process or change it and there is one person in control and that's you.
Johnson draws campaign motivation from his sense that many in the GOP agree with him:
I'm under the belief that I might speak on behalf of 50% of Republicans. That's what I believe and I'm putting that to the test. This isn't lying on the couch theorizing about it, this is actually burning some shoe leather.
But if the election doesn't go well, he won't mind:
Egg me, tomato me, whatever. I'll go back to Santa Fe if people don't like what I'm saying. But that hasn't happened yet.
Santa Fe ain't a bad place to end up.
The Campaign Book. Johnson's Seven Principles of Good Government will be published next month by the libertarian-leaning Heartland Institute.
Foreign Policy Views. Johnson opposed the war in Iraq from the start. He initially supported the war in Afghanistan but after ten years he has had enough:
We should get out of Afghanistan and Iraq tomorrow.
Johnson argues that if the United States wants to solve its debt problems, it needs to break its nation-building habit:
We can't continue to be the world's sheriff given the fact we're bankrupt.
A recent CNN poll suggests that a lot of Americans agree with Johnson. Only 25 percent of respondents told CNN that they think that the United States can continue to play the role of "world policeman."
Target Audience. Johnson's natural constituencies are the libertarian wing of the Republican Party and deficit hawks. Paul would be his obvious competition for libertarians. The Atlantic hypothesizes that if
Paul doesn't run, his supporters could very well turn to Johnson, who is the only other GOP presidential candidate offering the same kind of stripped-down libertarianism that has attracted so many supporters to Paul. They share a thoroughgoing commitment to small government that extends even to social policies and the wars in Iraq and Afghanistan, which Johnson vehemently opposes, as Paul did in 2008.
Major Strengths. With the federal government swimming in red ink, Johnson can claim solid fiscal conservative credentials. He worries about our "bankrupt" nation. He says that putting America's finances back on track will require "slashing spending," and that includes scaling back entitlement programs as well as defense. His get-tough attitude on the budget should appeal to Tea Partiers. Johnson tells of attending a Tea Party event in South Carolina where an activist gave him a handout with a list of the group's top ten priorities. Johnson recalls:
Basically, one through 10, it had to do with the economy and spending and taxes. And I thought, 'This is who I am! This is what I care about!'
If he makes it to the general election, Johnson could get votes from Democrats dissatisfied with Obama's performance. CNN speculated about which issues could drive  some liberals to Johnson:
If you're an ACLU liberal, how do you enthusiastically turn out for the guy who is defending executive assassinations and prolonging Don't Ask Don't Tell, when his opponent wants to roll back executive power, the war on drugs, and the Pentagon's bloated budget?
Major Weaknesses. Johnson isn't well known, he doesn't command a large campaign war chest, and he doesn't excite social conservatives who dominate in early nominating states like Iowa and South Carolina. That is probably why he announced his presidential bid in New Hampshire.
Johnson, who never followed Glenn Beck (back when he still had a television show) and doesn't listen to Rush Limbaugh, also may not appeal to Republican Party activists who prefer their red meat served raw. For example, in discussing the Birther movement, Johnson hesitates and admits:
To me, it's just hard to grasp.
Johnson will have to fight for support from the Republican Party establishment. Though he spoke at the 2010 Conservative Political Action Conference, (CPAC) he was initially denied a slot at the 2011 meeting. He was allowed to speak at the last moment and even then only briefly. His political adviser explained:
It probably has something to do with his stance on some of the issues. We're the only one there that is taking the position he's taking.
These weaknesses are why few handicappers give Johnson much of a chance. Stu Rothenberg is blunt on Johnson's future:
His chances are zero. I'd say that they are less than zero, if there was such a thing. I'd expect his impact to be nonexistent.
Ouch!
Johnson in Depth. The Huffington Post explains why Johnson's appeal to mainstream Republicans could improve his chances to win the nomination. The Atlantic explains why "you'd think he'd be a God send" for the Republican Party. The Examiner argues that Johnson's experience as an underdog prepares him well for the 2012 presidential campaign. You can also watch this video of his remarks at CPAC this February:
http://www.youtube.com/watch?v=Dxbms8VJ7Fg
Click here to view this video on YouTube.
Odds for Winning the Nomination. Slim to non-existent. A March 2011 Gallup poll gave Johnson 2 percent support among Republicans and Republican-leaning independents, an improvement from the 1 percent he received in February. 1800 Sports has not yet listed odds for Johnson.