Campaign 2012 Roundup: Gingrich Down and Paul Up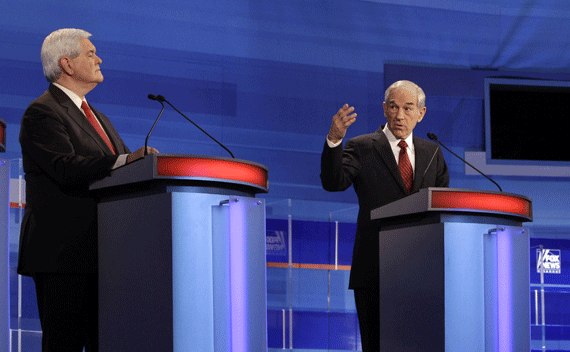 What the polls giveth, the polls taketh away. The fifteen-point lead that Newt Gingrich had over Mitt Romney among Republican voters nationwide just two weeks ago has largely evaporated. At least that's what Gallup's polling is showing. As you can see in the chart below, the gap has closed mostly because Gingrich has lost support and not because Romney has gained it. ("Steady as she goes" is a fair description of Romney's poll numbers.)
Source: Gallup
Meanwhile, the latest Iowa poll shows that Ron Paul leads in the state just two weeks before the Republican caucus. The survey by Public Policy Polling has Paul:
garnering 23 percent support, followed by former Massachusetts Gov. Mitt Romney with 20 percent, and Gingrich with 14. Minnesota Rep. Michele Bachmann, Texas Gov. Rick Perry, and former Pennsylvania Sen. Rick Santorum are all tied at 10 percent support, according to the poll.
The poll was conducted after last Thursday night's GOP debate in Sioux City when Paul said that the biggest danger Iran posed to America was the next president "overreacting."* The consensus among political pundits was that Paul hurt his chances with that remark. Apparently the pundits got it wrong. It's not the first time.
The weekend didn't produce much campaign-related foreign policy news. Mitt Romney made his first appearance on a Sunday TV talk show in more than two years. Fox News host Chris Wallace asked him what a President Romney would have done differently in Iraq. He mostly talked around the question before saying:
I think we're going to find that this president, by not putting in place a status in forces agreement with the Iraqi leadership has pulled our troops out in a precipitous way and we should have left 10,000, 20,000, 30,000 personnel there to help transition to the Iraqis' own military capabilities.
Consider this an effort to lay the groundwork for a general election issue in the event that things go wrong in Iraq. But if they don't, and perhaps even if they do, the polls suggest that most Americans won't care that Obama didn't leave troops behind in Iraq.
Michele Bachmann went on Mike Huckabee's Saturday night show on Fox News. Huckabee asked about Ron Paul's charge that she "hates Muslims…wants to go get 'em." Bachmann denied Paul's claim, and instead shot back with more tough talk on Iran:
The real hate that you hear is coming from the President of Iran. He hates Jews. He hates Jews in Israel, and he hates the American people, and so do the Mullahs in Iran who have expressly stated that it is their goal to kill Jews in Israel and also to kill Americans.
However, the question remains: what is the best way to stop Iran's pursuit of nuclear weapons? The Wall Street Journal has a story today saying that we can expect tougher sanctions on Tehran—and soon.
CFR President Emeritus Les Gelb interviewed President Joe Biden for Newsweek. The vice president says that the United States won't be bailing out Europe, that the administration is not letting up the pressure on Tehran, and that "The Taliban per se is not our enemy."
Chairman of the Joint Chiefs of Staff General Martin Dempsey told reporters that he found it "offensive" when GOP candidates talked about how they would listen to the generals when deciding what to do as president. Why doesn't General Dempsey like these comments?
One of the things that makes us as a military profession in a democracy is civilian rule. Our civilian leaders are under no obligation to accept our advice; and that's what it is. Its advice. It's military judgments, it's alternatives, it's options. And at the end of the day, our system is built on the fact that it will be our civilian leaders who make that decision and I don't find that in any way to challenge my manhood, nor my position. In fact, if it were the opposite, I think we should all be concerned."
I doubt that the general's remark will prompt GOP candidates to change their talking points on the campaign trail.
*NOTE: The original version of the post mistakenly said that the Public Policy Polling survey was conducted before last Thursday night's GOP debate.