Campaign 2016: Bobby Jindal, GOP Presidential Candidate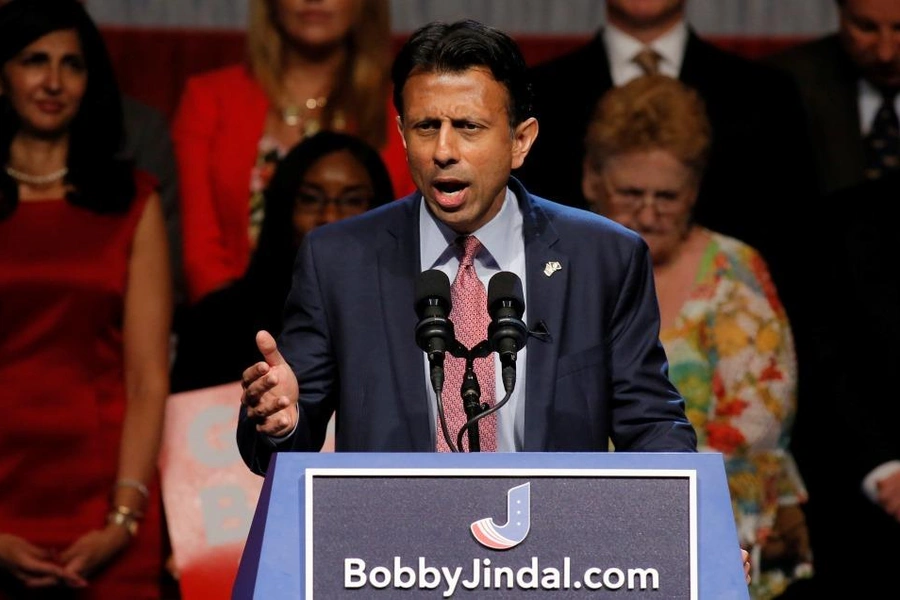 The state of Louisiana has produced more than its share of great athletes, authors, chefs, and musicians. But it has never produced a U.S. president. Current Louisiana Governor Bobby Jindal hopes to change that. He announced last week that he is running for president. Jindal is the thirteenth prominent Republican and the fifth former or current governor to toss his hat in the ring. He won't be the last one, though, on either score. If Jindal makes it to the Oval Office, he will be the first Indian-American president.
The Basics:
Name: Piyush "Bobby" Jindal
Date of Birth: June 10, 1971
Place of Birth: Baton Rouge, Louisiana
Religion: Catholic (Converted from Hinduism in college)
Political Party: Republican Party
Marital Status: Married (Supriya)
Children: Selia, Slade, and Shaan
Alma Mater: B.S., Brown University; M.Litt., Oxford University (Rhodes Scholar)
Career: Governor of Louisiana (2008 - Present); U.S. House of Representatives (2005-2008); Assistant Secretary at the U.S. Department of Health and Human Services (2001-2003); President of the University of Louisiana System (1999-2001); Secretary of Louisiana Department of Health and Hospitals (1996-1998)
Campaign Website: www.bobbyjindal.com
|Twitter Handle: @BobbyJindal
Campaign Announcement
Jindal first announced his candidacy in a hidden-camera video posted to Facebook in which he tells his three young children that he is running for president. He followed that up with a more traditional campaign announcement—a speech to several hundred excited supporters in a New Orleans suburb.
https://www.youtube.com/watch?v=eqjiB2FFNFE
He positioned himself as the can-do candidate:
There are a lot of great talkers running for president today. But none of them, no one, can match our record of actually shrinking the size of government. If great speeches helped our country, we would be on easy street right now. The guy in the White House today is a great talker, and we have a bunch of great talkers running for president. We've had enough of talkers, it's time for a doer.
Jindal devoted very little of his campaign announcement to foreign policy. He did pledge to secure America's borders and "to rebuild America's defenses and restore our standing on the world stage."
Foreign Policy Views
Like the other current and former Republican governors already in the race for the 2016 GOP nomination—Jeb Bush, Mike Huckabee, George Pataki, and Rick Perry—Jindal has a slim foreign policy resume. So while he has lengthy record of statements and actions on topics such as taxes and healthcare, he has seldom waded into the debates over issues such as how to counter the rise of China or stop North Korea's nuclear weapons program.
A lack of experience hasn't stopped Jindal from accusing President Obama and Secretary of State Hillary Clinton of having botched their handling of foreign policy. As he put it in his campaign announcement speech:
 This president, and his apprentice-in-waiting Hillary Clinton, are leading America down the path to destruction. Economically, culturally, and internationally.
Jindal's broad concern is that Obama is not tough enough to frighten foes or inspire friends. He complained earlier this year:
 The reality is our enemies today don't fear us, our allies don't consistently trust us.
Jindal's main criticism is that Obama has been soft in confronting the jihadist threat. Jindal wrote back in February:
We demand a leader who is going to spend less time criticizing America and more time hunting terrorists down and killing them … Perhaps the most incredible statement yet from this administration came from our State Department, which said, 'we cannot win this war by killing them. We cannot kill our way out of this war.' This is madness. Killing the enemy is exactly the way you win a war. More than any other statement, this one demonstrates in broad daylight that the president is not up to the job.
He made the same point last week after terrorist attacks in France, Kuwait, and Tunisia:
 I know he [Obama] loves to wage war on transfat and he loves to apologize for America and criticize medieval Christians. I'd like to hear him say very directly that Islam's got a problem, that problem is radical Islam.
Does this mean that Jindal wants to send U.S. troops into Iraq to fight the self-proclaimed Islamic State? Not exactly. He has only gone so far as to say that he thinks Obama was wrong to submit draft authorization-to-use-military-force legislation to Congress earlier this year that would have prohibited the United States from sending in combat troops.
Jindal opposes the administration's current negotiations with Iran, tweeting that:
https://twitter.com/bobbyjindal/status/575307655864000513
In keeping with his theme of being tough on foreign policy, Jindal says he would confront Russian aggression. He thinks that a hardline policy is the most likely to keep the peace. He wrote back in March:
Barack Obama's weakness is pushing the United States to another generational conflict with Moscow...
Obama conveys weakness to our allies and our enemies, but wise presidents have always understood that American weakness leads to violence, American strength to stability
To that end, Jindal favors arming Ukraine in its confrontation with Russian-backed separatists. He has yet to say what he would do if Moscow responded by escalating the conflict rather than backing down.
Jindal departs from many of his GOP rivals in acknowledging that human activity is changing the climate:
It's not controversial to say that human activity is contributing in some way. The question is how serious that is.
His answer appears to be, "not much." He has said that climate change is "simply a Trojan horse" to allow government to impose more regulations on the economy. The 46-page energy plan he released last fall proposes a few small-scale "no-regrets" programs while urging the repeal of the steps the Obama administration has taken to curb the emission of heat-trapping gases and an end to U.S. participation in international climate change talks. The plan also calls for numerous steps that would likely increase carbon emissions, such as more offshore drilling and construction of the Keystone Pipeline.
When it comes to immigration, Jindal, the son of immigrants, gives top priority to securing the U.S. border. Indeed, it is the first of the four policy priorities he listed in his campaign announcement speech. Once the borders are secure, he would move to reform the immigration system:
We should offer legal status to those currently here illegally so they can work and pay taxes via a guest-worker visa. Union political bosses killed such a program in the 1960s, and blocked it again in 2007. But the truth is that a responsible guest-worker program serves the interests of immigrants, businesses, and taxpayers. It would bring these workers out of the shadows, allow for visa portability, and address employer needs without opening taxpayers up to the burden of costly increases in entitlement programs.
As for a pathway to citizenship: For folks who came here illegally but are willing to gain proficiency in English, pay a fine, and demonstrate a willingness to assimilate, we should require them to work here and pay taxes for a substantial period of time after obtaining legal status before they have the opportunity to begin the process of applying for U.S. citizenship.
He would also increase legal immigration—"by a lot." He would emphasize  attracting skilled immigrants rather than uniting families or selecting immigrants randomly.
More on Jindal
The New York Times has "Bobby Jindal on the Issues." The Washington Post has things to know about Bobby Jindal. NPR has "5 Things You Should Know about Bobby Jindal." The Huffington Post has "5 Faith Facts about Bobby Jindal." The Daily Signal has "12 Interesting Facts About Bobby Jindal." USAToday has "Six Things to Know About Bobby Jindal." The Christian Science Monitor has six things to know about Bobby Jindal's record.