Champions for Change: Pakistan at a Crossroads
Champions for Change is a series highlighting male allies working to advance equality across the globe. In this post, Salman Sufi gives an account of journey behind Pakistan's most radical women's empowerment initiatives and their future.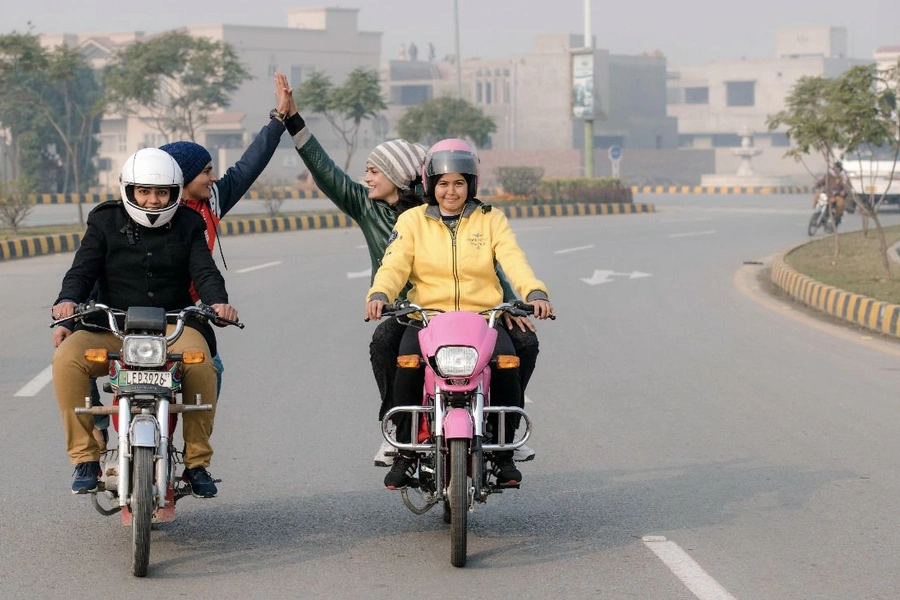 Salman Sufi is a Gender Strategy and Public Reforms Specialist, author of the Punjab Protection of Women Against Violence Act 2016 and Founder of Violence Against Women prevention centers (VAWC). He tweets at @SalmanSufi7 and can be reached at [email protected]
Pakistan's recent controversial election ushered in a marginal victory for the ruling political party, Pakistan Tehreek-e-Insaf (PTI), though not enough to hold a majority in the Assembly. PTI included women's empowerment in its election platform, but it is not clear whether the party will follow their rhetoric with action.
It's not just PTI's own promised women's rights reforms that hang in the balance. Landmark women-centric initiatives implemented by the previous administration also face an uncertain future.  These reforms, especially Violence Against Women Centres (VAWC), have been labelled by UN Women and other international organizations as a blueprint to combat gender based violence. However, reports that  VAWC staffers have not been paid since June 2018 raise the question of whether the PTI government is indeed sincere in delivering on its promises to protect and empower women.
The design and implementation of these reforms started in fall 2014 - a year in which unsettling reports of victims resorting to extreme measures, including setting themselves on fire, to bring attention to their neglected cases, started to surface. Earlier, Thomson Reuter's polls had ranked Pakistan third on the list of most dangerous countries for women, and alarm bells started ringing across power corridors.
In Pakistan, women's abuse is mostly considered a domestic affair, to be dealt with behind closed doors away from the eyes of law enforcement or courts. The matter at times is considered so sensitive that women choose to take their own lives rather than approach the authorities.
At my request, Chief Minister of Punjab Shehbaz Sharif created the Strategic Reforms Unit (SRU), tasked to propose unorthodox solutions to complex problems like women's abuse, terrorism, and taxation among other issue areas.
I was tasked to lead the SRU in the impossible job of reforming a brutal system that offered women victims no implementation of the laws meant to protect them  ne. Nevertheless, we persisted - we wanted our work to be more than just a slide deck collecting dust at government offices.
In an effort to identify the root causes of violence against women (VAW) in Punjab, a comprehensive multi-stakeholder research was conducted. Punjab Police statistics were revealing: although the number of reported VAW cases had increased by approximately a third between 2013 to 2014, the conviction rate for such crimes was 1-2.5 percent (Punjab Prosecution Department 2013-14; Punjab Police 2013-2014). There had been serious attempts by legislatures and civil society organizations to pass a women protection law but without any success.
The power of conservative political organizations and lack of political will by governments kept the law cold. The SRU, which only comprised of four members, including myself, realized that any band-aid solution to the plight of women in Punjab would not only backfire, but could also hamper the prospect of any future efforts, making officials complacent with makeshift reforms.
As a small team, we began by working to revive the women protection law and realized that the bill only addresses the issue of domestic violence. However, the problem of women protection is considerably more complex. Accordingly, we enhanced the ambit of the law to include economic, cyber, psychological, domestic, sexual, monetary exploitation as abuse and decided to offer civil remedies that were easier to apply for by women through family courts.
The Monetary Order would provide relief to survivors to compensate for economic losses or if their wages were withheld by anyone, including family members. The Protection Order would provide them protection instantly from anyone pressuring them not to register a case or harassing them. The Residence Order, on the other hand, would provide them with immediate shelter in case of eviction from their home and entitle them to compensation to live separately if they do not want to return to an abusive household.
A mandatory forty-eight hour eviction of the perpetrator from the house where he or she is abusing the victim was included. Additionally, monitoring via GPS-tracked electronic bracelet was introduced for perpetrators who were court-ordered to stay away from the victim.
This law was unique from any other similar attempts in Pakistan's other provinces or neighboring countries. The SRU designed Violence Against Women Center (VAWC), a twenty-four hour all women-run facility which will ensure implementation of all provisions provided under the law. For the first time in Pakistan, or even South Asia, one-stop centers were being established which provide first aid, medical and forensic assistance, police reporting and investigation, legal aid, post-trauma rehabilitation and a shelter home for victims all under one roof.
Despite the strong political resistance, SRU managed to convince lawmakers with facts and long grueling discussions. Civil society chipped in and stalwart activists like the (late) Asma Jehangir lent their support for the proposed law and it was passed unanimously from Punjab Assembly.
A political storm ensued, there were attacks at myself and the legislators supporting the legislation. TV shows were lit up with heated arguments as the religious right wing declared it unislamic. Some even termed the law anti-male, and a movement started in KPK by the then Council of Islamic Ideology's head for a Protection of Men legislation. There were suggestions that SRU's women protection law interferes with the inherent right of a man to beat his wife. A closer look at our legislation proves these claims were unfounded, and aired because decades-old patriarchal-mindset was being challenged.
SRU held marathon deliberating sessions with religious parties, and through the strong support from the then Minister of Law Sanaullah and Punjab Chief Minister Shehbaz Sharif, civil society and Government in a rare show of solidarity managed to push back hardliners and the legislation was cemented without any amendment to it.
The first Violence Against Women Center was launched in March 2017 in the city of Multan - a cotton-belt area which is most prone to gender based violence women. Within few hours of opening of this center, I witnessed, a barefoot woman walking in with her teenage daughter asking if this is the place where she can be safe from an abusive relationship.
The smile on her face after being welcomed by a friendly female receptionist and immediate lodging of her police report by onsite female police staff was a powerful reminder of the effectiveness and need of such centers. We have received at least 2174 VAW cases from March 2017 till August 2018, with domestic violence cases being more than 1300 cases, and out of these, we have been able to resolve more than 1800 cases.
Women's empowerment is sustainable only by action and not mere words. Only time will tell which direction Pakistan is to take from these crossroads hereon after the Election 2018, and women of Pakistan can't afford a reverse swing.