Henry Kissinger's On China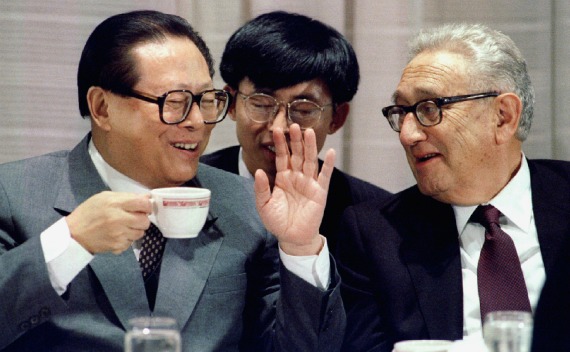 A month or so ago, a publicist for Henry Kissinger's new book On China sent along an advance copy for me to review on Asia Unbound.  Since the book runs over 500 pages, it took me a while to find the time to sit down and plow through it.  In the meantime, some excellent reviews by Jonathan Spence and the Economist, as well as a fascinating interview between Kissinger and Bret Stephens of the Wall Street Journal, have been published that bear reading.
After picking up and putting down the book several times over the past few days, what struck me most were not the amusing anecdotes and insights—and there were certainly some to be found—but rather the very narrow lens through which Mr. Kissinger views China. The result is that he illuminates one aspect of the country exceedingly well, but obfuscates easily as much in the process.
Mr. Kissinger tells his story through the eyes of China's paramount leaders: Mao Zedong, Zhou Enlai, Deng Xiaoping, Jiang Zemin and, to a lesser extent, Hu Jintao. This gives an appealing spareness and elegance to the narrative, but it is disconcerting as well, particularly since Mr. Kissinger is such a fan of China's leaders.
Mr. Kissinger portrays Mao Zedong, for example, as selflessly committed to perpetual revolution for the sake of transforming China into a great power. He does not offer an alternative plausible explanation—that Mao's perpetual revolution (and practice of imprisoning virtually all of his top advisors who challenged him in the midst of his crazy campaign fervor) might have derived at least partly from his wish to keep his rivals off balance and remain in power.
This sense of tunnel vision is heightened by the strongly deterministic bent of Mr. Kissinger's narrative: China's history is that of a once and destined-to-be-again great power. With that as his framework, China's political culture, as well as every policy initiative, and every period of tumult and transition propel China toward this great power end state. China's leaders are wise and strategic, and the Chinese people are patient and resilient.
Since China's future is pre-ordained, Mr. Kissinger does not find much need to illuminate the nuances and complexity of Chinese policy. Mr. Kissinger briefly mentions the 2001 EP-3 incident, in which a Chinese fighter jet crashed and a U.S. spy plane was forced to make an emergency landing on Hainan Island and the crew was kept for 11 days. The incident clearly demonstrated the lack of a crisis management mechanism both within China as well as between China and the United States. It also was one of the first times that Chinese nationalism—expressed via the Internet—was turned against a Chinese leader, in this case Jiang Zemin, for being too weak in the face of perceived U.S. aggression. Mr. Kissinger's assessment of the event, however, was merely that neither Jiang Zemin nor President Bush allowed the incident to torpedo the relationship. True, but not terribly enlightening.
Of course, it is precisely this elite perspective that makes Mr. Kissinger's book unique. And, if read alongside other books on Chinese history and foreign policy, then On China is value-added. There are several fascinating anecdotes from times when Mr. Kissinger sat next to Mao, Zhou, and Deng that no one else can offer in precisely the same first-hand manner. As an added bonus, as I noted earlier, Mr. Kissinger writes in an elegant and spare manner, which makes even 500 pages a reasonably easy read.
Two final notes for the potential reader: Given the title "On China", I was surprised that the book was a history book—and primarily a history of Chinese foreign policy and U.S.-China relations at that. While there is some discussion of what transpires within China, the focus is on China's strategic outlook and foreign policy. So don't pick up the book to gain insight into the dramatic political, social, and economic trends that are shaping the country today. Do pick it up if it will be fun for you—as it was for me—to  see parallels between how Chinese foreign policy was conducted in the 1800s and how it is conducted today.
And perhaps a nitpick: Somewhere in the book Mr. Kissinger should have mentioned that he left statesmanship with China for business with China. Nowhere does he discuss Kissinger Associates, the highly successful consulting firm he founded almost three decades ago, which does a thriving business providing entrée to Chinese officials and business leaders for foreign companies. Indeed, Mr. Kissinger has spent more time negotiating business than negotiating policy.
I don't think that Mr. Kissinger's views of Chinese political history have been unduly shaped by the past thirty years of doing business. As former congressman Stephen Solarz is quoted as saying in Walter Isaacson's Kissinger: A Biography, "Dr. Kissinger has always defended oppressive dictatorships whether or not he had a financial stake in them." Still, it seems like a rather significant omission in such a personal accounting. We might also have benefited from Mr. Kissinger's real-time insights on China. Then again, I suppose we already know what he would say.