The Intransigence of Kenya's Raila Odinga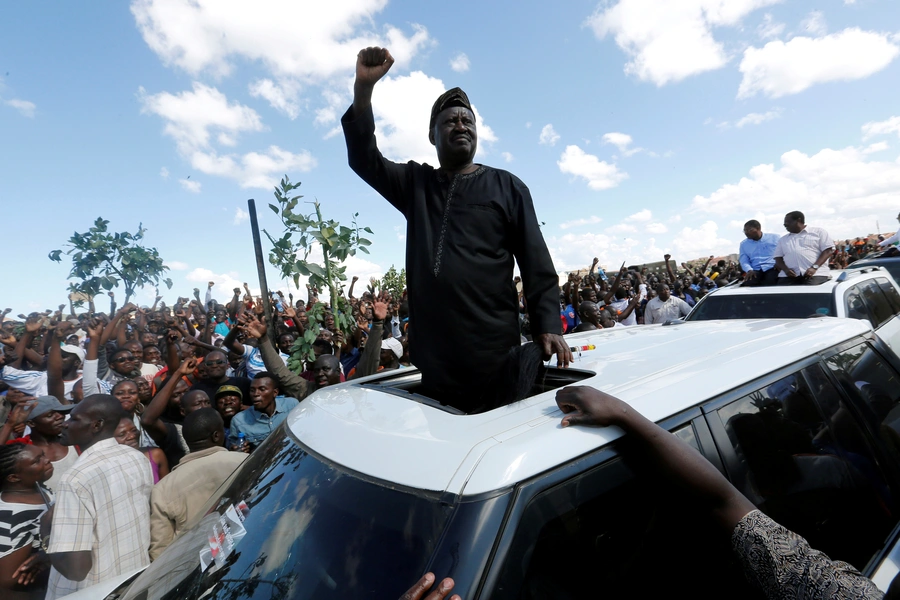 Not only is opposition leader Raila Odinga refusing to recognize the presidency of Uhuru Kenyatta, sworn in on Tuesday, he has announced that he will be sworn in as "the people's president" at a December 12 ceremony. The legal basis for the inauguration, he said, will be Article One of the Kenyan constitution, which states that sovereign power rests with the people. Odinga, leader of the opposition National Super Alliance (NASA), continues to insist that he won the original elections on August 8, in which Kenyatta was declared the victor. Those results were annulled by the supreme court, which judged that constitutional procedures had not been followed. Odinga boycotted the election rerun, which took place on October 26, resulting in Kenyatta winning some 98 percent of the vote amid 39 percent voter turnout (roughly half of what it was for the August election). Odinga denies that the most recent elections are legitimate. For his part, Kenyatta used rhetoric designed to unify at his inauguration, even as police broke up Odinga's concurrent rally and prayer meeting with tear gas.
Kenyatta and Odinga are "big men," multi-millionaire scions of families that have been rivals since Kenya's independence. They are playing with fire. Kenyan politics are shaped by ethnic identities. Kenyatta's Kikuyu is probably the largest ethnic group, and its politicians have dominated Kenyan governance for much of its post-colonial history. Other ethnic groups, notably Odinga's Luo, regard themselves as marginalized. The continuing political turmoil in Nairobi is almost certainly having an economic impact on Kenya and the entire east African region, though it is hard to quantify. Odinga's announcement that he will stage an inauguration on December 12 is bound to add to investor uncertainty.
What happens next? Kenyatta controls the Kenyan bureaucracy, the army, and the police. His inauguration has been recognized by the judiciary and the international community. Odinga, on the other hand, has substantial support in the Nairobi slums and in those parts of the country dominated by the Luo and their tribal allies. Odinga could bring the country to a halt. A wild card is the undisciplined police and the other security services. Most of the deaths that have taken place during this election cycle have been civilians at the hands of police. Further police violence could set off Odinga's supporters, who are already seething, though it's unclear what it will take (at least fifty people have died in election-related violence since August). So, too, could any move to arrest Odinga. Should either happen, it is likely that he would be unable to control his supporters, and mayhem would follow.