Low Turnout, Protests, and No End in Sight for Kenyan Election Crisis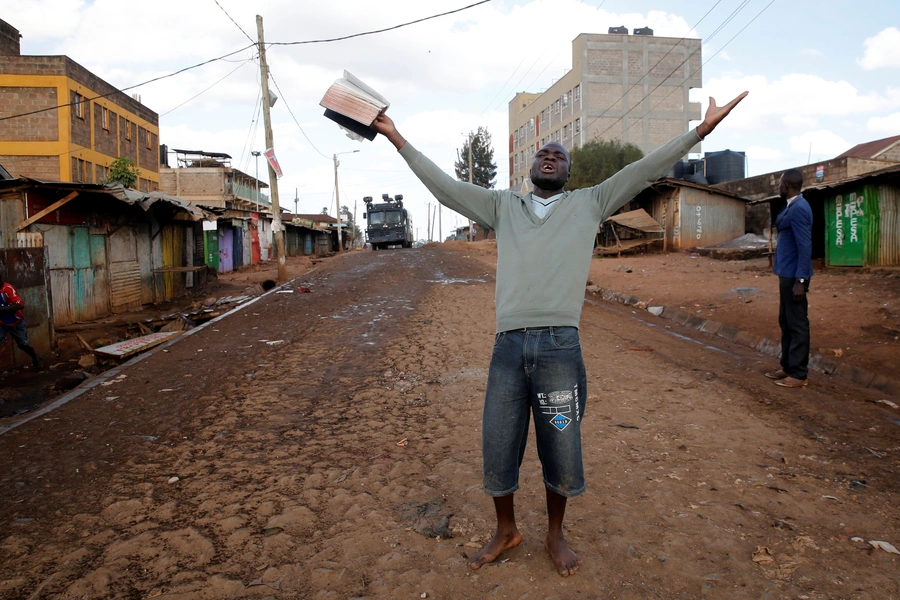 Only a third of registered voters in Kenya voted in an October 26 presidential election rerun, in comparison with the nearly 80 percent who participated in the August elections. It appears that most of opposition leader Raila Odinga's supporters followed his call to stay away. No doubt they were joined by many Kenyans concerned about the possibility of violence, especially from their neighbors in ethnically-mixed neighborhoods. Incumbent President Uhuru Kenyatta will be the victor, though it will be some days before the electoral commission announces the final results. Even so, the low turnout all but guarantees that a significant portion of the Kenyan electorate will not regard the elections as legitimate, and Kenyatta's political position in his new term of office is likely to be weak.
Polling in about 10 percent of Kenya's counties has been postponed until October 28 because of security concerns and the non-delivery of voting materials. There are so many anecdotes of election irregularities that it seems highly likely that the elections will again be challenged in the courts. Preliminary analysis indicates that the October 26 voting was largely along ethnic lines. Odinga is a Luo tribal leader, and residents in the predominately Luo west of the country, where voting was postponed, and some of the Luo-dominated townships around Nairobi, stayed away. Kenyatta is a Kikuyu, aligned with the Kalenjin tribe of his vice president, William Ruto. Those who went to the votes appear to have come from those two ethnic groups and their allies.
Some in the Western media are breathing a sigh of relief that the violence was not worse—five people were killed yesterday. Counting both the August and October elections, around fifty people died, the majority at the hands of the security services, far fewer than the roughly one thousand killed during the 2007 election cycle. That being said, the sense of relief is premature. In African elections now, violence on the day of the vote is becoming rare. Instead, violence breaks out when results are officially announced, meaning this upcoming week is likely to be more dangerous than that of October 21.
Kenya is a bitterly divided country, politically and ethnically. Odinga maintains that Kenyatta is intent on establishing a dictatorship. Kenyatta's attacks on the judiciary provide at least the semblance of a basis for such accusations. It remains to be seen whether the political and ethnic divisions will result in the general escalation of violence, strikes, and other activities that will slow the economy. Because of Kenya's key position in East Africa, its turbulence can affect its neighbors, especially Uganda, South Sudan, and parts of Tanzania. The port of Mombasa and the country's relatively well-developed infrastructure services the entire region.
It should be anticipated that al-Shabab and possibly other terrorist organizations will seek to exploit the weaknesses of a Kenyatta administration that is not recognized as legitimate by a significant percentage of Kenyans. As has been true throughout the election process, Kenyatta and Odinga are crucial to resolving this crisis. If Kenyatta were to reach out to opposition voters and Odinga were to accept the legitimacy of the Kenyatta presidency, if the two together were to repudiate tribalism, national healing could proceed. Both Kenyatta and Odinga regularly promise dialogue, but thus far it has led to nothing. Regrettably, neither has shown much sign of setting aside personal ambitions and interests for the sake of the common good. Can these two leopards change their spots now?