Meet John Delaney, Democratic Presidential Candidate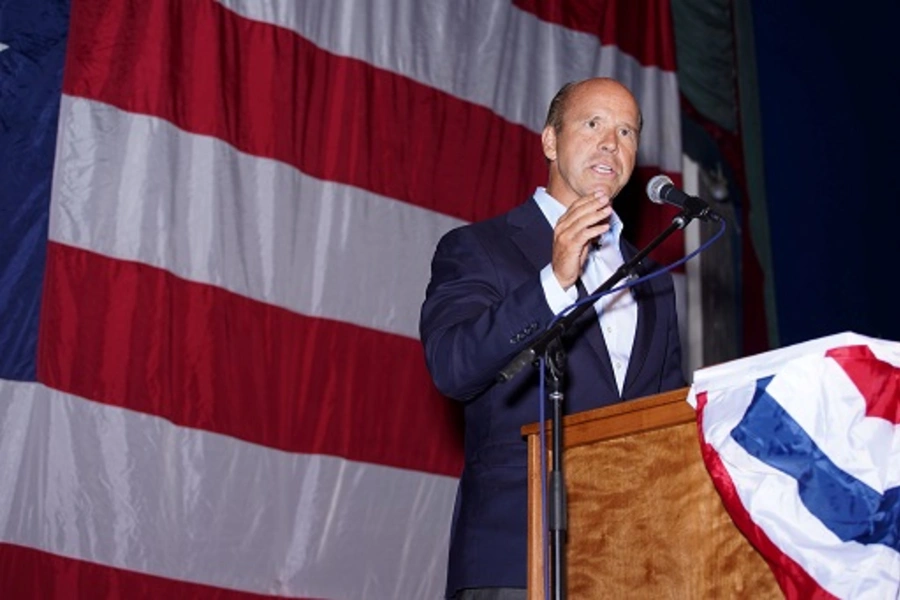 Update: John Delaney announced on January 31, 2020, that he was ending his campaign.
Someone had to be first. When it comes to the 2020 presidential campaign, that person is John Delaney. He's certainly no Johnny-come-lately to the race. He declared his candidacy back on July 28, 2017. Yes, you read that right. He has been on the campaign trail for eighteen months. So while other Democratic contenders have been debating whether to run and when to announce, Delaney has been crisscrossing the great state of Iowa, meeting with voters in all ninety-nine counties, and running television ads. (No need to be envious New Hampshire; Delaney is also spending a lot of time in the Granite State.) Delaney's commitment to Iowa has started to pay off.  Eighty percent of Iowans say they have heard of him, and three local political leaders endorsed his candidacy just last week. We have a long way to go, however, before we learn whether the early bird really does get the worm.
The Basics:
Name: John Kevin Delaney  
Date of Birth: April 16, 1963
Place of Birth: Wood-Ridge, New Jersey
Religion: Roman Catholic
Political Party: Democratic Party
Marital Status: Married (April McClain)
Children: Summer (24), Brooke (20), Lily (17), and Grace (10)
Alma Mater: Columbia University (BS); Georgetown University (JD)
Career: Businessman; U.S. Representative (2013-2019)
Campaign Website: https://www.johnkdelaney.com/
Twitter Handle: @JohnKDelaney
Delaney's Story
Delaney was born and raised in Wood-Ridge, New Jersey, a town of less than eight thousand people a dozen miles due west of Manhattan. His website touts his "Blue-Collar Roots and a Strong Union Family." That's because his father was a union electrician and his mother a stay-at-home mom. As a teenager, Delaney frequently worked construction with his father. Scholarships from his father's union, the International Brotherhood of Electrical Workers, helped him attend Columbia University. He initially planned to become a doctor. But his interests evolved, as they do for many undergraduates, and he eventually earned a law degree from Georgetown University.
Delaney soon traded in law for business. In 1993, he started Health Care Financial Partners, which helped provide financing to small and medium-sized health care providers. Seven years later he started CapitalSource, which loaned money to small and medium-sized businesses. Both firms were listed on the New York Stock Exchange, making Delaney the youngest CEO of a publicly traded company. Ernst & Young named him Entrepreneur of the Year in 2004.
In 2012, Delaney traded in business for politics, defeating ten-term incumbent Republican Congressman, Roscoe Bartlett for Maryland's 6th Congressional District. Delaney benefitted from two developments. The first was that the eighty-six-year-old Bartlett ran an anemic campaign, initially failing to raise much money and fueling speculation that he planned to retire. The second was that Maryland had just redrawn the sixth district's boundaries, adding parts of the DC suburbs and the Democratic voters who predominated there. (A federal court ruled last year that the redistricting was unconstitutional.) Delaney won handily, in part by telling voters "I don't want to tell St. Peter about my business career. I want to tell him what I did for other people." Delaney won reelection in 2014 and 2016.
In Congress, Delaney's first bill sought to provide additional job training and educational benefits to veterans. He founded the Artificial Intelligence Caucus and was a founding member of the Climate Solutions Caucus. He worked across the aisle on issues like infrastructure, education, and tax reform. In 2017, Fortune magazine named him to the list of the "World's 50 Greatest Leaders."
With his sights set on higher office, Delaney chose not run for reelection in 2018.
Delaney's Announcement
The theme Delaney stressed in announcing his White House run is the future:
Delaney argued that President Trump is "not focused on the future" and that America First is not the way to build an economy for the twenty-first century. What's missing in Delaney's view is a plan to get ready for a world in which "49 percent of worker activities can be done by robotics." Delaney also stressed that "Democrats can't win by just attacking Trump," but instead must "show the American people there's a better way." Foreign policy barely merited a mention in Delaney's announcement.
Delaney's Message
Delaney is positioning himself as a centrist Democrat with blue-collar roots who knows business, understands the challenges Americans face in the twenty-first century, and can work with Republicans to find common ground to get things done. In many ways, he wants to lower the volume of our national conversation rather than to raise it.
Delaney made that point in op-ed, published the day after he announced his candidacy, lamenting how "excessive partisanship" has distorted American politics. He also spelled out "My focus is on preparing our country for the future. Technological innovation, automation, and globalization are the most powerful forces in the world today." He says policymakers need to figure out "What are the resources we have, how do we compete and create jobs, how can we ensure that everyone has a fair chance, and how do we protect ourselves?"
Whether Delaney's message of competence, compromise, and conciliation will resonate with the Democratic primary electorate in 2020 remains to be seen.
Delaney's Foreign Policy Views
Foreign policy isn't a central part of Delaney's campaign message. Neither foreign affairs nor defense policy was a focus of his three terms in Congress. As might be expected of someone who made his money in financial services, he served on the Financial Services Committee.
Delaney likely won't appeal to the anti-trade wing of the Democratic Party. He believes that the roots of America's economic problems lie primarily in the policy choices Americans have made at home rather than in bad trade deals or global flows of capital. He sketched out his basic view to Iowa voters back in 2017: "The villain, they said, was globalization, but in reality it was government's failure to respond to changes that were ultimately positive for the economy, but they weren't positive for everyone and we watched it happen and we did nothing about it." Not surprisingly given that assessment, Delaney voted back in 2015 in favor of fast-track status for the Trans-Pacific Partnership, one of the few House Democrats to do so.
That said, Delany believes China poses a "significant economic threat" to the United States because of rampant Chinese theft of U.S. intellectual property. He would take a different approach to addressing the problem than President Trump. Delaney says the solution is to build a "global alliance" to "put pressure on China to open up their markets in a way that's fair." He also thinks the World Trade Organization (WTO) needs to be "more assertive" and the United States needs to "exercise more influence" through the WTO.
Delaney opposed President Trump's decision to withdraw the United States from the Iran nuclear deal, tweeting "THIS is why Putin helped Trump campaign—he knew Trump is untrustworthy & would back out of our global engagements (TPP, Paris, Iran) & diminish our leadership in the world. Pulling back from our global leadership position is bad for our economy & nat sec."
Delaney has called for a national artificial intelligence strategy, citing the fact that China, France, and the European Union have them. He says the United States is in "danger of falling behind" and that the U.S. government currently has "no focus on the future." To Delaney, getting ahead on artificial intelligence is about economic security and national security.
Delaney sees climate change as a "significant threat to prosperity and national security" and supported legislation that would tax companies for their carbon emissions. He said climate change will be a "huge focus" of his campaign and that he wants bipartisan solutions.
More on Delaney
Like many presidential candidates before him, Delaney has written a book laying out his vision for America. He titled it, The Right Answer: How We Can Unify Our Divided Nation
Washington Post columnist George Will describes Delaney as "a Democrat who believes in what he has lived: upward mobility, with assistance. He recognizes the obvious, that globalization has been 'extraordinarily positive' for billions more people than it has injured, but its American casualties are real and deserve government help." 
The Atlantic reports that Democratic political activists in Iowa are split over whether Delaney's biography and temperament match the moment.
Corey Cooper and Elizabeth Lordi assisted in the preparation of this post.