RIP Turkey, 1921–2017
Turkish President Recep Tayyip Erdogan didn't just win his constitutional referendum—he permanently closed a chapter of his country's modern history.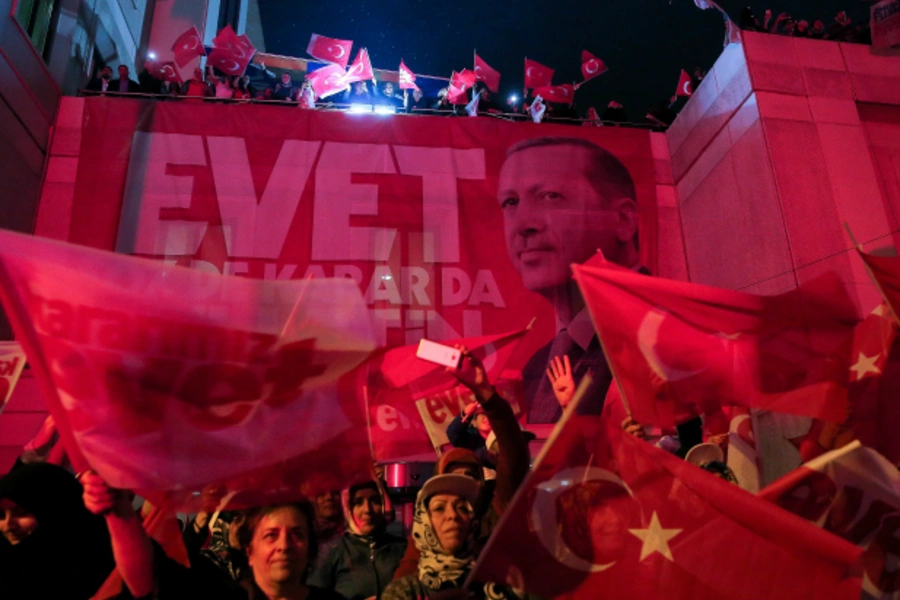 This article was originally published here on ForeignPolicy.com on Sunday, April 16, 2017.
On Jan. 20, 1921, the Turkish Grand National Assembly passed the Teşkilât-ı Esasîye Kanunu, or the Law on Fundamental Organization. It would be almost three years until Mustafa Kemal — known more commonly as Ataturk, or "Father Turk" — proclaimed the Republic of Turkey, but the legislation was a critical marker of the new order taking shape in Anatolia.
The new country called Turkey, quite unlike the Ottoman Empire, was structured along modern lines. It was to be administered by executive and legislative branches, as well as a Council of Ministers composed of elected representatives of the parliament. What had once been the authority of the sultan, who ruled alone with political and ecclesiastic legitimacy, was placed in the hands of legislators who represented the sovereignty of the people.
More than any other reform, the Law on Fundamental Organization represented a path from dynastic rule to the modern era. And it was this change that was at stake in Turkey's referendum over the weekend. Much of the attention on Sunday's vote was focused on the fact that it was a referendum on the power of the Turkish presidency and the polarizing politician who occupies that office, Recep Tayyip Erdogan. Yet it was actually much more.
Whether they understood it or not, when Turks voted "Yes", they were registering their opposition to the Teşkilât-ı Esasîye Kanunu and the version of modernity that Ataturk imagined and represented. Though the opposition is still disputing the final vote tallies, the Turkish public seems to have given Erdogan and the AKP license to reorganize the Turkish state and in the process raze the values on which it was built.
Continue reading here...