Trump's Visit to the Philippines: A Budding Bromance but Few Positive Outcomes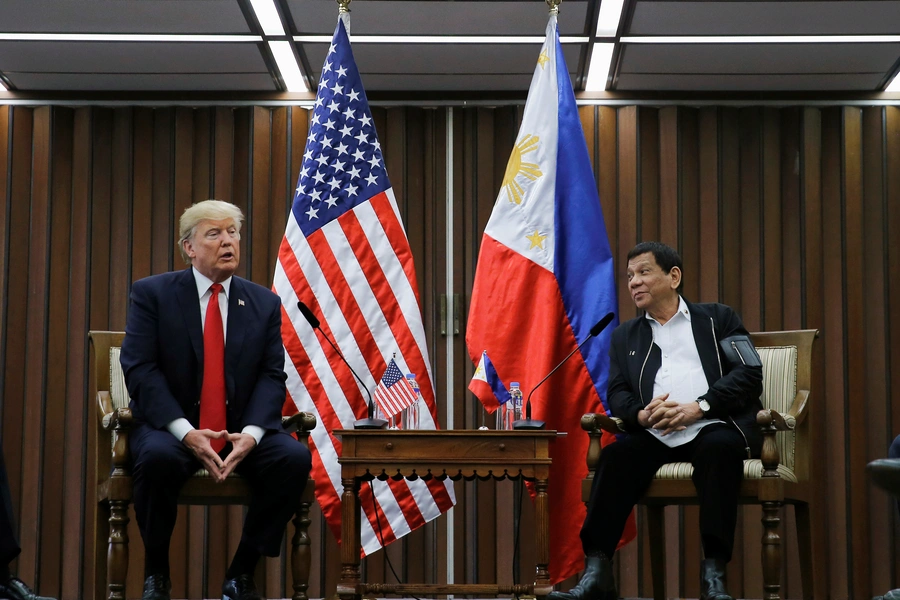 Part Two
Read Part One here. 
So, the bilateral meeting between U.S. President Donald J. Trump and Philippine President Rodrigo Duterte appears to have gone well, at least on the surface. Earlier in the visit, Duterte actually crooned a Philippine love song at a leaders' dinner, reportedly at the request of Trump.
But while the bilateral meeting appears to have been warm, and the two men have developed a kind of mutual admiration society over months—partly, it seems, because the U.S. president admires other strongmen including Duterte, Xi Jinping, and many others—there is only so much that the United States can do to sway Duterte from many of his policy positions. Indeed, in addition to the fact that Trump's meeting with Duterte probably hurt the cause of human rights in the Philippines, it is unclear whether the meeting achieved anything substantial on key issues including the South China Sea.
In fact, according to some news reports, Trump did not even bring up the South China Sea in his meeting with Duterte. Instead, the two leaders talked about the self-proclaimed Islamic State and counterterrorism, among other topics.
Duterte definitely is increasingly realizing that he needs U.S. assistance in counterterrorism, piracy, and other issues related to the Islamic State than he had imagined a year ago. Since the battle in Mindanao this past year, the Philippine armed forces are exhausted, and unprepared for another breakout of major conflict in the south. Duterte has lined up new counterterrorism assistance commitments from Singapore and Australia, but these countries' counterterrorism assistance cannot match the levels of potential aid from Washington.
But on the South China Sea, Duterte seems resolute—though it makes little sense that Trump did not even bring up the issue in their bilateral meeting. After all, much of the Philippine military and security establishment still hopes to take an assertive approach to the South China Sea, one in line with the position of the previous Benigno Aquino administration. Trump should have at least raised U.S. concerns about Duterte's South China Sea policy.
To be sure, Duterte appears determined to let Beijing dictate terms on the South China Sea, even as the Philippine military establishment tries to convince him otherwise—and to circumscribe his ability to completely overhaul Manila's South China Sea policy.
It is not wrong that the White House is eager to prioritize counterterrorism in its relationship with the Philippines—this is an issue where real, win-win cooperation is possible. In addition, Trump and Duterte both share goals of reducing piracy in the Sulu-Celebes Sea, a highly lawless area that is rife with pirates, human traffickers and Islamist militant groups—including organizations that combine all three activities.
But in the White House's vision of a "Free and Open Indo-Pacific," in which the United States and its partners would defend freedom of navigation, among other interests, it is hard to see how Duterte and his South China Sea approach would fit in. For the past year, nearly every time China has applied pressure on Duterte to take a relatively accommodating position regarding the South China Sea, Duterte has complied.
Most recently, earlier this month the Philippines' defense chief announced that Manila would end any work on a sandbar at Sandy Cay, near Thitu Island—after pressure from Beijing. Earlier in the year, Duterte also canceled a planned visit to Thitu, probably after pressure from Beijing, telling China he'd done so because he valued Beijing's friendship.
The Philippine leader, who this year serves as the chair of ASEAN, also has done little to rally ASEAN nations to come up with a coherent position on the South China Sea. He has, in some ways, seemingly been an obstacle on any ASEAN unity on the South China Sea. And, despite Duterte's desire for greater U.S. assistance on counterterrorism and other domestic security challenges, there is little evidence that Duterte plans to move Manila back, even modestly, toward the Aquino administration's tougher approach to the South China Sea.