Trump's Visit to the Philippines: A Budding Bromance but Few Positive Outcomes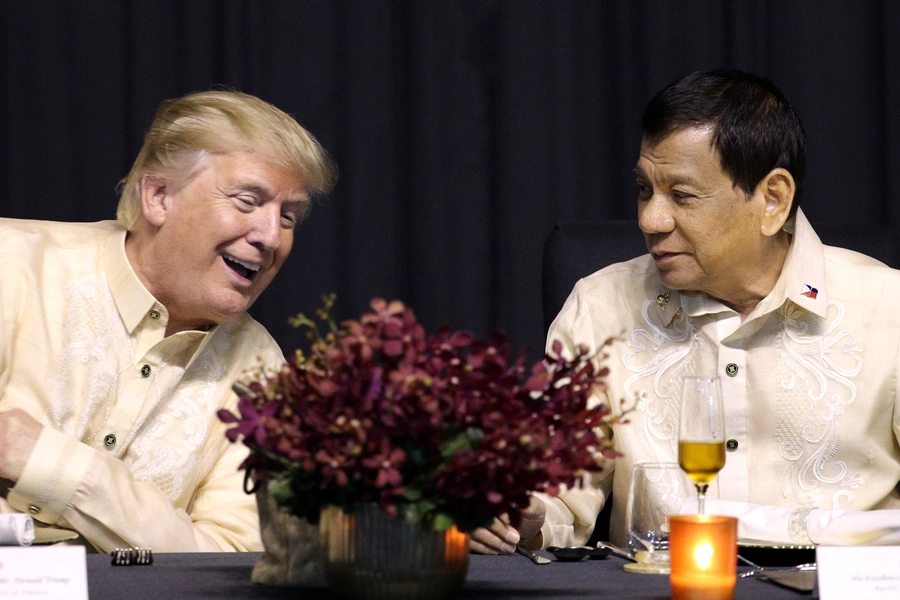 Part One

The meeting between U.S. President Donald J. Trump and Philippine President Rodrigo Duterte was highly anticipated, and—for theater—the two leaders did not disappoint. The two leaders have been engaged in a long-distance kind of bromance going back months. On a phone call in the spring whose transcript was later leaked to the press, Trump and Duterte chatted warmly, and Trump has praised Duterte's brutal approach to the Philippine drug war.

The Philippine president seems to appreciate a U.S. leader who has made human rights a low priority in Southeast Asia, and who thus has mostly ignored any criticism of Duterte's undermining of the rule of law. Indeed, the Trump administration has downplayed human rights in all aspects of U.S. foreign policy, including bilateral meeting with foreign leaders and funding for rights and democracy programs within the U.S. government, among other areas.

This approach has, without a doubt, helped restore ties with some top Southeast Asian leaders, although it risks alienating large portions of Southeast Asian politicians. Besides Duterte, other autocratic-minded Southeast Asia leaders also see an opening in the Trump administration's "America First" policies. Leaders from Cambodian Prime Minister Hun Sen to Malaysian Prime Minister Najib tun Razak to Thai Prime Minister Prayuth Chan-ocha are operating, this year, with the gloves off against civil society and all other kinds of opposition. Prayuth and Najib already have visited the White House and met with Trump.

In the run-up to Trump's Asia visit, the U.S. president notably highlighted that he enjoyed warmer relations with Duterte than President Barack Obama had. Trump told reporters in early November that he was proud of his ties to Duterte, even though Duterte is widely criticized for his massive rights abuses. "You remember the Philippines—the last trip made by a president that turned out to be not so good," Trump said, according to the Washington Post. "Never quite got to land." [This statement is not exactly true—Obama was going to meet Duterte at a regional summit in Laos, not by landing in Manila, and Obama called off the visit, not Duterte, as the Post noted.]

During Trump's meeting with Duterte, the two indeed spent little time speaking about human rights, Then, Trump praised his "great relationship" with the Philippine president. Some administration officials seemed to suggest, before the meeting, that Trump would bring up human rights with Duterte, but it remains unclear whether he actually did. (This disinterest in discussing rights in Manila follows a visit by Trump to Vietnam where he also said virtually nothing about human rights.) White House Press Secretary Sarah Huckabee Sanders said that human rights had briefly come up in the meeting between the U.S. and Philippine presidents, but Duterte denied the issue was broached at all.

What's more, in a press availability with the two leaders, Trump also just ignored reporters' questions about human rights in the Philippines, according to the Los Angeles Times. The U.S. president further said nothing as Duterte called reporters "spies" during a press availability. This was a chilling comment given that Duterte has in recent years warned that journalists could be targeted for assassinations, and that the Philippines in recent years has had some of the highest annual rates of journalists being murdered of any nation in the world. It may help keep the Trump-Duterte bromance going, but as I explore in the next post, the value of that bromance remains limited.
Read Part Two here.