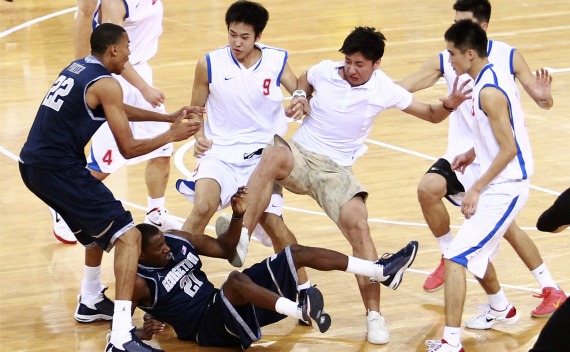 It must be a testament to the dearth of interesting diplomatic discussions that a brawl between the Georgetown Hoyas and the Bayi Rockets became the headline news out of the U.S.-China summitry between Vice Presidents Biden and Xi last week. Page after page in newspaper after newspaper was filled with the same accounting of the unfair refereeing, aggressive play, and poorly behaved crowd. For many, the event became a metaphor for the animosity presumed to underpin the U.S.-China relationship and, possibly, a lack of respect to Vice President Biden.
When one reporter called me for commentary, however, I couldn't offer much except to wonder whether the brawl wasn't simply a case of a game getting out of control as sporting events sometimes do. Maybe the fact that the team was comprised of members of the People's Liberation Army played a role, but other Chinese basketball teams have previously been called out for poor sportsmanship. Just last year, a game between China and Brazil turned violent within just the first few minutes of the game. I would be surprised, however, if the Brazilian papers reported the incident as a reflection of China's overall relationship with Brazil. And let's not forget that the U.S. has certainly seen its fair share of heated play turned ugly.
The point is context matters. One excellent piece of reporting by Dan Levin in the New York Times in the aftermath of the basketball game, for example, suggests a broader set of challenges in China's sports culture. Levin points out that one Chinese basketball coach was recently suspended after his team protested his physical and verbal abuse, which included beating the players. Undoubtedly, this physical abuse is not limited to one team. As the Chinese Basketball Association chairman of game operations suggested "Coaches treat their players like their children, and it's completely normal for parents to hit their kids." Perhaps some of the Bayi Rockets violence against the Hoyas stemmed from their training regimen. Other U.S. basketball teams who have played in China have also commented on the need for developing a stronger refereeing culture on the mainland. I am sure this will happen over time; in the meantime, perhaps the U.S. can propose referee training as another area of cooperation within the Strategic and Economic Dialogue.
There are enough problems in the U.S. –China relationship; we don't need to create any more. Even though I loved the movie, the last thing we need is for someone to call on Kurt Russell to reprise his role in "The Miracle" for some imagined U.S.-China face-off.