Zimbabwe Elections: A Sham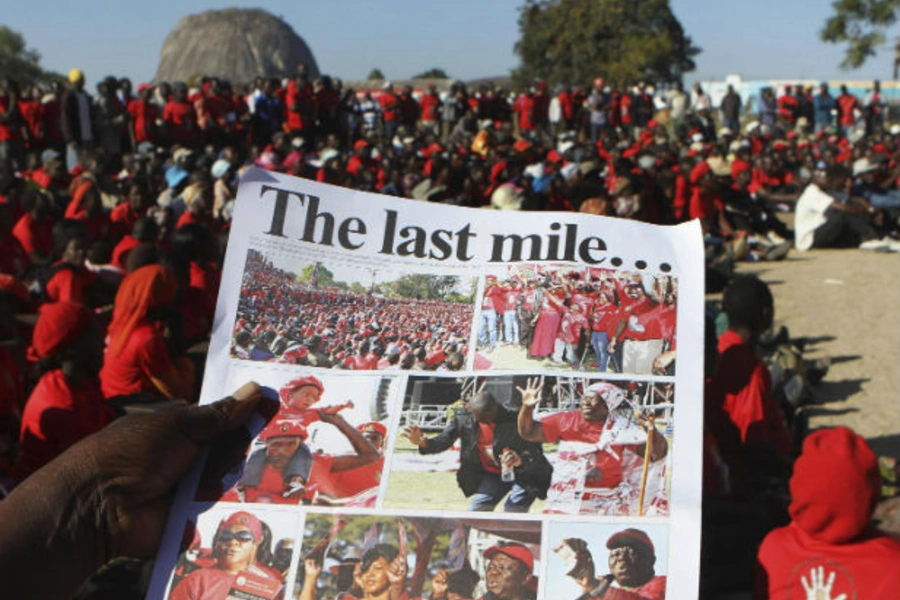 Party operatives in Robert Mugabe's ZANU-PF party are claiming victory in yesterday's elections. According to some observers, ZANU-PF swept constituencies that have consistently voted in the past for the opposition MDC by huge margins. Similarly, well-known and popular opposition figures have been allegedly defeated by unknown ZANU-PF candidates. Such a massive shift toward Mugabe and ZANU-PF is not credible.
The Zimbabwe Elections Support Network (ZESN) is an indigenous coalition of civil society organizations formed to observe the elections. Its chairman, Solomon Zwana, summed it up to the media: "The credibility of the 2013 harmonized elections is seriously compromised by a systematic effort to disenfranchise urban voters. Up to a million voters were disenfranchised." He continued, "when compounded by the massive bias in the state media, the campaign of intimidation in rural areas, the lack of meaningful voter education, the rushed electoral process, and the harassment of civil society leaves the credibility of these elections severely compromised."
Morgan Tsvangirai, the leader of the opposition and longtime rival of Robert Mugabe, issued a statement: "This election has been a huge farce. Its credibility has been marred by administrative and legal violations which affect the legitimacy of its outcome." He called it a sham election "that does not reflect the will of the people."
Meanwhile, according to the media, Africa Union and Southern African Development Community (SADC) election observers are being quoted saying the elections were credible. (Mugabe prohibited any western election observers.) This should be no surprise. African election observers are reluctant to criticize elections in other African countries. The head of the AU observers, former Nigeria president Olusegun Obasanjo, was himself involved in three rigged elections at home, as some Zimbabweans observed when the AU announced his appointment. South Africa dominates SADC; as I blogged earlier, South African president Jacob Zuma threw over his Zimbabwe point person, Amb. Lindiwe Zulu, when Mugabe demanded it. It looks like SADC and the AU wanted the elections to "go away," rather than insist that they be credible. Both organizations are likely to experience further issues of credibility with respect to elections in the future.
The question is what will Tsvangirai and the MDC-T do now. Will there be protests and/or violence, or will MDC-T supporters simply switch off from the political process and wait until the eighty-nine year old Mugabe leaves the scene.