Foreign policy came up a fair bit in last night's Democratic debate between Hillary Clinton and Bernie Sanders. We have seen the general thrust of their exchanges many times before. Clinton touted her extensive foreign policy credentials and questioned Sanders's. He in turn touted his foreign policy judgment and questioned hers.
I'll leave it to others to score who won the debate. But in rehashing seasoned talking points, Clinton and Sanders highlighted three important foreign policy lessons:
Think Ahead. Sanders argued that in Iraq in 2003 and Libya in 2011 the United States launched military actions without thinking though the consequences. That's an all too common policymaking failure, and not just when it comes to using military force. The tendency is to focus on the problems being solved rather than the problems being created. That's why former Secretary of Defense Robert Gates says that the three least commonly heard words in Washington are "What happens next?"
Advisers Advise, Presidents Decide. Sanders used President Obama's admission that his worst mistake in office was his failure to plan for post-Qaddafi Libya to blame Clinton. She eventually countered that cabinet secretaries advise, but the president decides. Whoever takes office next January 20 will discover it is far easier to suggest what U.S. policy should be than decide what it will be. (There is a corollary to the "advisers advise, presidents decide" rule: Great advisers don't always make great deciders.)
Action Has Consequences. So Does Inaction. Clinton noted that the United States intervened in Libya in part because European and Arab leaders were demanding action to stave off the chaos they feared was imminent. Ignoring those calls would have had potentially significant diplomatic and strategic costs. And had Qaddafi followed through on his threats to exterminate the "rats" in Benghazi, we might now be talking about the Obama administration's failure to learn the lessons of Rwanda. Likewise in the case of Syria, where Clinton's advice went unheeded, Obama might have been right to minimize U.S. involvement. But that decision almost certainly helped create the horrific situation we now face.
We'll see whether the next president masters these three lessons.
In Case You Missed it
Bernie Sanders released a statement attacking Hillary Clinton's credibility, in part over her support for free-trade agreements. For her part, Clinton pledged to "take on Chinese trade abuses" and review existing free trade agreements if elected president. She also said that Sanders "struggles with the truth."
Bernie Sanders has three new ads out this week. "No Fracking Anywhere" highlights his opposition to all fracking. "Bolder" challenges New Yorkers to push for progressive goals. "These Are Mothers and Fathers, Sons and Daughters" features minorities saying why they support the Vermont senator.
Clinton released three new ads of her own. "Stronger Together" attacks Donald Trump's comments on women and Mexicans. "Forward" argues that the former secretary of state has what it takes to fix the U.S. economy. "Una Bandera" ("A Flag") is a Spanish-language ad that criticizes Trump's immigration stand and says that Clinton has always been on the side of Latinos.
Donald Trump released a radio ad, "New York Values," which ties his policies to New York values. Ted Cruz his own radio ad out criticizing New York Mayor Bill de Blasio.
Rosa Brooks argued that Donald Trump has a "coherent, realist foreign policy" that deserves a serious response rather than ridicule. Isaac Stone Fish examined the claim made by a Chinese paper that Trump is "China's secret agent in America" because his policies would benefit China. Robert Mackey reviewed Israeli reactions to Sanders's New York Daily News interview. David Rothkopf looked past the election to describe what President Hillary Clinton's foreign policy will look like. The governor of the Bank of Mexico told reporters Trump's plan to halt remittances "would be very wrong." CIA Director John Brennan said he would refuse to allow the agency to engage in waterboarding, even if ordered by a future president. Will Marshall and Ed Gerwin criticized the trade policies of both Sanders and Trump.
Looking Ahead
The next nominating event is a big one: the New York primary on April 19. There are 95 Republican and 291 Democratic delegates at stake. Clinton and Trump are both favored.
The Republican National Convention opens in another 94 days at the Quicken Loans Arena in Cleveland on July 18. The Democratic National Convention starts seven days later at the Wells Fargo Center in Philadelphia on July 25. Here are where things stand with the delegate count: (The Democratic count includes super delegates, elected Democratic officials and members of the Democratic National Committee who can vote for the nominee but who aren't selected by voters or bound by what they want).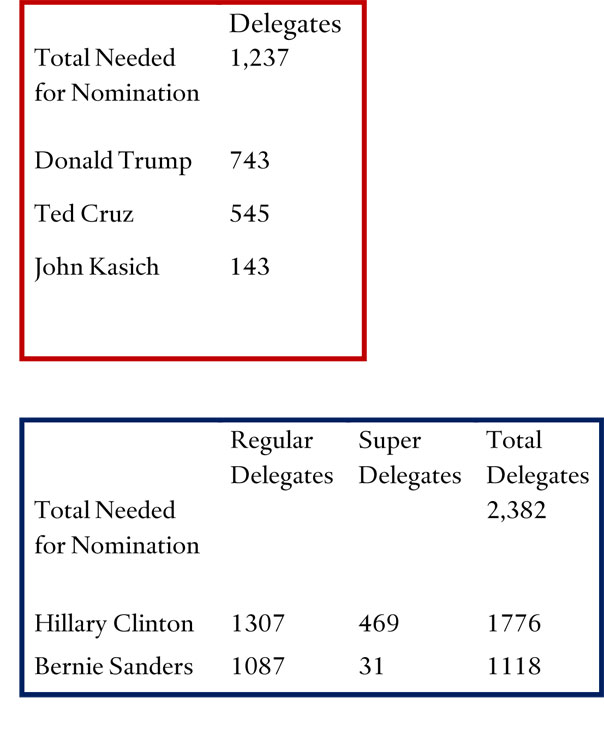 Election Day is 207 days away.
This post was prepared with the assistance of Brett Ekberg and Olivia Bethea.