Cyber Week in Review: October 7, 2022
Ghanaian electricity provider hit by ransomware; U.S. further limits semiconductor exports to China; CLOUD Act enters force; Micron announces new U.S. chip fab; Biden signs order implementing U.S.-EU data privacy agreement.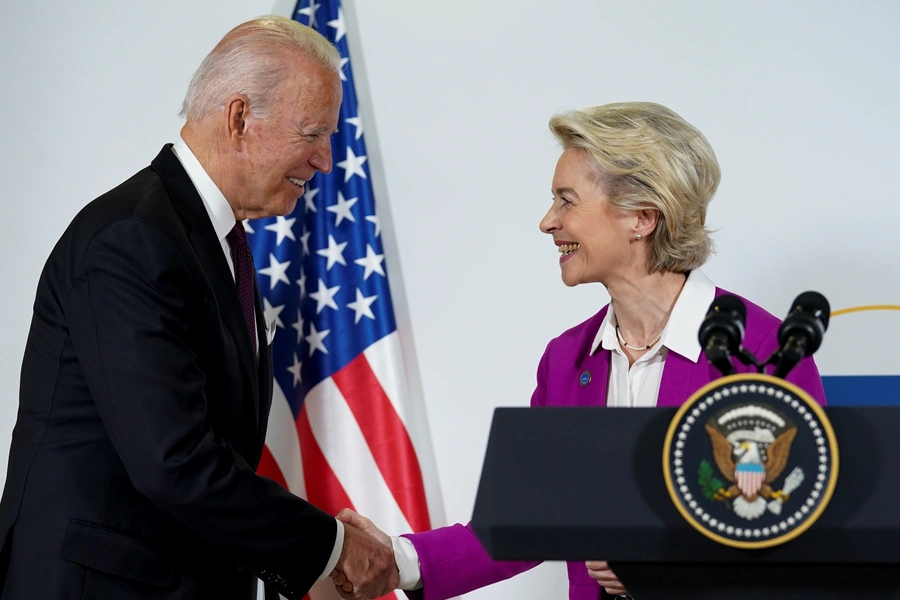 Ghanaians lose power after electricity company hit by ransomware attack
Ghanaians nationwide have been unable to purchase new power credits from the Electricity Company of Ghana (ECG) since last Tuesday,  and as a result have had electricity to their homes cut. ECG has publicly said that it is experiencing technical difficulties, but media experts have speculated that the cuts are the product of a ransomware attack. General Manager of ECG Charles Nii Ayiku Ayiku said that while he doesn't have any information of hacking or attack on the systems, ECG has stabilized its district offices and extended its working hours to accommodate customers affected. This incident occurred approximately three weeks after the Ghanaian Minister for Communication and Digitalization Ursula Owusu-Ekuful called on cyber security stakeholders to collaborate and expedite information sharing and responses to counter cyber-attacks.
U.S. Department of Commerce expected to announce new limits on semiconductor exports to China
U.S. Department of Commerce is expected to announce new regulations to limit China's advanced computing and chip production capabilities. The measures target China's ability to use high power computing to develop nuclear, hypersonic, and other advanced weapons systems. Commerce will enforce the foreign direct product rule, which will prevent the sale of advanced computing chips to Chinese buyers without a U.S. government license if the companies use American technology to make the chips, and was previously used against the technology giant Huawei U.S. chipmakers and manufacturing equipment sellers such as Nvidia and AMV in recent weeks have publicly announced they received government notifications about the new restrictions. The last major use of the foreign direct product rule in China, against Huawei in 2020, caused the company's revenue to decline by nearly 30 percent.
U.S.-UK Data Access Agreement enters into force
The U.S. Department of Justice released a statement on Monday that the Data Access Agreement (DAA), has gone into effect. Under the Data Access Agreement, service providers in these countries may respond to lawful data demands from the other's police and investigators meant to counter serious crime without violating restrictions on cross-border disclosures. This is the first agreement of its kind allowing each country's investigators to gain such access to vital data to combat crime while remaining consistent with privacy and civil liberties standards. The agreement was first authorized in the United States by the 2018 Clarifying Lawful Overseas Use of Data (CLOUD) Act enacted by Congress, which was considered an important milestone to modernize technology-related law.
Micron announces $100 billion investment for new U.S. semiconductor manufacturing facility
U.S. semiconductor manufacturer Micron announced it was investing over $100 billion over the course of the next two decades into a new manufacturing plant in New York. The investment was largely motivated by the recent passage of the CHIPS Act, which offers billions in grants and subsidies for semiconductor manufacturing in the United States, and a $5.5 billion package of tax credits and subsidies from the New York state government. Production at the plant would likely begin in 2025 and the plant would employ around nine thousand people. The U.S. government has been focused on increasing domestic microchip production, as Intel committed to investing $100 billion into a chip factory in Ohio earlier this year, and Taiwan Semiconductor Company (TSMC) announced it was building a $12 billion facility in Phoenix last year.
Biden signs executive order implementing EU-U.S. Data Privacy Framework
President Biden signed a new executive order today which implements the new EU-U.S. Data Privacy Framework. Biden and European Commission President Ursula von der Leyen agreed to the framework in March 2022 after the previous agreement, known as Privacy Shield, was invalidated in July 2020 by the European Union Court of Justice as a violation of EU citizens' privacy rights. The executive order will tighten privacy controls at U.S. intelligence agencies and establish a new review process for European organizations and individuals to receive independent review and redress for violations of their privacy rights. As part of the next step of the agreement, the European Union will review the order and synchronize it with their own rules. The final agreement is expected to be implemented by March 2023.