Nigeria Security Tracker Weekly Update: April 13–19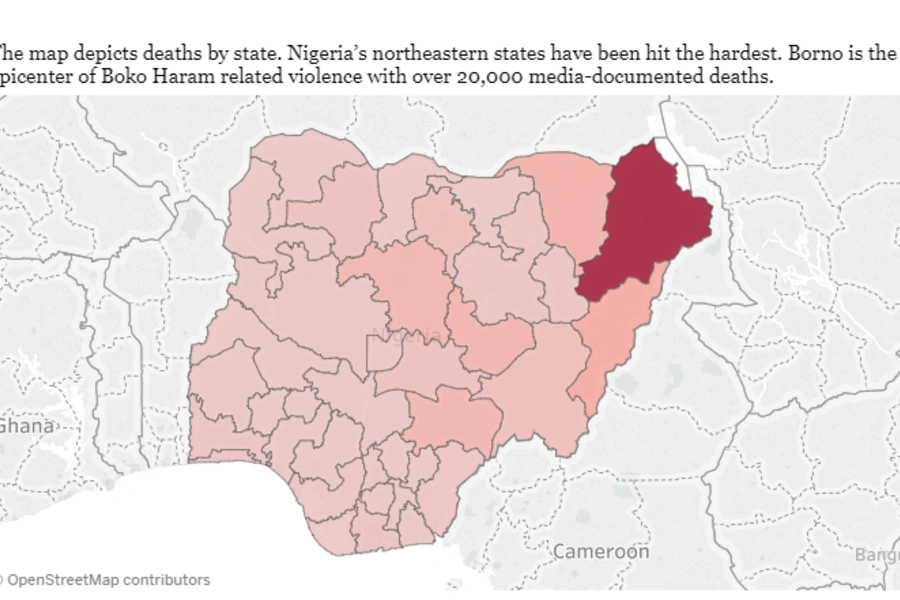 Below is a visualization and description of some of the most significant incidents of political violence in Nigeria from April 13 to 19, 2019. This update also represents violence related to Boko Haram in Cameroon, Chad, and Niger. These incidents will be included in the Nigeria Security Tracker.
April 13: The Nigerian Air Force killed four bandits in Talata-Mafara, Zamfara.
April 13: Nigerian and Cameroonian troops killed twenty-seven Boko Haram militants in Ngala, Borno.
April 14: Herdsmen killed two in Bassa, Plateau.
April 14: Soldiers killed "many" (estimated at ten) bandits in Zurmi, Zamfara.
April 14: Gunmen killed seventeen in Akwanga, Nassarawa.
April 15: Seven Chadian soldiers and sixty-three Boko Haram militants were killed during a clash in Kaiga Kindjiria, Chad.
April 15: Kidnappers abducted five in Ijumu, Kogi. 
April 15: Herdsmen killed two in Ikole, Ekiti. 
April 15: Gunmen abducted eighteen in Lokoja, Kogi. 
April 15: Herdsmen killed six in Anambra West, Anambra. 
April 16: Nigerian troops killed three bandits in Gassol, Zamfara. 
April 16: Troops repelled a Boko Haram attack, killing fifty-two militants; two Chadian soldiers were also killed in Kukawa, Borno. 
April 17: A gunman killed one herdsman in Kaura, Kaduna. 
April 17: Gunmen killed four in Demsa, Adamawa.
April 18: Gunmen killed eleven in Numan, Adamawa.
April 18: Nigerian troops killed seven bandits and lost one soldier in Aljumana and Ketere in Zamfara (LGA unknown).  
April 18: Boko Haram killed eleven in Tchakamari, Cameroon. 
April 18: Gunmen killed sixteen in Tsafe, Zamfara.
April 11–18: The Islamic State claimed to have killed sixty-nine soldiers over the past week around Borno and in Tomer, Niger. 
April 19: Sectarian violence resulted in twenty-two deaths in Wukari, Taraba.