Beyond "Mateship": Tough Choices in Australian Foreign Policy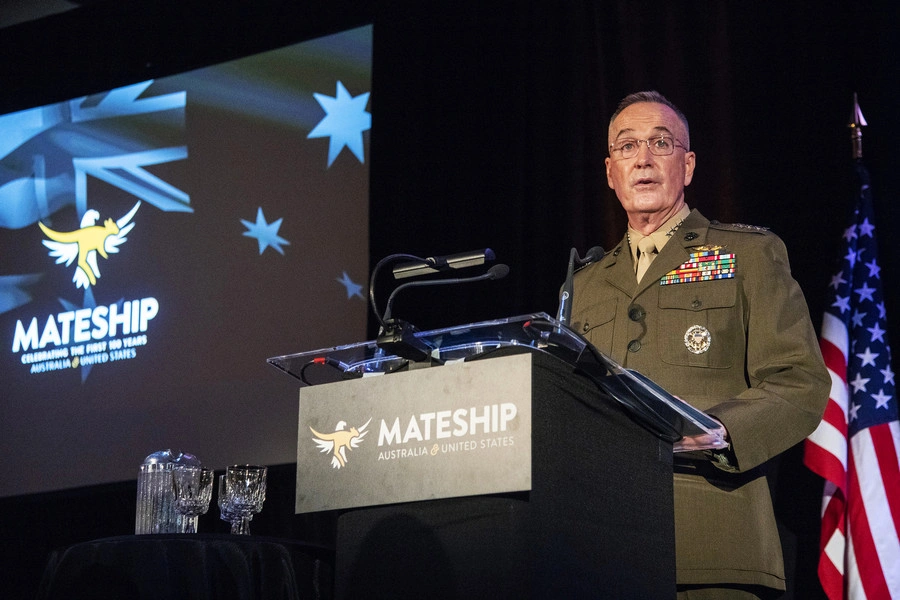 By James Curran

In recent weeks, the Australian government has invested significant commemorative capital to mark the one hundredth anniversary of the Battle of Hamel on the Western Front in World War I in July 1918. This was the first time that Australian and U.S. troops had fought alongside each other—a practice subsequently seen in World War II, Korea, Vietnam, and more recently in Afghanistan and Iraq. Few, if any, close U.S. allies can boast that kind of record in fighting alongside U.S. troops repeatedly.

Since the election of Donald Trump, the Australian government has expended a great deal of effort in crafting a new narrative for the Australia-U.S. alliance centred around this theme of "100 years of mateship." The phrase fuses the history of Australian-U.S. relations in times of international conflict with Australia's military tradition. At the instigation of the Australian government, a television documentary celebrating this history has been produced and is currently airing on Fox TV channels in both Australia and the United States. The Australian embassy in Washington also had a medallion struck for the occasion and a special beer, dubbed "mateship ale" and brewed in Texas, now features at selected embassy functions.

This is however the diplomacy of gimmickry. It bears little relation to a rather more complex historical tale of Australia-U.S. relations over the last century, a history in which the two countries, for all their convergence on the battlefield, have also, like most alliances, experienced moments of great tension and indeed serious differences in the bilateral relationship. It is doubtful, too, that many Americans are aware of this record of sustained Australian loyalty to the United States during wartime. The Australian government appears determined to remind them and also to signal Canberra's renewed commitment to the next one hundred years of the bilateral relationship.

Canberra's appeal to sentiment raises the intriguing question of how allies handle President Trump as his "America First" stance becomes more entrenched in U.S. foreign policy, as demonstrated at the recent G7 meeting in Quebec and in his launching of trade wars. Of course, there is every reason why the two countries should recall this history of shared sacrifice: that, after all, is what allies do. Another argument is that appealing to past military heroics is the best way to seize the attention of a U.S president who, although hardly given to extolling the benefits of alliances, has nevertheless surrounded himself with military top brass.

Australia is not the only ally pulling on the emotional heartstrings in dealing with the Trump administration. Canada's Justin Trudeau has also tried to remind the White House of his own country's special historical links to the United States. The difference is that Trudeau also has followed that up with resolute statements about his preparedness to adopt a defiant stance toward the United States if necessary, protecting Canadian interests while also appealing to shared historical ties. Australian Prime Minister Malcolm Turnbull on the other hand has not highlighted his willingness to challenge U.S. foreign policy; he has backed the Trump administration at almost every turn.

What then does Australia really gain from employing this campaign of appealing to the two states' military history? Perhaps these attempts to remind Washington of Canberra's role as a faithful ally explain Australia's exemption from the Trump administration's recent steel and aluminium tariffs. But whether these appeals would make a difference in the event of a more serious clash of interests between the United States and Australia, especially over issues in Asia, is another matter entirely. The history of U.S.-Australia relations, after all, does not provide much comfort for Australian policymakers. When conflicts between the two allies have arisen before, Washington quite properly prioritized its own interests over any idea of mateship. In arguments over Indonesia's annexation of West New Guinea in the early 1960s, for example, or in the prosecution of the Vietnam War, Australia often found that pronouncements of loyalty to the alliance were unable to either shift U.S. policy or secure the level of consultation Australian policymakers felt they deserved.

Indeed, Canberra is struggling to negotiate the two headwinds buffeting its foreign policy: the first being the ongoing anxiety about U.S. staying power in Asia, and the second being how to deal with the more muscular stance taken by China in its foreign policy. The problem is more acute, of course, because of Australia's economic dependence on China.

These two factors have combined to apply greater pressure to the delicate diplomacy that has characterized Australian diplomacy for the last twenty-five years, as China has become an economic and strategic power—the idea that Canberra could retain an ally in Washington without alienating its major economic partner in Beijing. This mantra had virtually become an article of faith amongst leaders, policymakers and commentators: Australia could ride two horses simultaneously. But over the last few years it has been getting much harder to maintain this difficult balance.

So far, the Turnbull government is not faring well in dealing with this dilemma. In short, it is perhaps too optimistic about continuity in ties with the United States and too harsh in some of its language towards China. Last year the Australian foreign minister, for example, did what no other Australian leader has done since Canberra recognized Beijing in 1972: lectured China on their system of government.

In its formal pronouncements, such as last December's Foreign Policy White Paper, Canberra maintains that it wants to see U.S. leadership in Asia continue. It continues to plead for Washington to rediscover its exceptionalist impulse, its role as the "indispensable nation" in world affairs. Australia wants the United States, in many ways, which existed before the Trump administration, although previous U.S. administrations also frequently ignored Southeast Asia and the Pacific Rim.

On China, Turnbull has attempted to take a tough rhetorical stance while simultaneously maintaining close economic ties. But late last year, in the process of introducing special legislation designed to protect Australian political institutions from interference by China and all other foreign actors, he appropriated the supposed words of Chairman Mao to state that Australia too, just like the Chinese communists in 1949, will now "stand up" to protect itself from foreign interference. It is unclear whether Mao actually said these words at that time, but the prime minister's phrase was perceived in Beijing as a needless poke in the Chinese eye.

Beijing has subsequently given Canberra a frosty diplomatic shoulder. China has not made a concerted effort to drive down the numbers of either Chinese students or tourists coming to Australia, industries worth $7.4 billion and $7.7 billion respectively to the Australian economy last year. But the potential is there for China to cause Australia significant economic pain, if Beijing so desired. It is not surprising then, that there is much talk in Canberra of the need for a "reset" of Australian China policy. In a recent speech Turnbull spoke of a "positive" and "optimistic" future for the Australia-China relationship.

An alternative interpretation of Turnbull's bullish line on China is that it is calculated to further toughen Trump's own stance towards Beijing. That too is testament to the nervousness in Canberra that the unpredictable Trump, despite the launching of a trade war on China, could ultimately strike strategic and economic deals with Xi that might well leave Australia high and dry. Accordingly, it will take much more than appeals to shared history to solve Australia's foreign policy challenges.

James Curran is professor of history at Sydney University and a non-resident fellow at the Lowy Institute for International Policy.