Xi Jinping visits the White House today. One of the topics on the agenda is the future of Chinese investment in the United States. It may sound like a pedestrian topic, but it has the potential to be politically explosive.
China certainly has a lot of money to invest overseas. That's one of the benefits that comes with being a creditor nation that sells the world more than it buys. As the chart below shows, China has more than $68 billion in overseas investments, up from less than $10 billion six years ago. (China is still a piker compared to the Netherlands—$3.78 trillion in outward foreign direct investment in 2010—let alone the United States—$3.91 trillion in overseas investments, also in 2010. That's the benefit of getting a decades-long, if not centuries-long, head start.)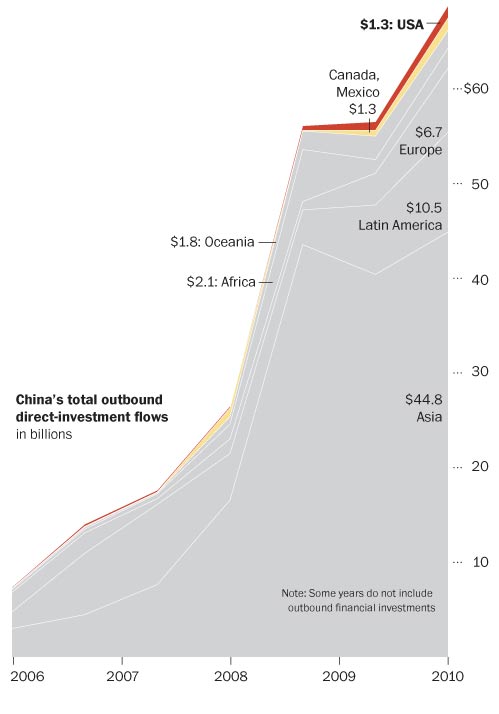 Chart Source: Washington Post
So far, only a sliver of Chinese direct foreign investment is going to the United States. With projections calling for China to invest more than $1 trillion by 2020, there are new calls for the United States to actively seek Chinese investment. Those investments could underwrite new plants and factories in the United States, stimulating growth and creating new jobs.
But—there's always a but—more Chinese investment in the United States means more Chinese access to U.S. technology. To China's chagrin, the United States has trade barriers for both its high-tech and national-security industries. In fact, deals with Chinese companies have failed in the past because of these concerns. Back in 2005, the Chinese state-owned oil company CNOOC pulled out of an $18.5 billion takeover bid for the U.S. oil company Unocal citing a U.S. political environment that presented an "unacceptable risk." In another case, about a year ago, Chinese telecom giant Huawei Technologies backed off a patent deal before the White House could block the deal citing national security concerns.
Stories like the one in Saturday's New York Times about how China is actively penetrating corporate and government networks or the one in today's Wall Street Journal about long-term Chinese hacking of Nortel raise fears that China won't play by the rules governing international investment and intellectual property.
Stay tuned. Investment in the United States by China, and vice versa, is a big issue to come.