The President's Inbox: Henri Barkey and Steven Cook on the U.S. Withdrawal from Syria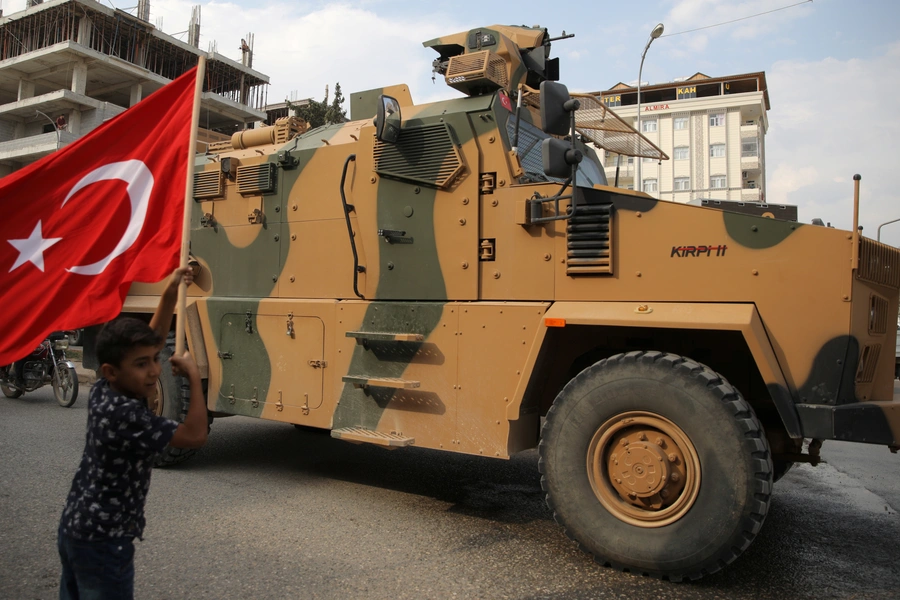 The latest episode of The President's Inbox is live. I sat down with Henri Barkey, CFR's adjunct senior fellow for Middle East studies, and Steven Cook, CFR's Eni Enrico Mattei senior fellow for Middle East and Africa studies, to discuss the consequences of President Donald Trump's decision to end U.S. support for the Syrian Kurds. That move effectively greenlighted Turkey's invasion this past week of northeastern Syria. Here are three takeaways from our conversation.
1. Turkey was unlikely to make good on its threat to invade northeastern Syria as long as the United States stood by the Syrian Kurds. The Obama administration aligned the United States with the Syrian Kurds back in 2014 because of a common enemy: the Islamic State. The Kurds, however, also had another objective: carving out an autonomous Kurdish region in northeastern Syria known as Rojava. Ankara saw that as a mortal threat given the Syrian Kurds' close ties with Kurdish separatists in Turkey. However, Ankara had to live with Rojava as long as Washington protected the Kurds. An attack risked killing U.S. troops and triggering devastating U.S. economic retaliation. Once Trump ended U.S. protection, the Turkish invasion was inevitable.
2. Even if Trump's decision was the right one, it was done in the worst possible way. As has been the case so often in his presidency, the president surprised pretty much everyone with his decision to change U.S. policy. Allies like Britain and France, which have their own troops in Syria, got no advance notice. Neither did senior members of Trump's own national security team. They were instead left to pick up the pieces left behind by his impulsiveness.
3. The president likely thought he was improving relations with Turkey but now has made them far worse. Trump appears to have thought that abandoning the Kurds would remove a major impediment in U.S.-Turkish relations. But bipartisan criticism of the decision on Capitol Hill, coupled with the president's subsequent talk of punishing Turkey for the invasion, will make it harder, not easier, for Ankara and Washington to work together.
If you want to learn more about the events unfolding in northeastern Syria and their consequences for the region more broadly, check out the Washington Post's Q&A on the conflict. CFR has an InfoGuide that provides a rich overview of the Kurdish people. Jon Schwarz reviewed the hundred-year history of U.S.-Kurdish relations, noting that Trump's decision was far from the first time the United States has left the Kurds high and dry. By Schwarz's count it's the eighth.
Henri and Steven have both written extensively about Turkey, the Kurds, and Syria. Henri argued back in the spring that the United States "unintentionally and in service of its own strategic needs, has midwifed Kurdish nationalism." In a piece out today, Henri warns that U.S. policymakers should expect Turkey to respond to significant sanctions "by moving further away from Western institutions and even completely breaking from them."
Steven wrote an explainer on the consequences of Trump's decision for the United States and the Kurds last week. He also explained why the Kurds have turned to the United States for help, even though Washington often hasn't kept its word: "The United States is powerful and can afford to be duplicitous, whereas the Kurds are weak and are thus forced to be credulous." Steven has long doubted the prospects for improved U.S.-Turkish relations, for reasons he wrote about last year in a report entitled "Neither Friend nor Foe."
And Steven and our colleague Gayle Tzemach Lemmon, CFR's adjunct senior fellow for Women and Foreign Policy and someone who has traveled six times to northeastern Syria in recent years, also participated in a conference call to discuss the consequences of the U.S. withdrawal.
Not everyone thinks Trump erred in abandoning U.S. support for the Kurds. Akhilesh Pillalamarri, a former fellow at Defense Priorities, a think tank set up with the support of billionaire Charles Koch to promote restraint in U.S. foreign policy, argued in 2018 that withdrawal isn't a "gift" to Russia or Iran and that "a lack of U.S. troops in Syria is in no way a surrender or retreat. It is merely the restoration of a previous status quo." Benjamin Friedman, Pillalamarri's colleague at Defense Priorities, co-authored a piece that contends that "hard truth is that U.S. allies in Syria, including the Kurds, should know that our forces were in Syria to defeat ISIS, not to guarantee their autonomy." The problem, of course, as former Secretary of Defense James Mattis (among others) pointed out over the weekend, is the likelihood that "ISIS will resurge" in the absence of continued U.S. military pressure in Syria.
Margaret Gach assisted in the preparation of this post.