Remembering Those Whom Memorial Day Honors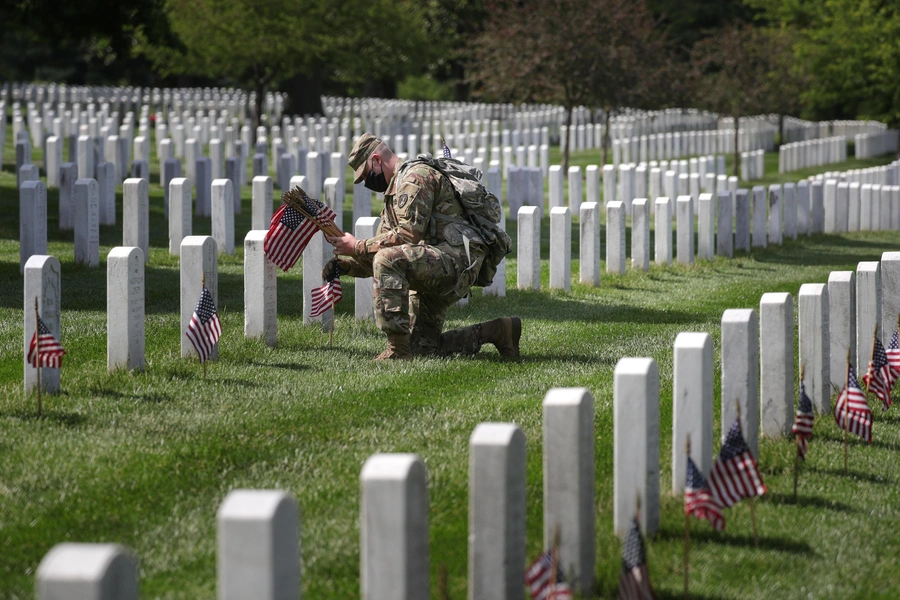 The United States has fought twelve major wars and numerous smaller skirmishes in its history. Memorial Day is how we honor the soldiers, sailors, airmen, airwomen, and marines who did not return home. The holiday dates back to the months immediately following the Civil War when a few towns and cities began honoring their dead. In 1868, General John A. Logan—at the time the head of an organization for Union veterans, later a U.S. senator from Illinois, and the man for whom Logan Circle in Washington, DC, is named—called for May 30 to be designated "Decoration Day." He said the purpose would be for "strewing with flowers or otherwise decorating the graves of comrades who died in defense of their country during the late rebellion." The holiday was renamed Memorial Day after World War I, and its purpose became to honor all Americans who have died fighting the nation's wars. Since 1971, Memorial Day has been celebrated on the last Monday in May.
In honor of Memorial Day, here are the stories of four Americans who were awarded the Medal of Honor, the nation's highest award for bravery, for making the ultimate sacrifice:
Lieutenant Colonel Emory J. Pike was born in Columbus City, Iowa, on December 17, 1876, and spent most of his boyhood forty-five miles west in Sigourney, Iowa. He graduated from West Point in 1901, where he ranked seventy-third in a class of seventy-four. He did his first tour of duty in Cuba. Over the next fifteen years, he rose through the ranks and was stationed at various army bases around the United States. In April 1918, he was dispatched to Europe as a machine-gun officer in the 82nd Division. On September 15, 1918, Pike was in Vandieres, France, as the Battle of St. Mihiel raged. He was at the front surveying possible new machine gun positions when the advancing U.S. troops scattered in the face of heavy German shelling. Pike led the effort to help the troops regroup, encouraging the men to rally and resume their fire. When one of the soldiers was wounded by incoming artillery fire, he raced to the man's aid. A second shell exploded as he reached the fallen soldier, badly wounding Pike. Despite his grievous injuries, he continued to oversee the reorganization effort and keep morale high. He died the next day from his wounds. Pike was the first member of the 82nd Division to be awarded the Medal of Honor, and the only West Point graduate to be awarded the Medal of Honor during World War I.
Boatswain's Mate Second Class Owen F. Hammerberg was born on May 31, 1920, in Daggett, Michigan, a small town in the state's Upper Peninsula, not far from the Wisconsin border, but he lived in Flint when he was a teenager. Hammerberg dropped out of high school, hitchhiked west, and eventually landed a job working on a ranch. He joined the Navy in July 1941, five months before Pearl Harbor. Hammerberg served on the USS Idaho and the USS Advent, where his heroics untangling a ship's cable from a mine earned him a ticket to Navy dive school. After graduation, he was assigned to the Pacific Fleet Salvage Force, Mobile Diving Salvage Unit 1 at Pearl Harbor. On February 17, 1945, Hammerberg's diving team was assisting with the cleanup from the West Loch Disaster, a series of explosions that began aboard a tank landing ship (LST) berthed at Pearl Harbor and that killed 163 people. As Hammerberg's team was raising a ship that sank during the disaster, two divers from another team became trapped under the wreckage. Hammerberg volunteered to rescue them. After working for five hours in total darkness, he freed the first diver. It took another thirteen hours to discover the second diver. However, as he was seeking to extract the diver, the ship caved in, killing Hammerberg and pinning him against the diver he sought to save. The diver survived because Hammerberg's body protected him, and he was rescued two days later. In 1954, the Navy named the USS Hammerberg in Hammerberg's honor.
Major Louis J. Sebille was born in Harbor Beach, Michigan, a small town on the shore of Lake Huron, on November 21, 1915. He moved to Chicago after attending Wayne State University and joined the Army Air Corps two weeks after the attack on Pearl Harbor. At the time, he was twenty-six, just above the maximum age for pilots, so he needed a waiver to join. As a B-26 pilot during World War II, he flew sixty-eight combat missions and rose to the rank of major. He worked as a commercial pilot briefly after the war, but rejoined the service in July 1946. Two years later, he became the commanding officer of the 67th Fighter-Bomber Squadron, 18th Fighter-Bomber Group, 5th Air Force. Once the Korean War began, Major Sebille's squadron was ordered to Japan and began flying missions against North Korean targets. On August 5, 1950, he attempted to release the two 500-pound bombs that his F-51 Mustang carried. Only one bomb released, however. As he went on to strafe North Korean targets, his plane was badly damaged by anti-aircraft fire. Major Sebille nonetheless decided to make one more pass at the enemy position, telling one of his wingmen: "I'll never be able to make it back. I'm going back to get that bastard." He flew his plane directly into enemy gun batteries. He left behind a wife and a nineteen-month-old son. Major Sebille was the first member of the Air Force to receive the Medal of Honor after the Air Force was established as its own branch of the U.S. military.
Private First Class Robert H. Jenkins Jr. was born on June 1, 1948, in Interlachen, Florida, a small town located twenty-six miles east of Gainesville. He graduated in 1967 from Palatka Central Academy, an all-Black high school. The next year he enlisted in the Marine Corps. Within five months, he was deployed to Vietnam with the 3rd Reconnaissance Battalion, 3rd Marine Division. Jenkins served first as a scout and driver, but later became a machine gunner with the battalion's Company C. On March 5, 1969, Jenkins' twelve-person reconnaissance team was defending Fire Support Base Argonne, located just south of the demilitarized zone, when the North Vietnamese attacked. Jenkins and another soldier were firing on the enemy when a North Vietnamese hand grenade landed near them. Jenkins pushed his comrade to the ground and threw his body on top of him. This quick action saved the comrade's life but left Jenkins mortally wounded. He was twenty years old when he died. His name is engraved on Panel 30W, Line 46 of the Vietnam Veterans Memorial. Robert H. Jenkins, Jr. Middle School in Palatka, Florida, is named in his honor.
You can read about other Americans who were awarded the Medal of Honor for their bravery and supreme sacrifice here, here, here, here, here, here, here, and here.
Anna Shortridge assisted in the preparation of this post.