Remembering Whom Memorial Day Honors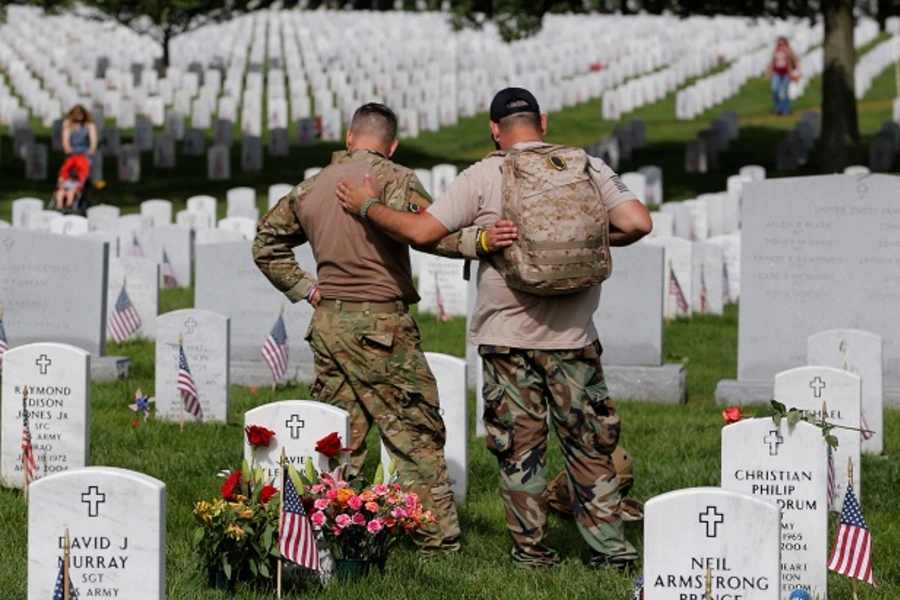 The United States has fought twelve major wars and numerous smaller skirmishes in its history. Memorial Day is how we honor the soldiers, sailors, airmen, airwomen, and marines who did not return home. The holiday dates back to the months immediately following the Civil War when a few towns and cities began honoring their dead. In 1868, General John A. Logan designated May 30 as "Decoration Day," the purpose of which would be "strewing with flowers or otherwise decorating the graves of comrades who died in defense of their country during the late rebellion." The holiday was renamed Memorial Day after World War I, and its purpose became to honor all Americans who have died fighting the nation's wars. 
More than 600,000 Americans have died fighting for their country. Here are the stories of five who were awarded the Medal of Honor, the nation's highest award for bravery, for their sacrifice:
Lieutenant, Junior Grade Weedon Edward Osborne was born on November 13, 1892 in Chicago. He graduated from Northwestern University Dental School in 1915, and joined the U.S. Navy in May 1917 as a dental surgeon. He shipped out to France in spring 1918 with the 6th Marine Regiment. On June 6, 1918, the regiment fought at the famed Battle of Belleau Wood. Osborne worked rescuing the wounded. He was moving Captain Donald Duncan to safety when the two men were killed by shellfire. Osborne was the first commissioned U.S. naval officer killed in a land battle overseas. He was posthumously awarded a rare "Tiffany Cross" version of the Medal of Honor, which was designed by Tiffany & Company and which the Navy for a time awarded specifically for combat missions. (The Navy stopped awarding it after 1942.) In 2003, the FBI gave Osborne's "Tiffany Cross" to the U.S. Navy Museum in Washington, DC. The FBI obtained the medal the year before when someone tried to sell it in South Carolina. It is illegal to sell a Medal of Honor in the United States. Osborne is just one of the three military dentists to have received the Medal of Honor. The other two are Alexander Gordon Lyle and Ben Salomon. 
Private First Class David M. Gonzales was born on June 9, 1923 in Pacoima, California, one of the oldest neighborhoods in Los Angeles County. He was the eldest child of Mexican immigrants. He had thirteen brothers and sisters. When the U.S. Army deployed him to the Philippines during World War II, he had a wife, Steffanie, and a newborn son, David Jr., waiting back home for him. He never returned. On April 25, 1945, Gonzales and the rest of his company were on the Villa Verde Trail on Luzon Island. A bomb exploded, burying five of his fellow soldiers in debris. Gonzales immediately began digging the men out even though by doing so he exposed himself to Japanese snipers. With the help of his commanding officer, he pulled three of the trapped men out before being killed by enemy fire. President Harry S. Truman personally presented Gonzales's Medal of Honor to his widow, Steffanie, and his mother, Rita Gonzales Duarte. Gonzales's name was subsequently listed in the Pentagon's Hall of Heroes, but for many years the memorial included the wrong picture. The error wasn't fixed until after the Pentagon's renovations in the wake of the September 11, 2001 terrorist attacks. In 2007, Gonzales's son, David Jr., met one of the men his father saved, eighty-five year-old William W. Kouts.
Major Charles J. Loring, Jr. was born on October 2, 1918 in Portland, Maine. He joined the Army Air Corp's Aviation Cadet Program in March 1942. Thirteen months later he was commissioned as a second lieutenant. He flew fifty-five combat missions in Europe during World War II before being shot down over Belgium in December 1944 and captured by the Germans. He spent the final four-and-a-half months of the war in a prisoner-of-war camp. After he was liberated from the camp, he returned to the United States and served in a variety of posts in what became the United States Air Force. He returned to combat during the Korean War. On November 22, 1952, he led four F-80s in support of U.S. and South Korean ground troops near Sniper Ridge, North Korea. His mission was to dive-bomb an enemy gun position. His plane was badly damaged by intense ground fire. But he refused to abandon either his plane or his mission. He altered his course and flew his plane directly into the enemy gun emplacement, destroying it. Loring Air Force Base in Limestone, Maine was named in his honor. It was decommissioned in 1994.
Private First Class Ralph H. Johnson was born on January 11, 1949 in Charleston, South Carolina. As a young boy he would see Marines walking through town and declare that "One day I'm going to wear that uniform." He eventually made good on his pledge. He enlisted in the Marine Corps Reserve in March 1967. A few months later he enlisted in the regular Marines. In January 1968, he was deployed to Vietnam. Two months later he was on an early morning reconnaissance patrol in the South Vietnamese countryside. His squad was suddenly attacked by Viet Cong fighters. A grenade landed in a fox hole in which he and two other Marines had taken cover. Johnson warned his fellow Marines about the grenade before throwing himself on top of it, thereby saving the life of one of the other Marines. The USS Ralph Johnson and the Ralph H. Johnson VA Medical Center in Charleston, South Carolina are named after Johnson. His friends recall that he loved singing and dancing to Smokey Robinson's "I Second that Emotion."
Sergeant First Class Paul R. Smith was born on September 24, 1969 in El Paso and raised primarily in Tampa. Asked as a child what he wanted to be when he grew up, he would reply, "I want to be a soldier, get married, and have kids." He achieved all three. In October 1989, he enlisted in the Army. He subsequently met his wife Birgit while he was stationed in Germany. They had two children, David and Jessica. On April 4, 2003, he and his team of combat engineers were tasked with constructing a prisoner-of-war camp near Baghdad International Airport when they came under fire from roughly one hundred elite Iraqi troops. Smith organized his men to launch a counter-attack and rescue the wounded. When a Bradley Fighting Vehicle was hit and forced to withdraw from the engagement, Smith switched vehicles to man an exposed .50 caliber machine gun atop an armored personnel carrier. He killed as many as fifty Iraqi soldiers, repelled the attack, and saved dozens of his fellow soldiers, but at the cost of his life. (You can see a recreation of the firefight here.) Smith became the first Medal of Honor recipient after the September 11, 2001 terrorist attacks. The Paul R. Smith Middle School in Holiday, Florida is named in his honor. 
You can read about other Americans who were awarded the Medal of Honor for their bravery and supreme sacrifice here, here, here, and here.
Corey Cooper assisted in the preparation of this post.