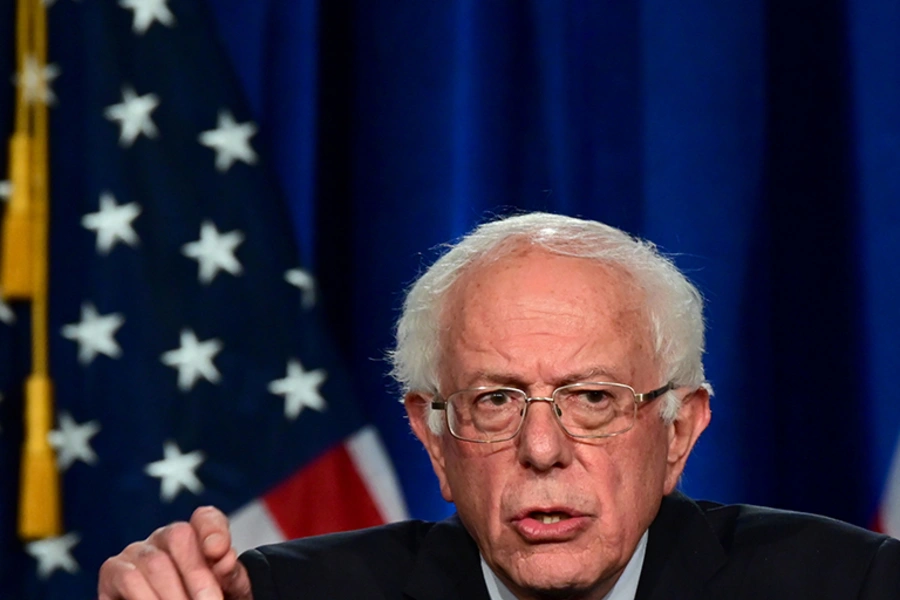 Candidates
Bernie
Sanders
Senator, Vermont
Bernie Sanders has withdrawn his candidacy.
Bernie Sanders, an independent who ran for the Democratic presidential nomination in 2016, has been a senator from Vermont since 2007. Reelected in 2012 and 2018, he has been an unstinting critic of economic inequality and military intervention in Yemen and elsewhere. He served in the House of Representatives from 1990 to 2006 and was previously the mayor of Burlington, Vermont.
Born in Brooklyn, New York, Sanders earned a political science degree from the University of Chicago in 1964. He worked as a hospital aide and teacher, among other positions, before entering politics in 1971.
Sanders sees China as a "major economic competitor" and blames flawed U.S. trade policies with the country for the loss of millions of American jobs. He wants to work with allies to confront China on its "troubling" trade practices while finding common ground with Beijing on climate change and other areas.
Sanders calls climate change a national emergency and the greatest challenge the United States faces. He calls for a nationwide mobilization, trillions of dollars of new investments, and expanded international cooperation to address it.
Sanders calls Trump's response to the fast-growing coronavirus pandemic "woefully inadequate." He proposes an emergency plan that, if implemented immediately, would fundamentally reshape the nation's health-care system, mobilize both private and public sector resources, and deliver trillions of dollars in economic stimulus spending.
Sanders has criticized post-9/11 counterterrorism operations as counterproductive and overly costly. He says that the war on terror has "turned into endless war," allowing a handful of extremists to dictate U.S. foreign policy.
Sanders says the threat of cyberattack is an "unprecedented" challenge to U.S. national security, and he has sought to bolster U.S. election systems. However, he has been critical of expanded government surveillance measures that he says compromise Americans' privacy.
Sanders has focused much of his foreign policy criticism on what he calls the United States' "endless wars." He advocates for a smaller U.S. military footprint around the globe, reduced defense spending, and an end to unilateral military action.
Sanders says "democracy, human rights, diplomacy and peace, and economic fairness" will be at the center of his foreign policy, and that the United States must "seriously reinvest" in development aid. He warns that the postwar international order the United States helped build is under serious strain.
Tackling income inequality has been a cornerstone of Sanders's political career. He advocates breaking up the nation's largest banks, more strongly enforcing antitrust rules, more strictly regulating Wall Street and large multinational corporations, and raising taxes on the wealthy.
Sanders says Trump has used "demonization" of immigrants for political gain and promises to end what he calls the president's "cruel and inhumane" border policies. Sanders advocates for comprehensive immigration reform that includes a path to citizenship for undocumented immigrants.
Sanders has been a staunch opponent of U.S. military interventionism in the Middle East, opposing the use of force in Iraq and Syria and leading the effort to end U.S. involvement in Yemen.
Sanders has expressed support for the Trump administration's recent diplomatic efforts with North Korea, but has said negotiations on denuclearization must involve more than "photo ops."
Sanders says that Russia exemplifies the global rise of authoritarianism and warns that President Vladimir Putin is trying to undermine liberal democracy in the United States and Europe, but he has also said that Washington should work with Moscow on arms control and other issues.
Sanders has for decades been a vocal critic of U.S. trade liberalization efforts, which he says have boosted corporate profits at the expense of American workers and the environment. He seeks to curb the outsourcing of jobs and end tax benefits for companies that move operations abroad.
Sanders supports U.S. sanctions against the regime of President Nicolas Maduro, but he has been critical of Trump's support for the opposition.