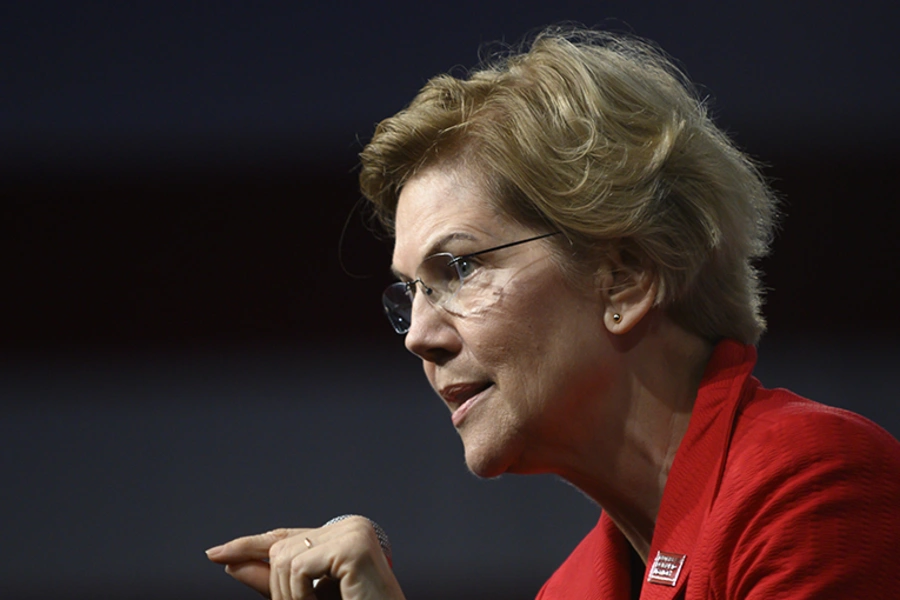 Candidates
Elizabeth
Warren
Senator, Massachusetts
Elizabeth Warren has withdrawn her candidacy.
Elizabeth Warren, the senior senator from Massachusetts, is a former Harvard Law School professor who rose to political prominence as the architect of the Consumer Financial Protection Bureau in the administration of President Barack Obama. She was first elected to the Senate in 2012 after serving as the chair of the congressional oversight panel that oversaw the Troubled Asset Relief Program (TARP) in the wake of the financial crisis.
Warren grew up in Oklahoma and holds degrees from the University of Houston and Rutgers Law School.
Warren accuses China of human rights violations, currency manipulation, and unfair trade practices. She says that Chinese President Xi Jinping is seeking to consolidate power, expand China's military influence, and "weaponize" his country's economy.
Warren has called climate change "an existential threat" and proposes a national mobilization to combat it on par with that during World War II and the space race with the Soviet Union. She backed the Green New Deal introduced by congressional Democrats as an original cosponsor.
Warren offers more specifics in her own

three-pronged climate plan

that would invest $2 trillion over the next decade.

The first part is a "Green Apollo Program" that would spend $400 billion over ten years on clean energy research and development, and would create the National Institutes of Clean Energy, modeled on the National Institutes of Health.

Second, Warren envisions a $1.5 trillion procurement commitment on the part of the government to purchase U.S.-made clean energy products. She calls this a "Green Industrial Mobilization."

The third prong is a "Green Marshall Plan," which would create a new federal office to promote the sale of American clean energy technology abroad and commit $100 billion to help other countries buy such technology from the United States.

Warren supports

returning to the Paris Agreement

on climate and going beyond the original U.S. commitments. She also wants to restore the Clean Power Plan, a suite of regulations on state-level emissions, as well as other Obama-era environmental policies.

She proposes requiring public companies to disclose the climate-driven risks to their operations. She envisions the Securities and Exchange Commission requiring firms to project the financial impacts of climate change, both if emissions continue at their current rate and if the world meets the more stringent goals of the Paris accord.

She has also proposed an

environmental justice plan

that would attempt to correct "decades of discrimination and environmental racism" that have placed the burdens of environmental damage disproportionately on minority communities. It calls for at least $1 trillion in investment to such communities to both prevent and prepare for looming climate-related disruption.

She is skeptical of nuclear power, saying that she would keep existing plants in place but build no new ones, and instead focus on developing other forms of clean energy.
Warren opposed many of the counterterrorism practices in the decade that followed the 9/11 attacks, and she remains skeptical of U.S. counterterrorism policies today.
Warren has called for stricter antitrust action and other regulation of large Silicon Valley tech firms. She says foreign governments are still working to "attack our democracy," and she has outlined plans to give the federal government more oversight of election security.
Warren criticizes U.S. defense spending as excessive and vows to take steps to end the "revolving door" between defense contractors and public officials. She wants to end what she calls the nation's "forever wars" in Afghanistan and a dozen other countries.
Warren pledges to cut defense spending, saying the more than $700 billion Pentagon budget is "wasteful" and "unsustainable." She criticizes Washington for spending too much on outdated defense technologies at the behest of the country's largest defense contractors, but she has not specified how much she would cut.

She cites the flawed development of the F-35 fighter jet as emblematic of a broken defense procurement system that prioritizes special interests over national security.

She promises legislation to ban large defense contractors from hiring former Department of Defense (DOD) officials for four years after they leave. She has pledged to block any former contractors from working on projects related to their former firms.

She would also ban all DOD employees from owning or trading defense-contractor stock if they could be making decisions affecting those contractors, and she would forbid former senior national security officials from working for foreign governments.

She says she wants to "reexamine" U.S. troop deployments around the world. She supports efforts to reach a peace agreement between the Taliban and the Afghan government and bring U.S. troops home "

starting now

."

She opposes the preemptive use of force against adversaries or nuclear powers, saying there would be "immense risk" of a broader conflict. She also rules out the use of force to protect global oil supplies or to carry out regime change missions.

She is open to U.S. military action for humanitarian purposes, if approved by Congress and carried out alongside allies.

She promises to modernize military recruitment; end discrimination based on race, gender, or sexual orientation; and expand mental health services for veterans. She says she would aim to reduce the suicide rate among veterans by half in her first term.
She pledges to better track veterans' exposure to "burn pits" used to dispose of battlefield waste and other toxic substances that have resulted in rising cancer rates, and to expedite any necessary treatment.

She

told CFR

that the country's greatest foreign policy accomplishment is that "no nuclear weapon has been used in battle since World War II."
Warren says Trump has "declared war on the State Department" and pledges to prioritize diplomatic over military approaches. She promises to restore strained relations with U.S. allies.
Warren

promises "immediate action to rebuild our partnerships and renew American strategic and moral leadership," including by rejoining the Paris Agreement, joining the UN global compact for migration, and reaffirming a "rock-solid commitment" to the North Atlantic Treaty Organization (NATO).
She says that she agrees with past administrations that have pressed European countries, many of which fail to meet NATO funding requirements, to pay more for the alliance.
She plans to double the size of the foreign service and open new diplomatic posts, especially in the Indo-Pacific region. She wants to expand recruitment for foreign service officers at U.S. colleges.

She says she will increase diversity within the State Department, promising to double the amount of scholarship programs or fellowships for potential recruits from minority or low-income backgrounds.

She has promised to end the practice of nominating campaign donors for ambassadorial jobs and has pressed other candidates to sign on to her pledge.

She proposes increasing aid to Central America to $1.5 billion per year to fight crime, human trafficking, and sexual violence, to address the root causes of the recent spike in migration.

She

signed a 2013 bipartisan letter

that called for the Obama White House to double the number of people who would receive HIV/AIDS treatment from the President's Emergency Plan for AIDS Relief (PEPFAR).
Warren's economic plans focus on fighting big businesses, reducing inequality, more strictly regulating finance, and protecting American industry from what she views as unfair foreign trade and investment practices. She calls her approach "economic patriotism" and criticizes large U.S. corporations that have shifted production overseas and the policymakers who support them.
Warren's signature campaign proposal is an "

ultra-millionaire tax

," often referred to as a "wealth tax," that would be assessed on all Americans with more than $50 million in total wealth, as opposed to simply yearly income. The tax would apply to assets held by Americans anywhere in the world.

She wants to increase federal research and development funding. Her policies would include a $2 trillion investment in green research and manufacturing that aims to create more than a million jobs.

She wants expanded worker training, proposing $20 billion over ten years to expand apprenticeship programs. She also

calls for raising the minimum wage

to $15 per hour, canceling most student loan debt, and making public college tuition free.

She proposes a new government agency, the Department of Economic Development, that would replace the Commerce Department and several other agencies such as the Office of the U.S. Trade Representative. She promises to

triple funding

for the Minority Business Development Agency, an organization that supports entrepreneurs of color.

She has sought to reduce the influence of Wall Street, which

she says

hurts the broader economy. Her "21st Century Glass Steagall Act" would once again separate investment and commercial banking, which she claims will reduce speculation and excessive risk-taking in the system.

She pledges to reverse the Trump-era rollback of regulations on big banks by reimposing higher capital or liquidity requirements. She would apply new taxes and regulations on private equity, impose new executive compensation rules, and propose legislation forcing corporations to focus on the "long-term interest of all their stakeholders, including workers."

She

champions antitrust action

and promises to break up what she sees as monopolistic firms, including big tech companies such as Amazon, Google, and Facebook. She says she would appoint regulators to undo large mergers.
Warren is critical of Trump's immigration policies and says they are made possible by a broken immigration system. Her plan for reform of the system would expand legal immigration, welcome more refugees, provide a pathway to citizenship for unauthorized residents, and reform enforcement and detention policies.
Warren says the United States should make unauthorized entry into the country a civil, not criminal, offense. She would issue guidance to immigration agencies to end blanket prosecutions of border crossings and focus on "actual criminals" or flight risks.

She would end federal immigration agency contracts with private prisons and push Congress to ban for-profit detention centers.

She plans to reorganize agencies such as Customs and Border Protection and Immigration and Customs Enforcement and end the practice of warrantless arrests far from the border. She also pledges to launch a task force to investigate accusations of abuse.

She says she will separate law enforcement from immigration enforcement, ending programs, such as "Secure Communities," that force local police officers to enforce immigration laws.

She supports the Deferred Action for Childhood Arrivals (DACA) program, which provided legal status to immigrants brought to the country as minors by their parents, and would expand it to include more recent arrivals.

She has promised to reverse the travel ban on residents of several Muslim-majority countries on her first day in office. She would increase the number of refugees admitted into the country from 22,000 to 175,000 by the end of her first term, which would be the highest number since the early 1980s.

She would expand legal immigration, streamline the green card process, and provide a pathway to citizenship for the estimated eleven million unauthorized residents in the country.
Warren has been a vocal critic of the Trump administration's policies toward Saudi Arabia and Iran, but she has supported the withdrawal of U.S. troops from the region.
She says that she would remove all U.S. combat troops from the Middle East, though she would maintain long-standing U.S. military bases in the region that protect freedom of navigation and oil shipping.
She is a critic of Saudi Arabia and says U.S. support for the Saudi war in Yemen risks "

generating even more extremism

." She's called on Trump to stop arms sales to Saudi Arabia and hold the country accountable for the murder of Washington Post journalist Jamal Khashoggi.
She has publicly pressed consulting and lobbying firms to

outline their relationships

with the Saudi government, and she

told CFR

that Saudi Arabia "has increasingly pursued a regional and international agenda that does not align with U.S. interests."
She opposed Trump's decision to withdraw from the 2015 Iran nuclear agreement,

accusing him

of needlessly risking war with Iran. She

told CFR

she would return to the deal if Iran returns to compliance, but that she would negotiate longer terms.
She also says the United States must address Iran's ballistic missile program and its "destabilizing" support for proxy groups in the region. She argues that the 2001 Authorization for the Use of Military Force would not apply to any war with Iran and any military action against Tehran

would need a fresh authorization

from Congress.
She calls Iranian commander Qasem Soleimani, who was killed by a U.S. air strike in January 2020, a "murderer," but says Trump's decision to target him was reckless. His death—which she calls an assassination—dangerously escalates the situation, she says.
She has expressed

support for Trump's plan

to remove remaining U.S. troops in Syria. However, she criticized his 2019 withdrawal of U.S. forces from the country's north, saying, "I don't think we should have troops in the Middle East, but we have to

do it the right way

."

She said Trump's unilateral withdrawal from Syria has given a new foothold to the Islamic State, and she calls for a negotiated end to the conflict there.

She has said that the United States

should press

Israel to work toward a two-state solution, and she

expressed to CFR

her "unequivocal opposition" to Israeli settlements in the West Bank.
She says Israeli settlements are the most immediate danger to a peace deal, and pledges to reverse Trump's November 2019 decision to recognize settlements as legitimate. She is open to using U.S. aid to Israel to apply pressure to stop "problematic behavior."

She pledges to resume aid to the Palestinians, which the Trump administration cut off, and renew diplomatic contacts with Palestinian leaders.

She has emphasized Israel's right to defend itself against "indiscriminate" shelling by Hamas militants and

has supported bills

to fund Israel's Iron Dome missile-defense system. She opposes the boycott, divestment, and sanctions (BDS) movement against Israel.
Warren has criticized Trump for what she sees as a lack of strategic direction in talks with North Korea but supports diplomacy to deal with its nuclear weapons program, stressing that there is no possible military solution.
Warren says Russian President Vladimir Putin is using a mix of "nationalism, authoritarianism, and corruption" to try to reshape the global order. While she says the United States must push back, she also highlights the need for Washington to work with Moscow on arms control.
Warren has criticized existing trade deals for favoring corporations, contributing to a decline in U.S. manufacturing jobs, and lowering wage growth. She says that for the benefits of trade liberalization to be more broadly shared, future deals must include more worker representation, stronger labor and environmental enforcement, new antitrust rules, and provisions to crack down on global tax havens.
Warren says that for decades trade policy has been dictated by lobbying from multinational corporations,

leading to deals

that cost U.S. manufacturing jobs, depress wages, accelerate climate change, and hurt American farmers.

She proposes a new approach that applies strict standards that other countries must meet before the United States will accept any future trade deals with them. These include signing the Paris climate deal, eliminating subsidies to fossil fuel companies, and recognizing the core labor rights outlined by the International Labour Organization.

She says any new deals must also increase consumer protections, end protections for agricultural and pharmaceutical monopolies, and impose tariffs on carbon-intensive goods.

She opposes the investor-state dispute settlement (ISDS) included in most trade agreements, which she says allows corporations to bypass local laws.

She was a critic of the North American Free Trade Agreement (NAFTA), arguing that it cost the U.S. economy jobs. She originally opposed Trump's renegotiated NAFTA, the U.S.-Mexico-Canada Agreement (USCMA), but voted for the USCMA in the Senate after House Democrats negotiated for what she called "modest improvements" to labor enforcement provisions.

She

was a leader

of the Democratic opposition to the Trans-Pacific Partnership (TPP), a twelve-nation Asia-Pacific trade deal negotiated by Obama and later rejected by Trump. She

told CFR

she would not seek to reenter the deal.

She

criticizes U.S. policymakers

for allowing China's 2001 accession to the World Trade Organization "despite its unfair trading practices." She says Washington needs a "

serious, coherent trade strategy

" to deal with Beijing, arguing that Trump's approach has alienated allies that the United States needs to help pressure China.
Warren supports the Venezuelan opposition but opposes using the U.S. military to topple the current regime, citing the troubling history of U.S.-led regime change in the hemisphere.
Warren calls Nicolas Maduro is "dictator and a crook," and she

told CFR

that Washington should lead regional efforts to deliver humanitarian aid and negotiate with the Maduro regime on a political transition.

She says U.S. military action in Venezuela should not be on the table. "Congress has not authorized it, the neighboring countries don't want it, and it won't solve the problem," she says.

She has said she supports economic sanctions on Venezuela, but that they

must be combined

with humanitarian aid. She backs more support for neighboring countries dealing with an "unprecedented" refugee crisis, and calls for giving Venezuelans temporary protected status, which would allow them to live and work in the United States for a period of time.

She would press China, Cuba, and Russia, who back the Maduro regime, to play a "constructive" role in ending the Venezuelan crisis.

She has said a diplomatic opening with Cuba "might not work out," but trying to develop a stronger relationship with the Cuban people is "

the right thing for us to do

."

She has

likened Trump's imposition of tariffs

on Mexican goods to "random dart throwing" and has

called his proposed wall

on the U.S.-Mexico border "stupid."