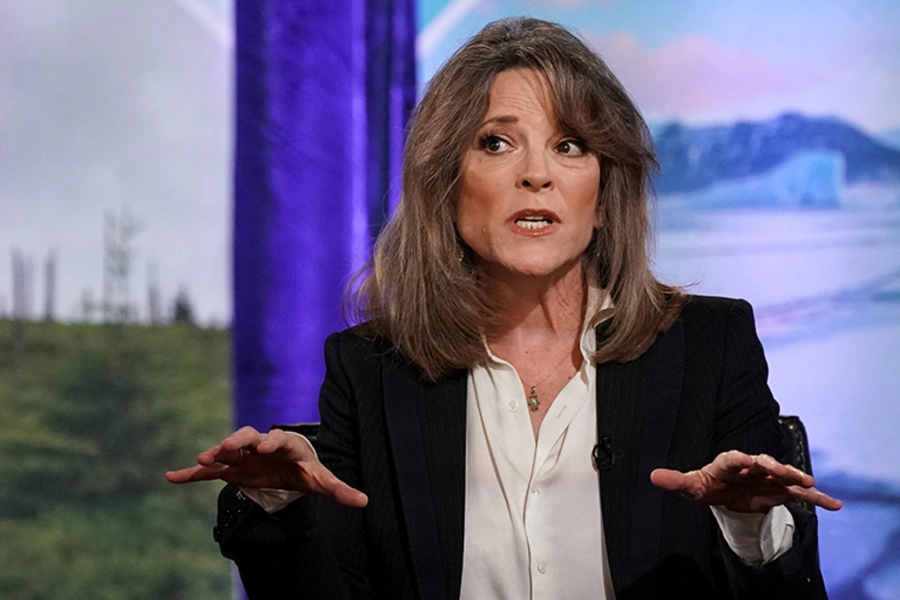 Candidates
Marianne
Williamson
Author and businesswoman
Marianne Williamson has withdrawn her candidacy.
Marianne Williamson is an activist and entrepreneur whose writing and public speaking has focused on self-help, spiritual development, and relief for those with HIV/AIDS and other illnesses. She is running to spark a "moral and spiritual awakening" and criticizes an approach to foreign policy that relies on military force.
In 2014 she ran unsuccessfully as an independent for a House of Representatives seat from California. Originally from Houston, Texas, she attended Pomona College in California for two years but did not receive a degree.
Williamson is critical of China over the theft of intellectual property and the country's "drive to dominate global markets." She says the United States must push back on Beijing's human rights record.
Williamson calls climate change a "psychological and moral challenge" and calls for an "emergency mobilization effort" on the scale of World War II, along the lines of the Green New Deal proposal championed by many Democrats.
Williamson says that a military response to terrorism can only partially solve the problem.
Williamson has not spoken extensively about cybersecurity issues, but she warns that U.S. elections remain vulnerable to hacking by foreign adversaries, especially Russia.
While acknowledging that the use of force is sometimes necessary, Williamson is a critic of high levels of military spending and emphasizes peace-building efforts.
Williamson's proposals to shift from a "war economy" to a "peace economy" include a strong commitment to diplomacy, humanitarian aid, and the State Department.
Williamson argues that society has become organized around short-term profits with no ethical responsibility, rather than democratic principles, marking a "radical departure" from America's founding values. She wants federal investments to reduce wealth inequality and financial insecurity.
Williamson says that immigration is at the heart of U.S. identity, and she criticizes Trump for "scapegoating" immigrants for political gain.
Williamson advocates for her peace-building ethos in her approach to the Middle East, calling for increased diplomacy with Israel and Iran and promising to end U.S. support for the Saudi-led war in Yemen.
Williamson supports efforts to reduce tensions with North Korea and pledges to pursue talks to dismantle the country's nuclear program and end the Korean War.
Williamson warns of the threat of election interference by Russia in the United States, Ukraine, and the European Union, arguing that U.S. elections remain vulnerable to hacking.
Williamson offers conditional support for global trade deals, saying they can expand markets for U.S. products, create jobs, and strengthen U.S. alliances, but that they must be "structured fairly" to include strong protections for workers, the environment, and indigenous communities.
Williamson is a staunch opponent of U.S. intervention in Latin America, opposing Trump's efforts to force Venezuela's Nicolas Maduro to step down and arguing that U.S. policy in the region has done more harm than good.