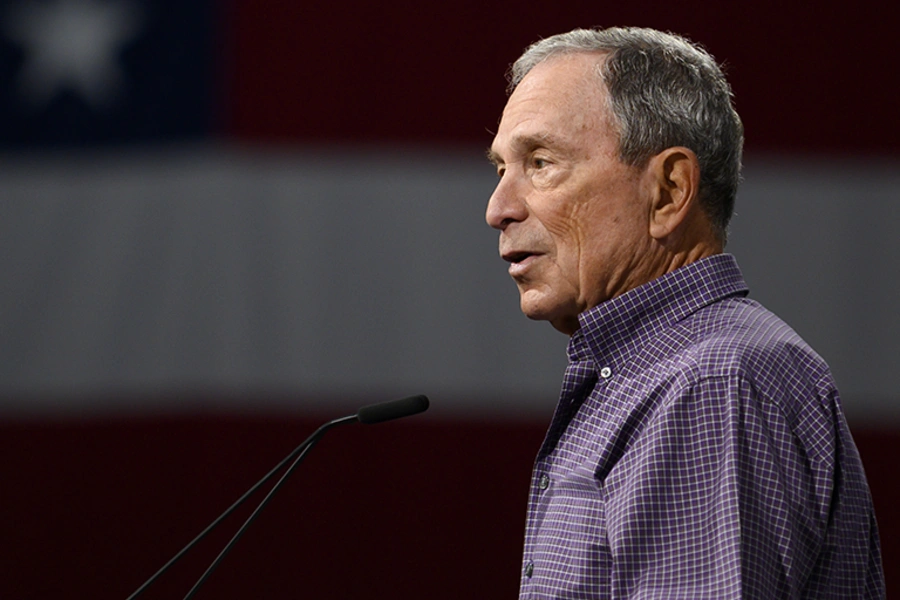 Candidates
Mike
Bloomberg
Former mayor of New York City
Mike Bloomberg has withdrawn his candidacy.
Mike Bloomberg served three terms as mayor of New York City, from 2002 to 2013. One of the wealthiest Americans, he made his fortune after founding what became Bloomberg L.P., a financial data services company, in 1981. The company has since diversified and now includes a global news service with bureaus around the world. He also funds Bloomberg Philanthropies, which directs resources to a wide range of environmental initiatives, public health programs, and arts organizations.
He earned a bachelor's degree from Johns Hopkins University in 1964 and a master's degree from Harvard Business School in 1966 before entering Wall Street.
Bloomberg has been a proponent of deeper trade and investment ties with China and he opposes President Donald J. Trump's trade war with Beijing. He says the United States must work closely with China on climate change and other issues, and has drawn scrutiny for his business relationships in the country.
Bloomberg has made fighting climate change a central mission of his public life, devoting tens of millions of dollars to a wide array of programs aimed at reducing greenhouse gas emissions and developing clean energy. He proposes a suite of policies to rapidly transition to a clean economy, but is skeptical of some of the sweeping plans backed by other candidates.
Bloomberg touts his mayoral record, crediting his counterterrorism policies with keeping New York City safe from terrorist attacks. His expanded surveillance measures and other efforts sparked debate over how to balance security with civil liberties.
Bloomberg warns of the vulnerability of U.S. electoral systems and other infrastructure to foreign hacking, and he argues that technology and communications companies must do more to cooperate with federal investigations.
Bloomberg argues that Trump's "constant misapplication" of American power has weakened the U.S. military and emboldened its adversaries. He says defense spending must be directed more toward new technologies and advanced warfare rather than legacy systems, and he calls for new measures to support veterans.
As a businessman, philanthropist, and former mayor, Bloomberg has dealt with heads of state and international organizations for decades. A harsh critic of Trump's treatment of U.S. allies, he promises to "restore global respect to the White House."
Bloomberg is a proponent of the free market and balanced budgets, and he has expressed doubt about the tax and spending plans of some other candidates. He calls for investment in infrastructure and job training to boost U.S. competitiveness.
Bloomberg is a vocal proponent of increasing immigration, arguing that it boosts growth, job creation, and innovation. He promises to fix the country's "broken" immigration system, and he backs a comprehensive reform to strengthen border security, legalize undocumented residents, and greatly expand work visas.
Bloomberg's views on the Middle East have focused on his close ties to Israel, his ambivalence toward the 2015 Iran nuclear agreement, and his support for Saudi Arabia's modernization efforts.
Bloomberg pledges to pursue "quiet, sustained, and firm diplomacy" with North Korea to achieve the country's total denuclearization. He focuses on the need for strong U.S. alliances, which he says Trump has weakened.
Bloomberg accuses Trump of "coddling" President Vladimir Putin and failing to stand up to him over Russia's interference in U.S. elections. He argues for stronger measures to counter Russia while also calling for fresh negotiations with Moscow on arms control.
Bloomberg is a vocal defender of global trade and multinational trade deals, and he opposes Trump's trade war. "International trade plays a vital role in addressing global challenges," he says.
Bloomberg calls for supporting a transition of power in Venezuela, where the Trump administration has backed opposition leader Juan Guaido amid a worsening humanitarian crisis.