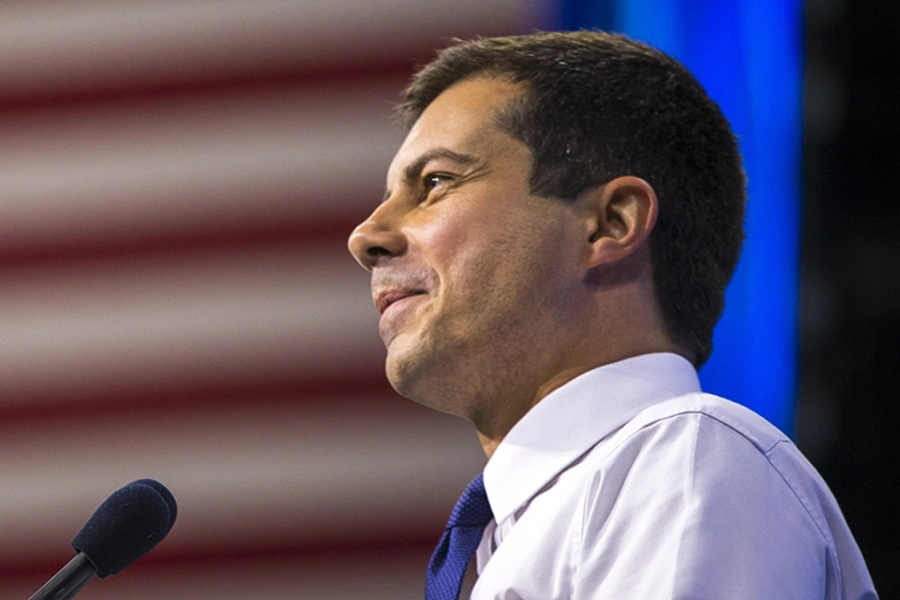 Candidates
Pete
Buttigieg
Former mayor of South Bend, Indiana
Pete Buttigieg has withdrawn his candidacy.
Pete Buttigieg's campaign pitch centers on his role as a midwestern mayor and the only millennial contender for the presidency. He touts his experience managing South Bend for eight years, during which he signed on with a group of cities committed to upholding the Paris Agreement after President Donald J. Trump withdrew from the climate pact. He has also served as an officer in the U.S. Navy Reserve since 2009 and deployed to Afghanistan in 2014.
A native of South Bend, Buttigieg is a 2004 Harvard University graduate and a Rhodes scholar. Before entering politics, he was a consultant at McKinsey & Company from 2007 to 2010.
Buttigieg advocates cooperation with China on areas of common concern, such as climate change, while warning that it is an ideological challenger to the United States. China's prosperity and stability, enforced by "techno-authoritarianism," could prove an alluring alternative to U.S.-style capitalist democracy, he says.
Buttigieg says climate diplomacy should be a pillar of U.S. foreign policy, no less central than democracy and human rights. Like many other Democratic candidates, he has proposed an ambitious climate plan that seeks to quickly transition the United States away from carbon-intensive energy sources.
Buttigieg calls himself "a product of the 9/11 generation," for whom the attacks were politically formative. Warning against overreacting to terrorist threats abroad, he emphasizes increased vigilance against extremists at home.
Buttigieg says that the United States must improve its cyber defenses and election security. He also advocates greater regulation of tech companies to promote competition and protect individuals' data.
Buttigieg says his seven-month deployment as a naval intelligence officer in Afghanistan has made him circumspect about the use of military force. The commander in chief, he says, should set a high bar for its use, have a clear vision of how any engagement will end, and bring Congress on board.
Buttigieg calls for renewing multilateral institutions and U.S. alliances, which he says have been "fractured and endangered" by Trump. Countering climate change, he says, ought to be a main tenet of U.S. diplomacy, ranking "alongside democracy and human rights as a central goal."
Buttigieg points to increasing inequality and a rising sentiment that globalization, automation, and the gig economy have undermined workers in his argument for more robust prolabor policies. He also calls for intensified financial regulation, antitrust enforcement, and consumer protections.
Buttigieg criticizes Trump for "demonizing" immigrants, calling instead for allowing more immigrants and asylum seekers—who he says strengthen the country—into the United States, along with "humane" border enforcement.
Buttigieg is skeptical of using military force to promote U.S. interests in the region, and says the United States should reorient its policies to prioritize human rights and democratic values. "We can no longer sell out our deepest values for the sake of fossil fuel access," he argues.
Buttigieg supports diplomacy with North Korea but criticizes Trump for unrealistic expectations in dealing with Kim Jong-un, knocking the "love letters" he says Trump exchanged with the North Korean leader. Buttigieg argues that denuclearization and peace talks can and should go hand in hand.
Buttigieg says that Russia is a "disruptive," "adversarial" force on the world stage, and warns that its form of "oligarchic capitalism" is a major challenge for the United States. He argues that Washington must push back against Russia's "nationalism, xenophobia, and homophobia," as well as its intervention in neighboring countries and interference in U.S. elections.
Buttigieg says that his role as mayor of a rust belt city that has struggled with declining manufacturing allowed him to understand the consequences of global trade policy. He criticizes economic isolationism and says the United States must compete with China for global markets, but that any new trade deals must be better for American workers.
Buttigieg sees opposition leader Juan Guaido as Venezuela's legitimate interim president, arguing that Nicolas Maduro has "lost the legitimacy to govern." He says Washington should work with other Latin American countries to isolate the regime, but he opposes military intervention.