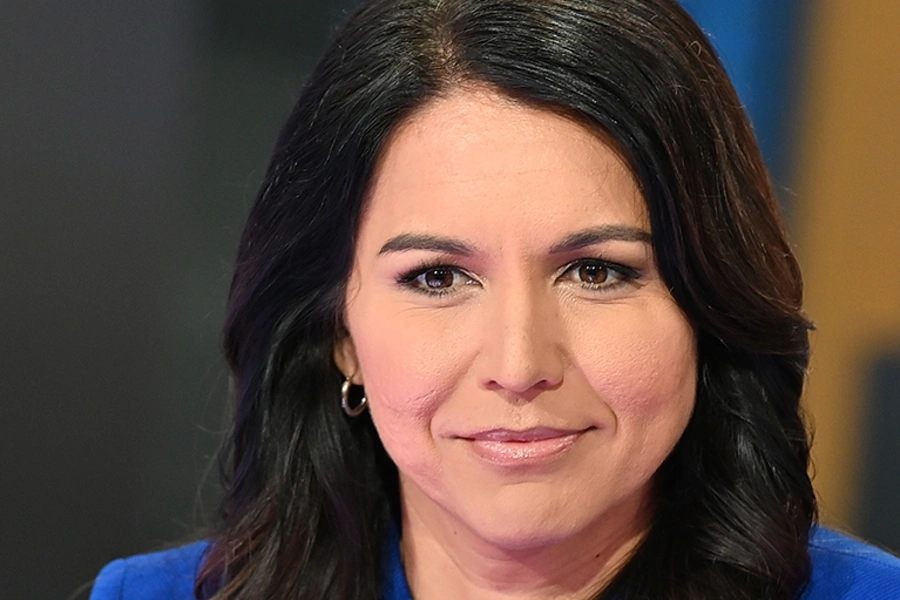 Candidates
Tulsi
Gabbard
Representative, Hawaii
Tulsi Gabbard has withdrawn her candidacy.
Tulsi Gabbard is a four-term member of the House of Representatives from Hawaii and a veteran. First elected in 2012, she serves on the Foreign Affairs and Armed Services Committees. She positions herself as an environmentalist and a critic of "regime change wars."
A major in the Hawaii National Guard, she deployed to Iraq from 2004 to 2005. Born in American Samoa and raised in Hawaii, she is a graduate of Hawaii Pacific University.
Gabbard criticizes President Donald J. Trump's confrontational stance toward Beijing and warns about the downsides of escalating tensions with China. She says a cooperative relationship is needed instead to confront global challenges.
Gabbard highlights her record as a lifelong environmentalist and campaigner for action on climate change, including proposals for sweeping legislation on clean energy. She has spoken in favor of many aspects of the Green New Deal framework.
Gabbard identifies as a "hawk" on Islamist terrorism, supporting U.S. military missions against al-Qaeda and the self-proclaimed Islamic State, while opposing regime-change policies that she says create openings for terrorist groups.
Gabbard has proposed legislation to make U.S. election systems more robust against hacking. She has also harshly criticized the market power of Silicon Valley giants, which she says gives them undue influence over the political system.
Gabbard, who saw active-duty military service in Iraq, has based her campaign platform around ending major U.S. troop commitments abroad, reorienting military policy toward more targeted counterterrorism goals, and improving veterans' care.
Gabbard is broadly noninterventionist, arguing that the United States should not use its military power to reshape other countries' political systems, but rather should use diplomacy to find common ground and avoid war even with the most intransigent adversaries.
Gabbard's economic policies center on more strongly regulating Wall Street, protecting consumers, rejecting tax cuts for the wealthy, and other policies that she says would create a more equitable society.
Gabbard has criticized many of Trump's immigration policies, including family separations and child detention, while calling for comprehensive immigration reform. She has split with many other Democratic candidates in calling for stronger border security measures.
Gabbard's campaign has been centered on the need to avoid "regime change wars" in the Middle East, while also advocating further steps to fight Islamist radicalism.
Gabbard has favored direct talks with North Korean leader Kim Jong-un to try to end Pyongyang's nuclear program, and she blames a militaristic U.S. foreign policy for making it harder to reach a deal.
Gabbard calls for reducing tensions between the United States and Russia to lessen the chance of nuclear war and to enable cooperation on arms control, terrorism, and other areas of mutual concern. She has also supported sanctions on Russia for its intervention in Ukraine.
Gabbard is a skeptic of multinational trade deals, which she argues have led to large U.S. job losses, lower wages, and a loss of U.S. sovereignty. She also opposes Trump's trade war with China.
Gabbard says the United States should not get involved in Venezuela, where the Trump administration has joined most countries in the region in backing opposition leader Juan Guaido as interim president.