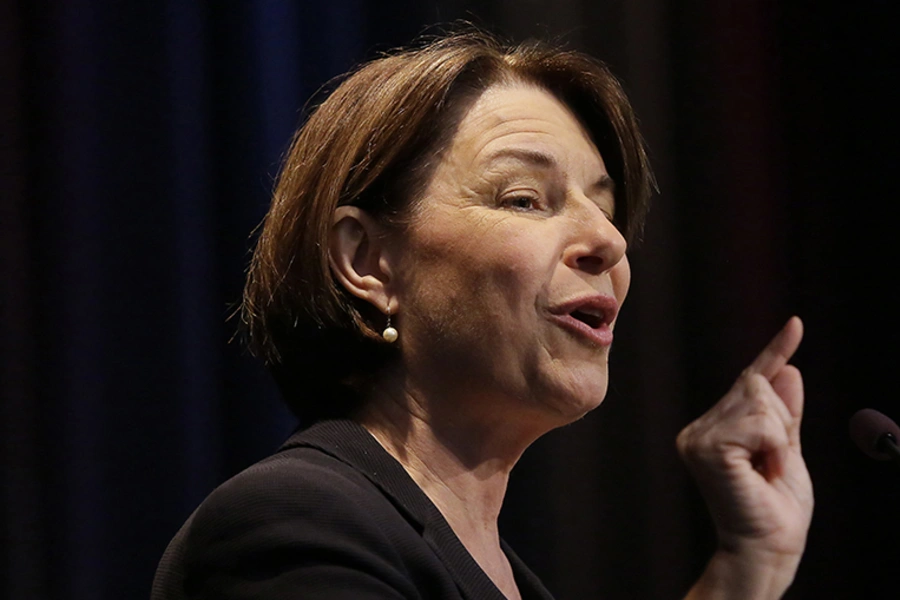 Candidates
Amy
Klobuchar
Senator, Minnesota
Amy Klobuchar has withdrawn her candidacy.
Amy Klobuchar is serving her third term as a senator from Minnesota, having been elected in 2006, 2012, and 2018. During her tenure she has been a leading proponent of more vigorous oversight of technology firms, stronger election security, and measures to protect U.S. steel producers, a major Minnesota industry.
She was previously a criminal prosecutor and served as the lead attorney for Hennepin, Minnesota's most populous county, from 1998 to 2006. Born in Plymouth, Minnesota, she earned her law degree from the University of Chicago in 1985.
Klobuchar says that China is "in economic terms" the United States' top national security threat. She has favored stronger trade measures to protect American workers from what she calls its unfair economic practices, especially its dumping of subsidized steel in the U.S. market given Minnesota's leading role in domestic steel production.
Klobuchar believes that climate change is a crisis and should be an "urgent priority" for policymakers. She says it is already causing devastating floods, drought, and storms in the Midwest, and she proposes a plan to quickly transition the U.S. economy away from fossil fuels.
Klobuchar has supported expanding the use of air strikes and U.S. special forces to combat Islamist extremism in the Middle East and North Africa, but she has also called for greater transparency in how these operations are conducted. She argues that controversial surveillance and data-collection programs are necessary for stopping terrorist attacks.
Klobuchar highlights the "critical need" to improve U.S. cybersecurity, particularly around elections. She promises cybersecurity reforms to "stay one step ahead of China and Russia." Saying she "doesn't trust" Silicon Valley, she wants to establish stricter "digital rules of the road" on consumer privacy, data collection, and election funding.
Klobuchar promises to return U.S. troops from Afghanistan, but criticizes Trump's plans to withdraw from foreign theaters as erratic and irresponsible. She has supported several recent U.S. military missions, but argues Congress should play a bigger role.
Klobuchar charges that Trump is disrespecting U.S. allies and dangerously isolating the United States by withdrawing from international agreements such as the 2015 Iran nuclear agreement and Paris climate accord.
Klobuchar criticizes growing monopoly power in the United States, arguing that the government must address this "new gilded age" through stronger antitrust enforcement. She also wants a major federal spending program on infrastructure, higher taxes on corporations and high earners, and stronger financial regulation.
Klobuchar denounces what she calls the "hate-filled rhetoric" surrounding immigration issues and argues that immigrants are central to the United States' economic vitality. She would end many of Trump's border policies and pursue comprehensive immigration reform.
Klobuchar has advocated for a strong military response to Islamist militant groups such as the Islamic State in Syria and elsewhere, while arguing for diplomacy with Iran, a two-state solution for the Israeli-Palestinian conflict, and a tougher stance on Saudi Arabia's human rights abuses.
Klobuchar supports talks with North Korean leader Kim Jong-un with the aim of denuclearizing the Korean Peninsula, but says that Trump's approach is haphazard and superficial.
Klobuchar says that Russia "invaded our democracy" in 2016 and charges that Trump has failed to protect the United States from the threat. She promises stronger sanctions on Russia and has promoted a suite of policies to strengthen U.S. defenses.
Klobuchar has often been skeptical of multinational free trade agreements, opposing President Obama's centerpiece trade deal with the Asia-Pacific. She has also backed tariffs on imported steel, which she says are necessary to protect American producers from unfair trade practices by China and others.
Klobuchar has taken a hard line against the government of Nicolas Maduro in Venezuela, backing the opposition and supporting the Trump administration's attempts to push Maduro out, though she says she wouldn't use military force at this time.