Kabila's Repression: A Consequence of UN Inaction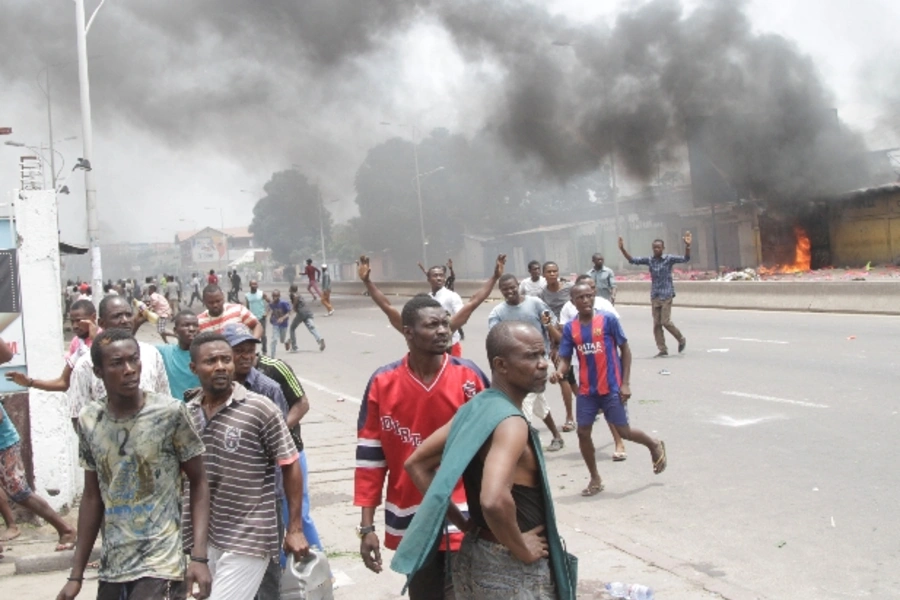 Susanna Kalaris an intern in the Center for Preventive Action at the Council on Foreign Relations.
As Americans flocked to polling stations on November 8, United Nations peacekeepers in the Democratic Republic of the Congo (DRC) were hit by a grenade blast that killed one and injured thirty-two others. Since 1999, the United Nations Organization Mission in the Democratic Republic of the Congo (MONUC), and its successor, MONUSCO, have deployed peacekeepers to implement a ceasefire, disarm combatants, and protect civilians following an international war that killed an estimated 5.4 million people between 1996 and 2003 and plunged the country into economic and political chaos. Yet despite more than seventeen years, twelve billion dollars spent, and twenty-thousand personnel dispatched across the country, the peacekeeping missions have left an unfulfilled mandate and a local government that recognizes and profits from its failures. President Joseph Kabila and his government are emboldened to maintain the political status quo; while peacekeeping troops struggle to contain violence, the government violates democratic processes and civil rights with impunity, knowing MONUSCO will not stop it anytime soon.
Like some other notorious UN peacekeeping missions, MONUSCO has failed to intervene as rebel forces attacked civilians and outraged those they are meant to protect. In November 2012, as the M23 insurgent group invaded the city of Goma, fleeing civilians were passed by trucks full of peacekeepers themselves escaping the rebels. M23 troops went on to take Goma without resistance from the better-equipped and more numerous MONUSCO forces. The peacekeepers drew both international and local criticism: France called their actions "absurd," and young Congolese deemed them "useless" and "dismissed." During a rebel attack in June 2014, at least thirty civilians were killed in the two days it took for MONUSCO forces to respond to calls for help in South Kivu. In August of this year, rebel fighters massacred at least fifty civilians with impunity, prompting over two thousand protestors to decry the lack of action from MONUSCO.
These instances of inaction have powerful consequences not only for the victims of attacks, but for the future of the DRC. Since succeeding his father in 2001, President Kabila has presided over a government plagued by corruption, instability, and civil rights violations. Between June 2014 and May 2015, the United Nations Joint Human Rights Office reported numerous violations of the rights to free speech and assembly, including suspending opposition radio and television programs and blocking citizens' access to text messaging and internet services. The government has also used force against opponents, as in January 2015 when national security forces killed at least twenty unarmed protestors. The arrests and deaths of demonstrators and opposition leaders across the DRC foreshadowed Kabila's latest exploit, postponing presidential elections until 2018 and violating presidential term limits. Political violence has since escalated throughout the country—clashes between police and civilians protesting Kabila's postponement left seventeen people dead in September.
Critics have explained Kabila's violation of the constitution and civil rights solely as an attempt to cling onto power, but it can also be considered a result of the inefficacy of MONUSCO forces. MONUSCO's mistakes set an example of weakness that allows the political climate in the DRC to endure and even worsen, as it has in the past months. The failures of MONUSCO troops to protect the civilian population demonstrate to Kabila and his government that an international force has little power to affect change within his country. Consequently, Kabila is empowered to repress speech, arrest opposition voices, and use deadly force with impunity. As long as peacekeeping troops fail to create positive change in the DRC, the government can continue the current climate of violence and repression can continue without accountability.
While many scholars advocate for better-equipped troops, more specific mandates, or flexible forces in the DRC, what is missing is accountability. Secretary-General Ban Ki-moon regularly condemns rebel attacks on civilians, though there is neither criticism nor rebuke for the inaction of peacekeepers and their commanders. A UN Office of Internal Oversight Services report acknowledges several reasons why peacekeepers fail to protect civilian populations, but its few recommendations—like publishing "self-contained guidance" and increasing reporting of failures—lack teeth. Only by holding forces and their commanders accountable with tangible consequences will troops fully commit to their mandates and the populations they are asked to protect. If the UN truly held MONUSCO forces in the DRC responsible, and if peacekeepers fulfilled their mandate, President Kabila and his government would find their impunity greatly curbed and the opportunities to repress democracy interrupted. No longer would their rule be immune to the civil rights and democratic processes that are essential to a lasting peace.