Women This Week: Women Protest in Belarus
Welcome to "Women Around the World: This Week," a series that highlights noteworthy news related to women and U.S. foreign policy. This week's post covers the months of July and August.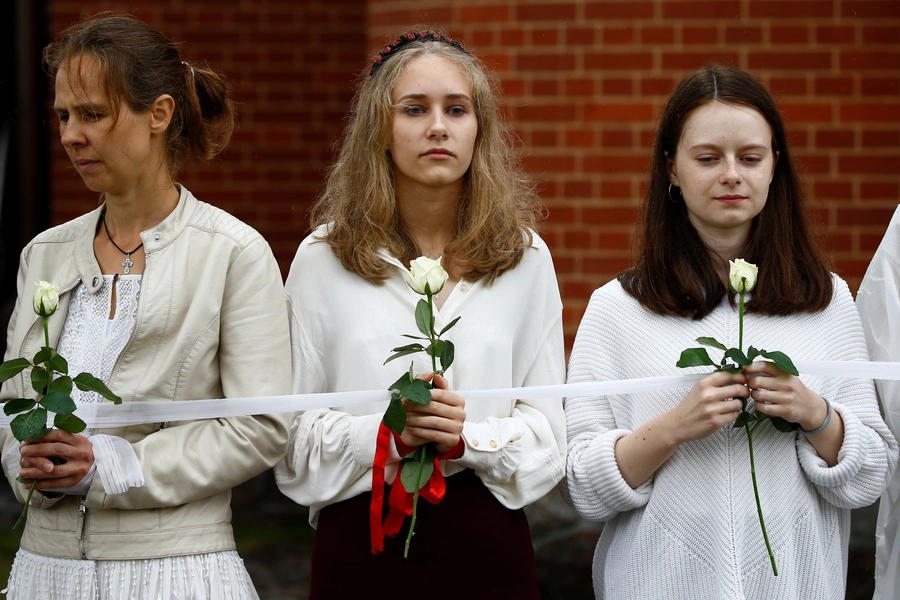 This week's post covers the months of July and August and was compiled by Alexandra Bro and Haydn Welch, research associates with the Women and Foreign Policy program at the Council on Foreign Relations.
Women on the Frontlines of Protests in Belarus
Following Belarusian President Alexander Lukashenko's contested re-election on August 9, thousands of women turned out in Minsk to protest Lukashenko's violent crackdown on protesters. Many of the women protesting wore white, carried flowers, and created "solidarity chains" to demonstrate against police brutality and to urge the release of detained protesters. Veronika Tsepkalo, Maria Kolesnikova, and Svetlana Tikhanovskaya had formed the main opposition to President Lukashenko prior to the election. Tsepkalo fled Belarus after receiving threats of arrest, and Tikhanovskaya was forced to seek refuge in Lithuania after being detained. Maria Kolesnikova was reportedly arrested and detained in Minsk, and is currently being held at the Belarus-Ukraine border. Belarusian authorities have arrested thousands in the weeks following the election; protesters continue to turn out in large numbers in Minsk.
Gabon's First Female Prime Minister
On July 16, Gabon appointed its first-ever female prime minister, Rose Christiane Ossouka Raponda. Ossouka Raponda previously served as Gabon's defense minister and as mayor of Libreville, the first woman to be mayor of Libreville since 1956. As prime minister, she will face the challenges of the ongoing COVID-19 pandemic and declining oil prices which have slowed the country's economy. Gabon joins a small number of countries around the world with female heads of state or government. Currently, just twenty-one countries are led by women. Despite improvements in women's political participation in the last few decades, women continue to be significantly underrepresented in political institutions worldwide.
Governments Consider Leaving Domestic Violence Treaty
Leaders in Poland and Turkey have announced that they are considering leaving the 2011 Istanbul Convention, a treaty aimed at preventing and combating violence against women. The Convention is the first European treaty focusing specifically on domestic violence and entered into force in 2014—it has been signed by forty-five, and ratified by thirty-four, Council of Europe member states. To date, no state has withdrawn from the Convention. In Turkey, the announcement fueled demonstrations as women took to the streets to protest the potential withdrawal, chanting "the choice is ours, the decision is ours, the night is ours, the street are ours." In Poland, women protested as they displayed signs carrying the names of domestic violence victims. According to the United Nations, one in three women has been subject to physical or sexual violence, most often by an intimate partner. Following lockdowns during the COVID-19 pandemic, many regions around the world have seen an increase in domestic violence cases.