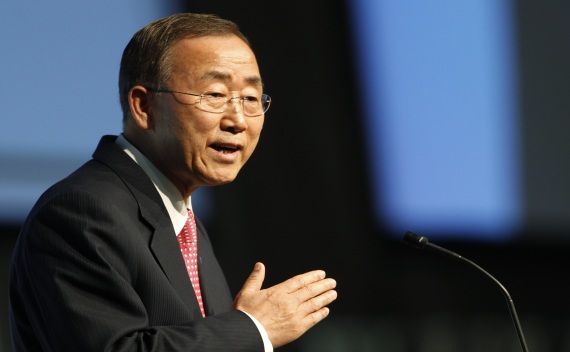 - UN Security Council, "Open debate on civilian protection," November 9, 2011.
Women, girls, boys and men in conflicts around the world continued to be subjected to blatant and frequent violations of international human rights and humanitarian law, not because they were "collateral damage", but because they were deliberately targeted, United Nations Secretary-General Ban Ki-moon told the Security Council today.

Ultimately, however, only political solutions could end and prevent the vast majority of conflicts while ensuring the safety and well-being of those who would otherwise bear the brunt, he said.  Underscoring the need to ensure enhanced compliance with international human rights and humanitarian law, he also stressed that violations must be met with appropriate Council action, such as the threat of targeted sanctions or referrals to the International Criminal Court. There was also a need to more consistently and effectively engage non-State armed groups in order to improve their compliance with the law, he added.
- Report by the Director General, "Implementation of the NPT Safeguards Agreement and relevant provisions of Security Council resolutions in the Islamic Republic of Iran," IAEA, November 8, 2011.
As Iran is not providing the necessary cooperation, including by not implementing its Additional Protocol, the Agency is unable to provide credible assurance about the absence of undeclared nuclear material and activities in Iran, and therefore to conclude that all nuclear material in Iran is in peaceful activities.
- "Bipartisan alliance asks Obama to help protect millions of Sudanese from slaughter, displacement, and starvation," Act for Sudan, November 3, 2011.
Please instruct the National Security Council to take up as urgent matters:

1. Civilian Protection:  Accelerate decisions and related actions regarding protection of Nuba, Blue Nile, and Darfuri populations from air attacks.  Please seriously consider the destruction of offensive aerial assets and/or (as long requested by the affected Sudanese civilians) imposition of a no-fly zone.

2. Humanitarian Aid:  Immediately initiate a cross border emergency aid program to the Nuba Mountains, Darfur, Blue Nile and Abyei regions.

(3PA: Not coincidentally, seven days after receiving this letter, the State Department released a rare statement of condemnation on "aerial bombardment by the Sudan Armed Forces" targeting civilians in South Sudan.)
- Victoria Nuland, Daily Press Briefing, U.S. Department of State, November 7, 2011.
I'd also make the point that what we're facing here is different than what we faced in Libya, which were long stretches of desert and columns of tanks pulling into cities. What we have in Syria are government forces entrenched in towns and villages, in stationary positions, with tanks now facing houses and buildings and, as I just said, in Homs, starting to fire on those buildings. So what a no-fly zone does in a situation like that is not particularly clear.

(3PA: This is a remarkable statement by a U.S. official that acknowledges that the no-fly zone in Libya was really close air support to target Libyan ground forces. Read more on realistic objectives of a Syrian no-fly zone.)
- David S. Cloud and David Zucchino, "Multiple missteps led to drone killing U.S. troops in Afghanistan," Los Angeles Times, November 5, 2011.
Thirty-one seconds after the pilot reported muzzle flashes, the Marines at Alcatraz ordered that the Predator be prepared to strike if the shooters could be confirmed as hostile. At 8:49 a.m., 29 minutes after the ambush began, they authorized the pilot to fire. In minutes, two Americans would be dead.

(3PA: This is a gripping and unfortunate account of the first known friendly-fire deaths from an American drone.)
- Andrew Cockburn, "Assassination backlash," Los Angeles Times, November 3, 2011.
Early in 2008, however, Rex Rivolo, an analyst at the Counter-IED Operations/Intelligence Center attached to U.S. headquarters in Baghdad, briefed his superiors on some hard realities of the campaign. With access to any and all information relating to U.S. military operations in Iraq, he had identified about 200 successful missions in which key IED network individuals had been eliminated. Then he looked at the reports of subsequent bomb attacks in the late insurgent leader's area of operation. The results were clear: IED attacks went up, immediately and sharply. One week after the hit, on average, incidents within about three miles of the dead leader's home base had risen 20%.
- Global Burden of Armed Violence 2011, Geneva Declaration on Armed Violence and Development, November 2011.
More than 526,000 people are killed each year as a result of lethal violence. One in every ten of all reported violent deaths around the world occurs in so-called conflict settings or during terrorist activities, while 396,000 intentional homicides occur every year.
- Michael Hastings, "Inside Obama's War Room," Rolling Stone, October 13, 2011.
Once the bombing started, Qaddafi and his sons felt betrayed. "We gave up our nukes and they screwed us," Saif told his dwindling circle of friends. In July, four months into the war, Qaddafi's sons still held out a delusional hope that their father would prevail. "We have an army of 1 million men in the streets," Saadi boasted to Frazier when she visited him in his rooms on the 23rd floor of the Corinthia Hotel in Tripoli – even though Qaddafi's real strength was less than 20,000. "He'd drunk the Kool-Aid," Frazier recalls. Later that night, when a bomb hit near the hotel, Saadi looked out the window and shook his head. "NATO," he muttered.

(3PA: Read more on the links between 'Responsibility to Protect' and WMD proliferation.)