You Might Have Missed: Drone Sales, Twitter Wars, and Admiral McRaven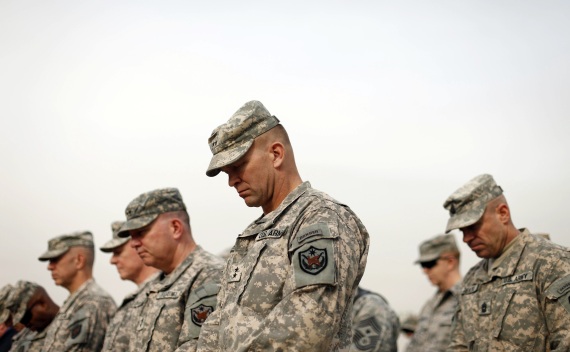 - Adam Entous and Julian E. Barnes, "U.S. Pursues Sale of Armed Drones," The Wall Street Journal, December 15, 2011.
Administration officials recently began informal consultations with lawmakers about prospective sales of armed drones and weapons systems to NATO members Italy and Turkey, while several U.S. allies in the Persian Gulf have been pressing Washington to authorize drone sales, officials said.

The Pentagon's proposed sales have set off a behind-the-scenes debate between the administration and some members of Congress over whether the U.S. should speed the spread of a technology that will allow other countries to carry out military strikes by remote control.
- Barton Gellman, "William McRaven: The Admiral," TIME Magazine, December 14, 2011.
Does killing high-value targets make sense as a recipe to defeat al-Qaeda? McRaven says it is just one part of a broader offensive against America's foes. "There is nobody in the U.S. government that thinks we can kill our way to victory, certainly not the special-operations guys," he says, "but what happens is, by capturing and killing some of these high-value targets, we buy space and time for the rest of the government to work."
- Iraq and Public Opinion: The Troops Come Home, Pew Research Center, December 14, 2011.
In the most recent national poll, a majority of Americans (56%) say the United States has mostly succeeded in achieving its goals in Iraq. The original decision to use military force, by contrast, remains contentious.

While 48% say the United States made the right decision to use military force in Iraq, nearly as many (46%) disagree. And the issue continues to be politically divisive: 72% of Republicans support the decision to use force compared with just 44% of independents and 37% of Democrats.

This is far different from the start of the war. In March 2003, 72% said it was the right decision while 20% said it was the wrong decision.
- Sari Horwitz, "Carrier IQ faces federal probe into allegations software tracks cellphone data," Washington Post, December 14, 2011.
Federal investigators are probing allegations that Carrier IQ software found on about 150 million cellphones tracked user activity and sent the information to cellphone companies without informing consumers, according to government officials.
- Ana Campoy, "The Law's New Eye in the Sky," The Wall Street Journal, December 13, 2011.
Drones, the remote-controlled aircraft used in combat zones, are now hovering over some U.S. cities as police enlist them to get a bird's-eye view of crime scenes and accidents at relatively low expense. But as financially strapped municipalities add drones to their crime-fighting arsenal, they are facing increasing questions about the vehicles' safety, as well as their potential to violate citizens' privacy.

Law-enforcement officials say the unmanned aircraft help avoid putting police in the line of fire, either by performing surveillance close to the ground, like a live officer, or by monitoring from high up, removing pilots from potential danger.
- David Smith, "Al-Shabaab in war of words with Kenyan army on Twitter," The Guardian, December 13, 2011.
The move appears to demonstrate that, in the 21st century, no radical insurgency or martyrdom operation is complete without a social media platform run from California's Silicon Valley, even if Somalia is one of the world's poorest and most anarchic countries.

Al-Shabaab, which has links to al-Qaida, is fighting the weak, UN-backed Somali government and controls much of southern Somalia. It has run an increasingly sophisticated media operation in recent months, sending out press releases in well-written English with photos attached.
- Government Accountability Office, "Nuclear Nonproliferation: Action Needed to Address NNSA's Program Management and Coordination Challenges," December 2011.
No single federal agency has lead responsibility to direct federal efforts to prevent and detect nuclear smuggling overseas…Some of the agency officials we interviewed expressed concerns about the absence of a lead agency, recognized across the government, serving as the focal point for federal efforts to combat nuclear smuggling overseas. For instance, one DOD official told us that the absence of a recognized lead agency, empowered to set priorities and provide direction to relevant programs across the federal government, is an obstacle to a more effective approach to combating nuclear smuggling abroad. Another DOD official stated to us that even with interagency communication and coordinated working groups, without a lead agency having the authority to assign and direct roles and responsibilities in this area, ultimately the individual programs will take direction from their agency leadership or Congress. (45)

Notably, DOD officials told us that they believed the NSC has played a negligible role in coordination of programs to counter nuclear smuggling. (47)

NNSA officials told us they believed that nuclear security is a dynamic, ongoing process that has to keep up with an evolving threat, and may never be finished.  (71)