The Council on Foreign Relations is dedicated to its ongoing efforts to foster a more diverse, equitable, and inclusive workplace through the recruitment, hiring, and professional development of its staff. CFR casts a wide net to recruit promising candidates with varied experiences and backgrounds by posting positions for all levels on its website and a variety of job boards, and actively collaborates with organizations whose mission is to diversify the field of international affairs. Recruiters attend career fairs and host information sessions at Historically Black Colleges and Universities, Hispanic-serving institutions, Asian American and Native American Pacific Islander-serving institutions, and leadership development programs, including the Charles B. Rangel International Affairs Program and Ladders for Leaders. Additionally, CFR solicits recommendations for diverse candidates from leading figures in the field.
Committed to strengthening diversity in the next generation of international affairs professionals, CFR offers a Fellowship program for scholar practitioners to serve as visiting fellows who spend a year gaining experience in a new environment, and a paid internship program for college and graduate students. Through the generous support of the Blavatnik Family Foundation, Robina Foundation, CFR members, and family and friends of the late Ambassador Franklin H. Williams, who had founded a paid CFR internship program for students from underrepresented backgrounds in 1990, CFR now sponsors one of the largest paid internship programs in the foreign policy field and brings on approximately 120 interns each year, up from nearly 10 students per year three decades ago. Since CFR expanded the paid internship program in 2020 and offered participation on a fully remote or hybrid basis, well over half of new interns have come from diverse backgrounds and are based outside of the New York and Washington, DC, areas. This program has proven to be a great source of talent and new hires for full-time staff positions at CFR.
In addition to broadening our recruitment efforts to bring in a diverse talent pool, CFR also strives to build an inclusive workplace in which staff find a place of belonging, where their contributions are valued, and they are supported to thrive both at work and in life. CFR's three employee resource groups (ERGs) help to further this goal. Through activities such as talent development sessions, discussion forums, and participation in cross-collaboration with other CFR initiatives, CFR's ERGs on race and ethnicity, LGBTQ+ people, and women bring employees together based on common interests, experiences, and challenges, and aim to be a source of education, community, and professional development to staff. CFR also provides professional development and training for employees at all levels and offers foreign policy–based sessions; career-building workshops designed to develop research, communication skills, and more; and aims to offer additional training to support an increasingly diverse, equitable, and inclusive work environment.
CFR's comprehensive benefits package includes an award-winning health and wellness program which not only prioritizes the physical wellbeing of staff but also seeks to eliminate common barriers to financial wellness and mental health commonly faced by underrepresented communities. Additional inclusive benefits offered include generous time off and paid family and medical leave provisions, flexible work schedules, educational assistance, and access to CFR's broad range of community-building events in support of diversity, equity, and inclusion.
Career Opportunities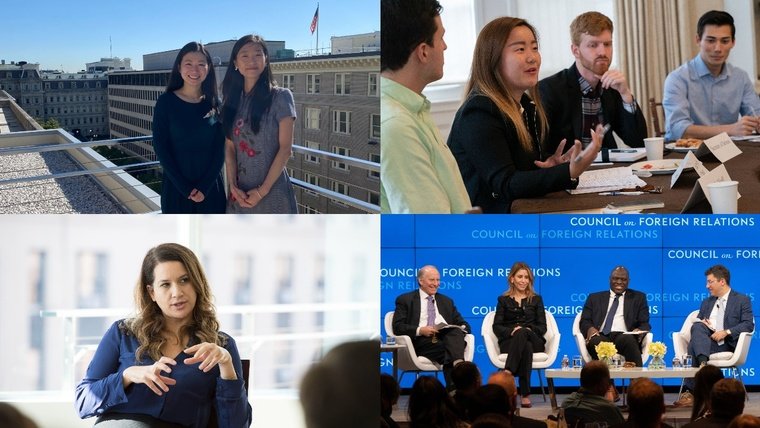 In an ever-changing world, CFR's work as a nonpartisan resource for information and ideas is more important than ever. At CFR, you will do work that matters with smart and dedicated colleagues in a diverse and inclusive environment. We offer opportunities for people at all levels of their careers, from recent graduates interested in pursuing a career in foreign policy, to experienced professionals in areas such as digital or global communications. We also offer internships for college and graduate students.